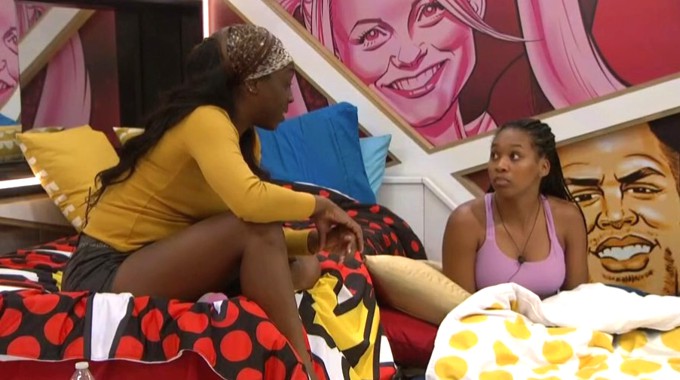 Saturday brought a lot of fun drama for Big Brother 22 Feeds as Janelle was the centerpiece for Franzel's freakouts and Dani fanning those flames. The Veto comp didn't arrive until after midnight, leaving HGs tired and anxious to find out who could change up this week's nominations on Big Brother All-Stars.
If you've got the Live Feeds (Free Trial) then you can watch all of these moments with the Flashback feature to go back and watch those important conversations or funny scenes you may have missed.
Big Brother 22 Live Feed Highlights – Saturday, August 15, 2020:
9:30 AM BBT – David and Kaysar are chatting before the other HGs are up. Kaysar is being very supportive and wants to help David if he can.

10:15 AM BBT – HGs got their wakeup call.

10:50 AM BBT – Dani is trying to convince Memphis to BD Janelle but he isn't interested in the idea.

11:50 AM BBT – Bayleigh warns Janelle that Kevin is spreading bad info on her (J) and Kaysar. Janelle worries about NicA working/talking with him.

11:55 AM BBT – Dani talks with Christmas about trying to get in Memphis' ear about Janelle but it didn't work. Dani is frustrated because Memphis says he wants to keep his alliance safe but then isn't willing to do it this week. They think if Janelle goes then NicA will be a free agent. Christmas worries Ian will be a target next week.

12:00 PM BBT – Memphis walks with NicA upstairs and says the House will decide what will happen. She tries to offer herself as an ally but he deflects again saying it's going to be a House decision.

12:15 PM BBT – Dani continues to be frustrated with Memphis and says he's destroying his own game by not doing what she wants.

12:30 PM BBT – Cody joins the frustration conversation and says if the Veto is used and Memphis doesn't do what the alliance wants then he's going against them. Christmas wants to make up a lie to plant against Janelle and Kaysar but the group doesn't think that'll work.

12:50 PM BBT – NicA tells Dani that Janelle said she likes Dani but doesn't trust her because Kaysar thinks Dani is coming for her (J).

12:50 PM BBT – Cody says they need to warn Memphis that if he (M) wins Safety Suite next week then he can't save Janelle or Kaysar.

1:40 PM BBT – Feeds returned from picking players: Ian, Tyler, and Franzel. Enzo is hosting.

3:20 PM BBT – David says he wants to win Veto and then go after Memphis to get him out. David is determined to make Jury this time.

3:25 PM BBT – Janelle warned Memphis that the group of four she mentioned yesterday proposed she and Kaysar join them (Dani, etc.). She now believes those four are definitely working together.

4:45 PM BBT – Feeds return after an hour break. Ian was getting his costume.

5:50 PM BBT – Da'Vonne promises NicA that if Franzel is up against her (NicA) or David then Franzel is going.

5:55 PM BBT – NicA worries the David nomination could be a distraction and she is the real target because people like her.

6:00 PM BBT – NicA thinks Janelle could be telling Memphis that she (NicA) should be the target.

6:15 PM BBT – Janelle and Kaysar discuss if they can get Memphis to take action. Janelle really hopes NicA wins Veto. They'd rather have Kevin go over NicA since Cody is trying to draw in Kevin. Janelle doesn't know why Memphis would have put his own alliance members up. Kaysar says he saw Cody, Tyler, and Enzo having a meeting.

6:25 PM BBT – Janelle says Memphis screwed things up for them by being too aggressive. They note how Cody is getting everyone upset at Memphis and then crying on his (C) shoulder.

6:35 PM BBT – Kaysar doesn't want to see David go but that it wouldn't be personal. Janelle isn't confident about Christmas's vote as she realizes they may not be able to control the eviction. Janelle says she would have worked with Dani before but now she's too connected to Franzel plus Cody and Tyler. She likes Dani but can't work with her because she won't talk with them.

6:50 PM BBT – Janelle and Kaysar talk with Memphis. They warn him they don't have the votes to keep NicA. Memphis thinks they can get Ian's vote because Ian is tight with Franzel but not the entire other side of the house.

6:55 PM BBT – Memphis thinks the alliance group with Cody, Tyler, Franzel, and Dani won't last with 15 HGs left.

7:00 PM BBT – Memphis declares he will not BD anyone in Week 2.

7:10 PM BBT – Janelle says they need to bring in Bayleigh and Da'Vonne to form an alliance. She's very frustrated that NicA, one of her allies, is on the Block and that's messing up the plans and votes.

7:35 PM BBT – Janelle is annoyed with Kevin and doesn't like his floater gameplay.

8:20 PM BBT – Memphis tells Cody that Janelle and Kaysar are all over him. Cody says those two are pinning him with Tyler, Enzo, and Franzel.

8:25 PM BBT – Ian admits to Dani that he and Franzel are good friends outside the house.

8:50 PM BBT – NicA tells Tyler that she doesn't trust/believe Janelle anymore.

9:00 PM BBT – Ian has to perform a scene for his punishment. His wardrobe is in the storage room.

9:20 PM BBT – Tyler warns Day that NicA thinks there could be a BD plan in motion so he'll fight to win the Veto and keep her safe (D) by leaving noms as they are.

10:00 PM BBT – Day lets Bay know what Tyler shared and that they could have an alliance with him.

11:30 PM BBT – Day asks Dani if Janelle can swing the votes to evict Franzel. Dani says it won't happen because Janelle thinks she has votes that she doesn't, like Bay.

12:05 AM BBT – Tyler advises Bay to keep pretending like she's with Janelle so she can get more info. She tells Tyler that she's heard the BD plan is to get Franzel this week. Tyler says he won't throw any comps.

12:20 AM BBT – Feeds cut for the Veto.

3:15 AM BBT – Feeds are back. Memphis won the Veto. NicA is crying. Kevin comforts her and says it was a strength comp and not a mental one so it was harder for her.

3:25 AM BBT – David is upset and wonders if there is a BD plan.

3:30 AM BBT – Dani warns Franzel and Enzo that Janelle doesn't like any of them and she could be upstairs with Memphis right now.

3:35 AM BBT – Franzel is railing against Janelle and says she thought they were friends.

3:45 AM BBT – Franzel wants NicA gone this week because she is with Janelle.

4:00 AM BBT – Dani talks with David and NicA. She likes them both and doesn't want them to go this week. Dani says it's either them or a BD.

4:05 AM BBT – Day has been talking with Bayleigh that she's putting the pieces together and sees Dani is playing both sides. She says Tyler wants to make a group but doesn't want Dani included because he doesn't trust her. Day mentions when she tells Dani something that Cody comes to her knowing what was said. She mentions telling Dani that Franzel never apologized to her after their season together then the next day Nicole came and apologized. Day knows that Dani is pushing Franzel on them. Bayleigh says she won't get caught in the middle. Day says they can talk with Kaysar about strengthening their numbers but for now they keep quiet this week and make sure David stays.

4:15 AM BBT – Franzel worries to Dani that she (F) talks too much. Dani tells her to keep telling her everything. Dani thinks Janelle is ruining her own game. Franzel thinks she's going home but Dani is sure Memphis won't do that.

4:20 AM BBT – Kaysar goes to talk with NicA and David. He's being supportive and encouraging them.

5:45 AM BBT – HGs are mostly off to bed. NicA is still awake in the bathroom and stressing.
Saturday was a long, long day in the Big Brother house with the midnight Veto comp that has set us up for good potential drama but as of now Memphis says he won't do a Backdoor so until Monday's meeting is over we can at least hope for the fear of a BD to drive these HGs. Should Memphis use the Veto and set a new target or will NicA be the next evicted HG on BB22?
You can watch all of these Big Brother events using the archives Flashback, the DVR-like feature of this year's Live Feeds which means it's always live, even when you missed it! Sign-up now to get the free trial to watch it all live & uncensored.

Download our Big Brother App, join us on Facebook & Twitter, and get our Email Updates for more!