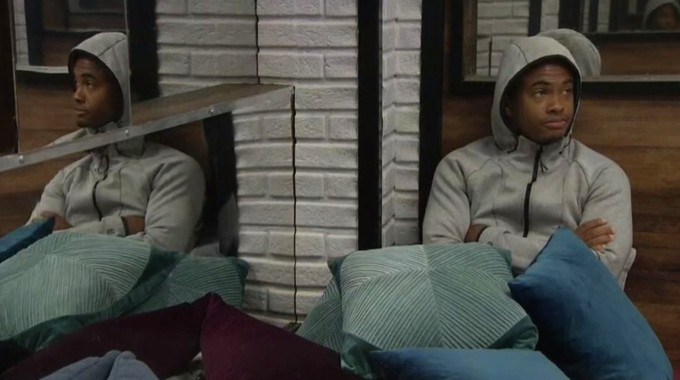 It was a busy day in the Big Brother 22 house as several houseguests played in the Safety Suite competition, and Memphis made his nominations and a lot of people angry. Read on to find out what went down after the competition and the nominations.
If you've got the Live Feeds (Free Trial) then you can watch all of these moments with the Flashback feature to go back and watch those important conversations or funny scenes you may have missed.
Big Brother 22 Live Feed Highlights – Friday, August 14, 2020:
8:40 AM BBT – David tells Kevin that Memphis has various reasons to put him up this week. They both talk about how they have tried to engage with Memphis, but the conversations never go anywhere.

8:47 AM BBT – David says that his biggest fear is to go up with someone like Kevin, Bayleigh, or Da'Vonne. Kevin says that he is playing in the Safety Suite this week.

8:54 AM BBT – David talks about how apprehensive he was about coming back because of all the racist things that happened last year.

8:58 AM BBT – Enzo is up with them now and says that he thinks a lot of people are going to play in the Safety Suite this week.

9:12 AM BBT – HGs are waking up.

9:30 AM BBT – Tyler tells David that he is going to try and talk Memphis out of putting David up.

9:35 AM BBT – Tyler tells Da'Vonne that he thinks Memphis is trying to get as many people to play in the Safety Suite this week so that he has an easy week next week.

9:45 AM BBT – Dani tells Tyler that Memphis thinks it's too early to backdoor someone. Tyler says that if David doesn't play today, something is going on. Dani also tells Tyler that if David goes up, they shouldn't vote him out because he is a vote for them.

10:00 AM BBT – Kitty Cams. Time for the Safety Suit competition.

3:28 PM BBT – Feeds return from the Safety Suite competition. Christmas one and chose Ian as her plus one for safety. 

3:37 PM BBT – Christmas is very pleased with herself over winning that competition. She is talking to herself about the win and who needs to go. She thinks Janelle is dangerous, she says. 

4:04 PM BBT – Enzo and Memphis talk about Christmas saving Ian. Memphis is pissed and Enzo says Christmas has to have something going on with Ian and Nicole F. They're also annoyed that Nicole F chose to be a have-not so Ian didn't have to pick someone to take his place. Memphis says Ian getting saved twice in one day makes him an even bigger target. 

4:08 PM BBT – Memphis says he would have considered backdooring Ian this week, but now he can't. He says he can't see Ian lasting longer than 4 or 5 weeks. Enzo says he doesn't understand why people are protecting a champion. Enzo says the Ian has to go. 

4:28 PM BBT – Christmas has learned Memphis was maybe planning on targeting Ian this week and tells Dani she should go talk to him. She said he should have talked to her about his plans this week. Christmas and Dani agree that Memphis not sharing any of his plans with his alliance doesn't feel right. 

4:40 PM BBT – Memphis tells Nicole F that since Nicole A can play in next week's safety competition, that's reason enough to put her up and take her out this week. Nicole says that would be good for them in next week's safety competition because four out of five playing would be their alliance. 

4:46 PM BBT – Cody and Memphis have the same conversation Memphis and Enzo had earlier. They don't get why Christmas saved Ian or why Nicole F kept Ian from having to name someone a have-not. 

4:48 PM BBT – Talk with Cody and Memphis turns to whether or not to consider going after Janelle this week if veto is used. Memphis implies it wouldn't make sense for him to go after Janelle yet when they have a good rapport. 

4:50 PM BBT – Christmas tells Memphis she's sorry about saving Ian but says she had no idea who Memphis was after. Memphis says it's fine that she saved him and he's more annoyed with Nicole F for volunteering to be a have-not so Ian didn't have to do it. Memphis says he wasn't going to go after Ian this week anyway. 

5:01 PM BBT – Cody tells Enzo he's pushing for Nicole A as an initial nom and will be in Memphis' ear to backdoor Janelle if the opportunity arises. 

5:10 PM BBT – Memphis has a talk with Bayleigh about the noms. He tells her he hasn't made his decision yet and asks if he doesn't nominate her will she agree to not nominate him. It's a really odd conversation and not at all a comforting one to Bayleigh. 

5:40 PM BBT – Tyler is annoyed with Memphis. He tells Dani that Memphis wants the alliance to keep him safe but then he doesn't do anything for them or even the them what he's doing. Tyler says he doesn't think Memphis will help them go after Janelle and Kaysar. Tyler says after Memphis' reign is over one of them can win HOH and show him how an alliance is supposed to work. 

5:55 PM BBT – Feeds have cut for the nomination ceremony. 

6:51 PM BBT – Feeds return. Nicole A is in tears. Memphis nominated her and David. 

6:52 PM BBT – Kevin tells Nicole A not to worry that she's surely just a pawn. 

6:55 PM BBT – David is upset with the wording Memphis used in his nomination speech. He says it was insulting. 

6:57 PM BBT – Tyler lets David know he is angry with Memphis and his speech. David says he knows Memphis is just trying to get him angry so he can act crazy. He says he doesn't want to act crazy in from of these people. Tyler tells him to be angry but use it in the veto competition to win. He says Memphis will get smoked in that veto. 

6:58 PM BBT – Cody and Dani say they feel bad for David. Enzo says Memphis whole approach was weird. 

7:00 PM BBT Nicole F talks to David about Memphis' speech. David asks what did I do to you, Memphis. Nicole says she's sorry and he never should have said that to David. 

7:02 PM BBT – Memphis tells Janelle and Kaysar that he wasn't trying to gang up on David but just doesn't see David as an all-star. 

7:05 PM BBT – Memphis says he doesn't care who goes home. Janelle says Nicole F would be a bigger target since she's already won the game. Memphis says Nicole F has really good relationships and it's probably too early to go for her. 

7:08 PM BBT – Janelle tells Kaysar that Nicole has a lot of people working with her and that Cody is her Number 1. Memphis says he just doesn't see her as a threat. 

7:13 PM BBT – Kaysar and Janelle tell Memphis about his alliance. They name every name expect his. He plays dumb. 

7:17 PM BBT – Kaysar and Janelle try to protect Nicole A with Memphis, but in the wrong way. They tell him that she is a good double agent and comes back to them with the other side's info. Little do they know that's Memphis' alliance. 

7:20 PM BBT –  Janelle and Kaysar try to work on Memphis for an actual alliance where they can pull in some more people, but Memphis brushes it off. 

7:30 PM BBT – Janelle tells Nicole A she was trying to work on Memphis and that she told him Nicole A is super loyal and would vote with them. 

7:32 PM BBT – Bayleigh, David and Da'Vonne discuss Memphis speech and the words he used toward David. He said some pretty awful stuff, it sounds like. Bayleigh says Memphis is aware of the climate so the things he said shows he has no chill. 

7:40 PM BBT – Janelle hyping up Nicole A to win veto. They say this would be a great scenario to get Nicole F backdoored. 

7:58 PM BBT – Kevin tells Da'Vonne that the alliance Janelle and Kaysar have been trying to expose doesn't exist. Day agrees. (It does exist)

8:20 PM BBT – Dani trying to convince Day that Janelle is the one with the army. Da'Vonne seems to be buying it. Day says she's not going to work with Janelle. Day and Dani agree Janelle gives them nothing. 

8:24 PM BBT – Day tells Dani that she thinks Nicole F and Cody have a thing but she doesn't even care.

9:35 PM BBT – Memphis shared his wine with Janelle and now she's telling him info.

9:40 PM BBT – Day tells NicA that Janelle has Christmas and to watch that. Nicole says she thinks Tyler, Cody, Franzel, and Dani are working together.

10:10 PM BBT – Memphis tells Janelle he doesn't think anyone would try to take her out this early because of who she is.

10:25 PM BBT – Janelle wants Memphis to try and work with NicA because she would be loyal. He says he'll consider it if she's still here next week.

10:30 PM BBT – Downstairs Kevin tells NicA that Janelle is using her and suggests Janelle is the reason NicA is on the Block.

11:20 PM BBT – Cody and Memphis meet up. They want NicA to go over David and would rather him stay. Cody wants Kaysar gone sooner than Janelle because he considers Kaysar much more strategic while Janelle wins through brute force.

11:30 PM BBT – Janelle and Kaysar tell NicA that they're working to save her and trying to get Christmas to vote to keep her.

11:45 PM BBT – Cody tells Dani and Tyler that he wants Kaysar BD'd. Both warn Cody that he's loud and he can be heard elsewhere.

11:50 PM BBT – Franzel tells Ian she was worried about him this week. They're concerned that they may be talking too much and will need to separate for a bit.

12:15 AM BBT – David and NicA discuss their noms. She expected Kevin up with David. David thought it'd be Day. David thinks there's a F3 with Memphis, Janelle, and Kaysar. NicA mentions Janelle promised to help save her this week and now she doesn't believe her (Janelle has been trying.)

12:45 AM BBT – Ian and Tyler talk about feeling lost in the game and want to watch out for each other. Tyler wants them to work with Christmas too.

1:00 AM BBT – David is frustrated that he has to sleep in the HN room with "enemies".

1:00 AM BBT – Christmas expects the Veto comp to be late in the day tomorrow due to the heat.

1:35 AM BBT – Cody, Tyler, and Enzo comparing notes. Cody wants Janelle gone. Enzo trusts Bay and Day. Tyler warns if they BD either Janelle or Kaysar then the other will come for you the next week.

1:55 AM BBT – Tyler camtalks that Memphis can't play the middle much longer. He wonders if Ian and Franzel have a pact to protect each other.

2:15 AM BBT – Enzo talks with NicA that there are many alliances right now and many of those are fake. They question why it was an issue for NicA not to use her safety pass but okay that Enzo didn't.

2:45 AM BBT – Enzo, with Cody, says he's suspicious that Dani talks with Janelle so much but never has anything to share with them afterward.

2:50 AM BBT – Enzo tells Cody they should keep Bay and cut loose Franzel, Dani, and Day. Cody says they have bigger targets to focus on first.

2:55 AM BBT – Dani joined Cody and Enzo in the Lounge. Enzo asks about renom options but no one knows what he might do. Cody worries that Kaysar is a bigger threat than Janelle.

3:05 AM BBT – Cody and Dani alone in the Lounge after Enzo left. Cody is frustrated that they've been linked together. He says it's wrong for anyone to consider Franzel the leader of their group. Cody and Dani promise each other they've got their back.

3:35 AM BBT – Dani and Cody discuss if Franzel would put up Janelle. Cody thinks she wouldn't do it this early but Dani thinks she could get in her ear and make it happen.

3:55 AM BBT – Cody is confused about Christmas picking Ian for safety. Dani says she said it was to throw off anyone looking for alliances.

4:10 AM BBT – Kevin and Enzo promise NicA that she isn't the target and they'll get the 7 votes to keep her.

4:15 AM BBT – NicA worries to Enzo that Janelle is being suspicious and wouldn't leave when she was trying to talk with David.

4:30 AM BBT – HGs are asleep.
Lots of fun on the Feeds for Friday after the Safety Suite twist sent a lot of players in for a chance then Memphis' noms, while not big targets, certainly spun the house again. Janelle remains a hot topic among the house but it seems unlikely that Memphis would use his week to get out someone who could align with him.
You can watch all of these Big Brother events using the archives Flashback, the DVR-like feature of this year's Live Feeds which means it's always live, even when you missed it! Sign-up now to get the free trial to watch it all live & uncensored.

Gallery: Live Feeds Highlights
Download our Big Brother App, join us on Facebook & Twitter, and get our Email Updates for more!