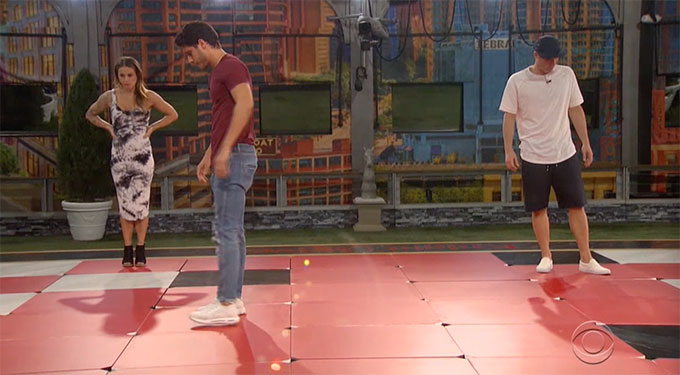 For the first time in a very long time, someone on Big Brother 22 decided to play the game for themselves and not Cody. Enzo decided to just try to win this week's Head of Household competition instead of just following Cody's lead, and that didn't go over well with Cody and Nicole.
It just really seems like everyone has been playing this game for Cody, and it makes no sense to me. And since the HOH competition was the main plot point of this episode, let's get right to it. Oh, I should say there was a brief Memphis memorial just before we joined the players starting the HOH comp.
As we saw King Kaysar introduce on last Thursday's episode, this competition is called Knight Moves, and it's the famous "I sealed your partner's fate" competition from Big Brother 6. For the competition, the three players must strategically move around the chess board to knock their opponents out. The goal is to make it so the other players have no other moves left. That last player standing on the chess board wins.
During the competition, Enzo decides to play for himself for the first time this season and that frustrates Cody and Nicole. Cody says it's him against Christmas and Enzo is just trying to win HOH. Yeah, Cody, that's how Big Brother works. And if Enzo wins HOH, you're safe anyway. So who cares? All season long people have played for Cody and the moment someone wants to play for themselves, he goes crazy.
And since Cody has no more moves, he's out. And he whines about sacrificing himself. But Christmas only has one more move anyway, so it all works out. She's out next. Enzo wins HOH. What's the big deal, Cody?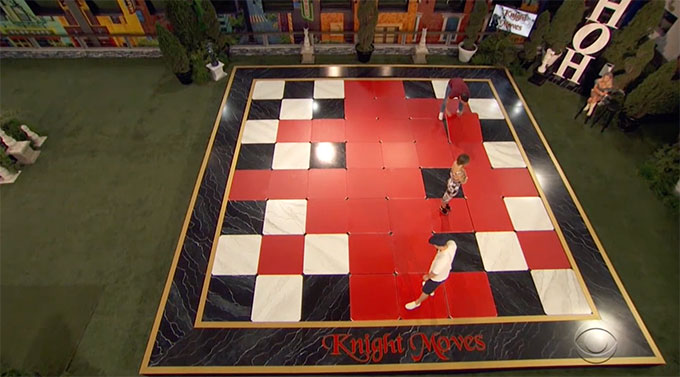 Christmas isn't devastated over Enzo's win because she thinks there's a chance she's not going on the block because they've worked together much of the season. But she seems to not realize Cody is Enzo's No. 1.
Nicole tells Cody how upset she is that Enzo wasn't playing the game for Cody. This is absurd. I hate to editorialize in a recap, but the way Cody and Nicole are acting over Enzo wanting to win HOH is just ridiculous.
Christmas tells Enzo that she doesn't want to be on the block again. He keeps saying that the veto is what matters, but she thinks he really wants her off the block. And she tells him she's taking him to the Final 3. Enzo lets us know that his dream Final 3 is himself, Christmas and Cody because they both take him to the Final 2.
So what will he do? Of course nominations don't matter, but he has to make one of them mad. Christmas really doesn't want to go up, and if he nominates Cody, that could drive a further wedge between them that started with that HOH competition.
And since this Final 4 is so boring, we get a Nicole sneezing segment. This might be a new low, folks.
It's finally time for the nomination ceremony. And Enzo decides to nominate Christmas and Nicole for eviction, and needless to say, Christmas is not happy.