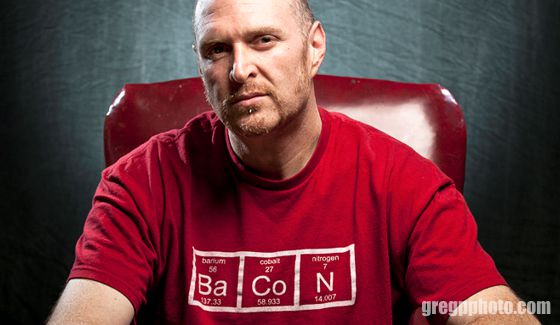 Big Brother is calling this week PRANK WEEK – and I know there are several of you out there that think this whole season was a big prank as twist after twist has failed and we have been deprived of a decent game. But the last several weeks have gotten better – and with just 8 people left – it really is anyone's game. And with the rumors flying that tonight will end up being a "Reset" week with no one going home – I actually would love that!!!
I kinda think that the season needs this. Coming on the heels of one of the biggest vote flips in recent BB history – this week has been a bit flat. Nick & Christie on the block against each other had all the makings of a heated war to get those 3 votes to stay. As you will read – once again the person making the most sense in their campaign is the one that is going home.
Christie Murphy – 5 strips of Bacon – maybe it's because she is used to being on the block for the 3rd straight week – Christie is not as cry-y as she was the first 2 times. Her paranoia has also subsided – and she has been mostly pleasant with everyone this week – and looks to be staying. In her head too – she thinks her deal with Holly & Jackson has been fulfilled and has even expressed targeting them as early as this upcoming week if she stays. You gotta give this girl some credit – even if she is doing it all by accident – but Christie is playing the best game of the season.
Holly Allen – 4 strips of Bacon – Holly was the first 2-time HoH this season – and with all of the chaos after last week – this was huge for her to secure safety. She kept her cool after learning that half of her HoH responsibility of nominations would be taken away from her – she did not overthink it – and still put up who she felt was the biggest target and let the chips fall where they may. Things worked out well for her as the 2 people she wanted to nominate both ended up on the block – and still there come Thursday. Sometimes it's better to be lucky than good – and this week Holly was both.
Regardless of the outcome tonight – Holly is not coming out of her HoH with a target on her back (only if someone decides to take a shot at both her and Jackson, but even then, she is the pawn). Aside from the game, however – I know Holly is no longer a happy camper so to speak. Her mood since the Zings has taken a turn as she feels production is portraying her in a bad way. She is worried about how her family is seeing her – maybe she should have thought about that before playing grab-ass with Jackson the last few weeks.
Jackson Michie – 3 strips of Bacon – back to back VETO wins for Jackson – and this week by winning he was able to prevent going up on the block as a replacement (before he knew who the Prankster was) and also able to keep Holly's intended nominees the same. If/when Nick leaves – Jackson's target grows – so not quite sure his motivations for keeping Christie… AGAIN. Well, his motivation is keeping Holly happy – but if he was truly playing his own game – he would have fought harder to get Christie out.
The only saving grace, however – is he feels if Christie & Tommy are out of the HoH competition – he will throw it to someone else. But you wait & see – he is too much of a competitor to throw a comp and it's quite possible he will win the next HoH and go after Christie… AGAIN. All of this is null and void if this week is in fact a reset – and then he cannot compete in the HoH.
Cliff Hogg / Nicole Anthony – 2 strips of Bacon each. Just like last week – these 2 are in the middle of the voting drama. The Final 4 deal they cut with Jackson & Holly is one of the only secret alliances in the house that has lasted more than 2 days this season. Or should I say 2 hours… or 2 minutes. Nicole obviously wants to keep Nick since he has been "controlling" her most of the season. Cliff does not really care either way as no matter who leaves, he seems to think he is in a good spot in the house and not on anyone's immediate radar.
I also want to give Nicole a lot of credit for being a good sport with the constant teasing / torturing she is getting from production / her fellow houseguests. Last week's bird calls freaked her out. The Zing she received was pretty mean. And then the clowns appearing in the mirrors & subsequent hiding by the other houseguests when she got out of her DR – was pretty funny to watch. She was so scared she was trembling – and begged everyone to sleep in the same room as her to protect her.
Tommy Bracco – 1 strip of Bacon – his undying loyalty to Christie has gone undercover all season – and again this week that is true. One of the reasons people want to get rid of Nick this week is they think now Tommy will be all alone. Tommy has done nothing to prove them wrong – although Nicole is the only one that piped up saying Tommy still has Christie – but no one listens to her anyway.
Tommy is painting himself into a corner however and unless he makes some sort of big move soon – no one will really respect his game if he presents it to a jury. Well… unless he is up against the next person on the rankings below…
Jessica Milagros – 2 strips of Tofu – Zingbot was right!
This brings us to the Tofurkey of the week – and this week that "honor" belongs to Nick Maccarone. Coming out of last week the stink that Christie threw on him & his game was hard to shake off – and he knew he was probably going to be a target for whoever won the next HoH if it was not him. He blew his chance at winning HoH but then did get the Prankster power. OK, things were looking better for him, if he was going to end up on the block, he at least could put who he wanted next to him. However – as he soon found out – he should have told Holly & Jackson before the nominations / Veto of his power.
Nick's whole spiel to Jackson after the Veto that he did not need to win it fell short. If he had that conversation before noms, or even before the Veto, he may have been able to strike some sort of deal with them. But the fact that he tried after just came off a bit non-genuine – as he has been accused of all season. His pitch to keep him the rest of the week were actually great points, but that also scared people.
I guess the Tofurkey status was more so for what he has been doing all season that led him to this point in the game – and it all came crashing down and we should see him walk out the door tonight. It's a shame that someone who is a great talker & non-emotional player could not flip the vote like Christie who is the complete opposite. That is just a microcosm of how this whole season has been. Logic has no place in the BB21 house.
OK – Prank Week is just about over and perhaps a live eviction & new HoH will be crowned tonight. This leads me to my question of the week… do you think this week will end up in a reset?
Please let me know what you think of my column & answer my question in the comments section below. And for more thoughts on #BB21 – follow me on Twitter @HeavyMetalTeddy – and listen to my podcast Big Brothers – @BigBrothersPod
From outside the Big Brother House – I'm Adam Poch – have a great day!!