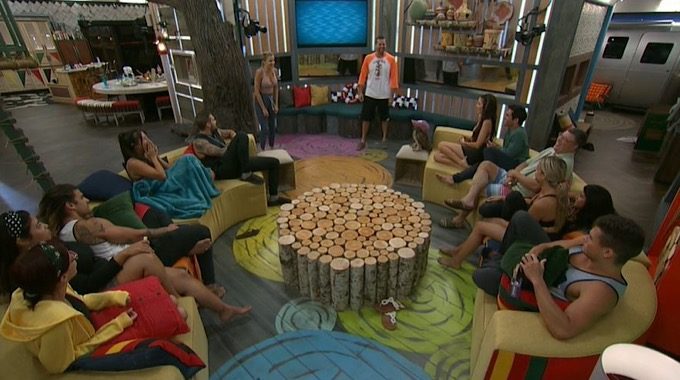 Monday on the Big Brother live feeds we watched as Sam told Bella and Nick that his game was done after this week due to his association with them. This lead Sam to hold a house meeting to clear the air.
At 8:25 PM BBT, the HGs all gathered in the living room for a house meeting. Sam started it off by mentioning that he and Analyse were playing pool in the backyard and Analyse mentioned that she feels weird talking to Sam because she doesn't feel that he is trustworthy. Sam makes it a point to say that when Nick went to him with his plan, he told Nick not to tell him because he wanted no part of it and then asks Nick if he ever mentioned Sam's name in his plans.
Nick goes into how he concocted a plan to try and get Cliff to lie to Christie. He mentioned that he was going to talk to Cliff about telling Christie he would renom Bella if Christie didn't use her power and then renom'ing someone else. He was then going to make Christie feel comfortable enough to not use her power by telling her that he was okay with Bella going on the block if that's what Cliff decided to do. He said that he dug his own grave and knows that he is probably going home next week if he doesn't win HOH.
Christie tells him that the good thing about this game is that it changes all the time. The turns into everyone telling him that he needs to stop being so negative. He made a game decision that was best for his game and saying things like "I can't beat Jack" is just setting him up for failure. Jackson tells him that he is never going to beat anyone with that attitude. Christie tells Nick that sitting there telling them all the truth is the first step to rebuilding his game.
Nick told everyone not to judge Sam for his plan and that Sam had nothing to do with it. Nick also says that he made the mistake of telling Kat and Kat got defensive and said that Christie actually knew before they spoke. Sam tells everyone that he called the meeting to clear his name because he has, up to this point, played an honest game. He really wants to try and rebuild bonds with everyone in the house and hopes that everyone can trust him knowing that he didn't have anything to do with this plan.
Do you think that Sam's house meeting was a bust or did it help him clear his name?
Download our Big Brother App, join us on Facebook & Twitter, and get our Email Updates for lots more Big Brother coverage.
Did you know you can get a Free Trial to check out the Live Feed in-house cameras for Big Brother? Watch any moment from the season both live and in the past with the Flashback feature. If you haven't tried the Feeds yet then this is your week to do it! It's twenty cents a day and the cheapest entertainment you'll find all summer.