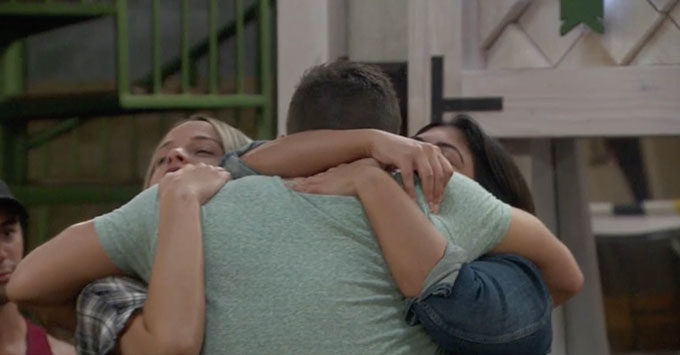 It was an emotional nomination day in the Big Brother 21 house (but otherwise quiet) as Christie found herself on the block for a fourth week in a row. But she's all cried out (for now). It was Jessica who found herself in tears as she realizes that she hasn't had an enjoyable Big Brother experience and is really confused why Jackson sees her as a threat (we are all confused, Jessica).
If you've got the Live Feeds (Free Trial) then you can watch all of these moments with the Flashback feature to go back and watch those important conversations or funny scenes you may have missed.
Big Brother 21 Live Feed Highlights – Friday, August 30, 2019:
4:10 PM BBT – Feeds have cut for the nomination ceremony.
4:48 PM BBT – Feeds return. Jackson nominated Christie and Jessica.
4:55 PM BBT – Cliff makes a joke about everyone but Nicole playing in the veto this week (since she is never picked).
5:02 PM BBT – Jackson talking about getting watermelons again in his HOH room.
6:45 pM BBT – Jackson talking about when he warned Jessica she was going up. He said he was delicate and didn't think she would take it as well as she did. Jackson says Jessica did tell him there are bigger threats to his game in the house. He says she was talking about Cliff and that alone told him he was making the right decision. He tells Holly and Nicole his goal is to protect the four of them.
6:48 PM BBT – Christie tells Jessica that she doesn't think Jackson even cares which of them gets evicted. Christie thinks he probably prefers it to be her though. Christie says Jackson is playing a good game so she can't even be mad at him.
6:49 PM BBT – Christie tells Jessica that she is pretty sure that Jackson, Holly, Cliff and Nicole are working together. Christie says there's no use campaigning because if they are a four then they're all voting together and what they say won't matter.
6:57 PM BBT – Jessica tells Christie she's feeling all of the emotions. Christie says she's not crying because she's cried enough this summer. She says she's numb to it now.
7:00 PM BBT – Jessica says she can't be mad at anyone other than herself. She says the money was never important to her. She says she wanted to play Big Brother just to prove to herself that she could do things in the game that no one that has ever looked like her in the game do. She is upset that she has had to fight so hard the whole season and has never been in the loop or in any of the alliances.
7:02 PM BBT – Jessica thinks that her experience in the game hasn't been as enjoyable as some of the others. She said it took her too long this season to really start connecting to people and she just spent most of the time missing her loved ones.
8:06 PM BBT – Christie tells Jessica that she knows they've never actually been in an alliance together, but she has always been her person in an unspoken way and she thinks the others have finally caught on to that.
9:00 PM BBT – Jessica tells Nicole it sucks to be put up by Jackson. She says she didn't think he thought of her as a threat.
9:17 PM BBT – HGs finally get some booze. They've been so boring they must want them to liven up.
9:40 PM BBT – Everyone is drinking beer and wine and chit-chatting, telling stories.
10:20 PM BBT – Holly is giving Jackson the cold shoulder. Both are up in the HOH room and neither is chatting. She's still upset at him for comments earlier.
10:35 PM BBT – Jess tells Nicole she feels like she (J) is being played by some of the HGs including Nicole who she says gave her partially true information. Nicole is surprised by this.
10:40 PM BBT – Holly is feeling frustrated that she came on this show and is only going to be known for being in a showmance.
11:00 PM BBT – Jess tells Nicole that Jackson must want to keep Nicole because he feels he can beat her.
11:05 PM BBT – Nicole starts to wonder if Jackson and Holly are working with Christie and Tommy. She says that lines up with Sis going home over Christie and then him not putting up Tommy and Christie together.
11:20 PM BBT – Cliff encourages Holly to find things to do on her own, separate from Jackson so she feels more independently represented in the game.
11:35 PM BBT – Jess warns Nicole that Tommy has Jury votes from Jack, Sis, and Christie. Nicole suggests she share that concern with Jackson. Jess doesn't want to do that.
12:15 AM BBT – Nicole shares with Holly her that Jess is having a hard time on the Block.
12:20 AM BBT – Holly worries about Jess and Christie getting closer every day.
12:30 AM BBT – HGs are heading to bed. A few conversations continue from there.
12:40 AM BBT – Holly and Jackson are finally talking again. She's upset that he's revealing personal details about their relationship. She says she's very private and conservative. He promises it was just a joke and won't do it again. Jackson reminds her they have three weeks left of a game to play.
1:00 AM BBT – Jess talks with Tommy over her struggles with being nominated. Tommy tells her both the noms could still be here by the end of the week, she never knows.
Slow night for the HGs as the season winds down. Jackson and Holly's arguments probably won't go anywhere so they'll make up and move on. We've got the Veto ahead on Saturday and that'll determine whether Jessica is heading out the door or not. She's won it before, can she do it again?
You can watch all of these Big Brother events using the archives Flashback, the DVR-like feature of this year's Live Feeds which means it's always live, even when you missed it! Sign-up now to get the free trial to watch it all live & uncensored.


Gallery: Live Feeds Highlights
Download our Big Brother App, join us on Facebook & Twitter, and get our Email Updates for more!