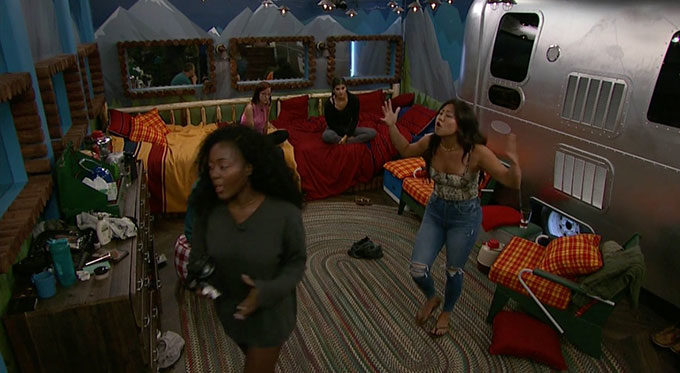 Things heated up in the Big Brother 21 house after Kemi was evicted from the game. As we all know, Kemi didn't leave the house, so there was bound to be some drama after her eviction speech. Read on to find out just how heated Kemi and Bella's argument was and also who Nick plans to nominate for eviction this week.
If you've got the Live Feeds (Free Trial) then you can watch all of these moments with the Flashback feature to go back and watch those important conversations or funny scenes you may have missed.x
Big Brother 21 Live Feed Highlights – Thursday, July 11, 2019:
7:10 PM BBT – Feeds return from live show. Kemi is telling David that people can say whatever they want but if they have something to say they need to say it to her face.

7:13 PM BBT –  Nick said he heard Kemi was going around saying she took the fall for him and Bella this week. Christie says she doesn't even know what that means.

7:22 PM BBT – Nick tells Tommy that he has nothing against Kemi but he was there for her and what she said in her eviction speech really hurt him.

7:24 PM BBT – Jackson tells Nick the vote for Kemi may have been Cliff but everyone thinks it was Nicole. Nick said he was thinking of putting Cliff and Jessica up but he might just do Nicole now.

7:25 PM BBT – Kemi and Bella are having words. Bella is raising her voice and Kemi tells her there is no need to yell. Bella puts her hands on Kemi's arms and she says don't touch me and knocks her arms away. Kemi tells her that she wouldn't ever say to her face what she said to others.

7:32 PM BBT – Sam retelling Kemi and Bella's exchange. He says they were chest to chest and about to throw hands. Bella says she doesn't throw hands.

7:37 PM BBT – Jackson tells Holly that she cannot tell anyone that he was the vote to evict Jessica.

7:55 PM BBT – Cliff asks Nicole if she was the rogue vote. Nicole says it was not but she thinks it'll be pinned on her. She says she thinks Nick will nominate her and Jessica.

8:00 PM BBT – Kemi is talking to Sam about why she had those words about Bella and Nick during the show. She said almost everyone in the house at one time or another told her that she was taking the fall for Bella and that Nick was campaigning against her.

8:05 PM BBT – Nicole tells Kemi she has started to realize that Jack, Jackson, Analyse, Holly, Nick and Bella are all together.

8:06 PM BBT – Christie is talking to Jack about Analyse being jealous of the two of them. Christie says she can just stay away from him. Jack tells her that she's his final girl, not Analyse.

8:08 PM BBT – Kemi tells Nicole that Bella said Christie overheard Cliff and everyone knows about the alliance with Nicole, Cliff and Ovi. Nicole says no wonder everyone is acting weird to her.

8:25 PM BBT – Nicole cam talks that she's so mad at herself for not seeing the whole picture clearer before now. She says she knows this show and should have seen what was going on.

8:45 PM BBT – Cliff tells Bella, Sam and Holly that the rogue vote wasn't him but it also wasn't Nicole he feels.

9:06 PM BBT – Jack says that Nick doesn't want her at his HOH room reveal or in the room at all this week.

9:20 PM BBT – Jackson asks Nick if he's thinking Nicole and Cliff. He says that is exactly what he's thinking and he isn't even worried about Jessica right now. He says he thinks either Cliff or Nicole have the power.

9:24 PM BBT – Nick now says maybe the vote for Jessica was Cliff and he's America's Player.

9:27 PM BBT – Nicole tells Jackson and Nick that she's a straight shooter and if the vote was her she would say it. Nick again says he thinks it was Cliff.

9:32 PM BBT – Bella is telling Jessica a whole new spin on the whole Black Widows alliance getting outed. I'm not sure any of what she's saying is even true.

9:50 PM BBT – Nick says if Kemi apologized to him he would forgive her but he's just going to ignore her and not say anything bad about her.

9:56 PM BBT – Analyse tells Nicole she wants to work with her so that's why she wants to make sure she's safe. She wants Nicole to make sure Nick knows that rogue vote wasn't her.

10:20 PM BBT – Kemi decides she will come up for Nick's HOH since she's happy for him on a personal level.

10:22 PM BBT – Holly labels Nick and Bella as bullies in the game because everyone is afraid of them now.

10:25 PM BBT – Analyse lets Nicole know she doesn't think it was her with the rogue vote.

10:50 PM BBT – Analyse and Christie want to make sure they get Cliff out this week. They want to keep decisions away from the 8 and down to just the 6.

11:05 PM BBT – Kemi got her Camp outfit.

11:20 PM BBT – HOH room time for Nick. HGs head upstairs.

12:00 AM BBT – Nick is thinking he'll put up a mix of Cliff, Jess, and Nicole. He's certain about Cliff but not sure on the other spot.

12:10 AM BBT – Bella is on to Jackson and thinks he did the flipped vote. She tells Nick and Sam that downstairs he blamed Nicole then upstairs he blamed Cliff. Nick agrees Jackson probably did it and he sees it was done to make him target Nicole.

12:15 AM BBT – Nick tells Bella he doesn't want to put up Nicole or Kat.

12:20 AM BBT – Nick lets Bella and Sam know that he won't target Jack but if he wins a special power that lets him change his nominees then yes, he's going to go after Jackson and Jack. Sam asks if putting up Cliff is doing someone else's dirty work. Nick says no one is coming after him so who should he put up?

12:35 AM BBT – Ovi pitches to Jackson that he and Holly should work with Ovi, Cliff, and Nicole.

1:15 AM BBT – Nick confirms to Nicole she's safe with him. He says he doesn't believe that she was the rogue vote. If he has to make a renom it'll be Kat, not her, promises Nick.

1:25 AM BBT – Bella tells Nicole she doesn't understand why Kemi is so upset at them. Bella feels she was nice to her and she was upset in return. Bella says Kemi brags that she's dragging HGs in her DRs. She doesn't want to talk to Kemi while she's still here in the Camp.

2:20 AM BBT – Tommy lets Jackson know that Nicole is being blamed for the rogue vote but that Jackson's name has come up associated with it too. Jackson denies it again and says maybe it was Cliff.

2:30 AM BBT – Holly and Jackson are now both pushing to Tommy that it was Cliff who did the vote.

2:50 AM BBT – Holly is worried about what Nick might do but doesn't think he's ready to really flip things just yet.

3:30 AM BBT – HGs are off to bed.
Nick and Bella are in danger from the rest of the 8 but they don't see the opportunity they have here. Instead, Nick is probably going to nominate HGs who wouldn't be coming for him just yet. Meanwhile, Jackson has put himself in a bit of trouble with that rogue vote and we'll see if he continues to push the blame for it.
You can watch all of these Big Brother events using the archives Flashback, the DVR-like feature of this year's Live Feeds which means it's always live, even when you missed it! Sign-up now to get the free trial to watch it all live & uncensored.


Download our Big Brother App, join us on Facebook & Twitter, and get our Email Updates for more!