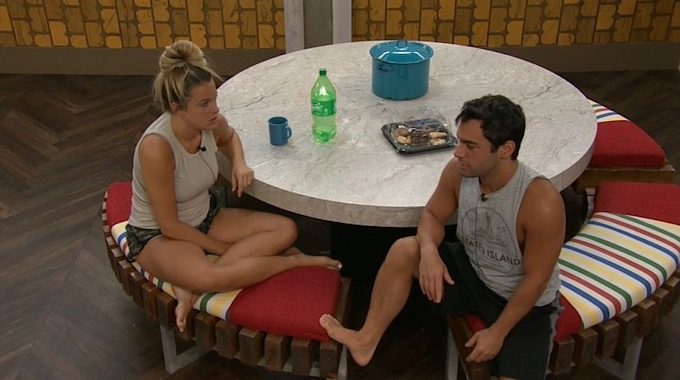 It is Double Eviction Day in the Big Brother 21 house and while the houseguests have been suspicious of it for a while, it's finally here! Not much went on in the house prior to the feeds going down for the Big Brother live show, however, you can read on to get the details of any talks inside the house right here!
If you've got the Live Feeds (Free Trial) then you can watch all of these moments with the Flashback feature to go back and watch those important conversations or funny scenes you may have missed.
Big Brother 21 Live Feed Highlights – Thursday, September 5, 2019:
9:30 AM BBT – HGs are waking up.
10:05 AM BBT – Jackson tells Cliff that he really hopes that him and Nicole are going to go for the HOH. Jackson adds that he hopes that he doesn't plan to throw it to them and let them go after Jackson and Holly. Cliff tells him absolutely not and the only way he makes it to F5 for sure is to win it. Cliff tells him that they have an agreement and he plans to stick by that.
10:30 AM BBT – Cliff goes up to the HOH room to talk to Jackson and Holly. Cliff tells them that they (C&T) are downstairs memorizing the Memory Wall. He assures Jackson and Holly that he in no way wants to compete against them in the end. Cliff tells them about how he and Nicole said that they were going to the Boat Room to talk in front of Tommy and Tommy suddenly wanted soup knowing that.
10:35 AM BBT – They continue to talk about how Christie needs to go. Jackson says that he isn't even sure that Christie is going to go after the HOH at this point knowing that she will have to go against her word to Jackson and Holly in order to target them. Cliff tells them that he is going to continue to convince Christie that he would target Jackson and Holly.
11:00 AM BBT – The HGs are all cleaning and getting ready for tonight's live show. Cliff isn't feeling well and laying on the couch in the bathroom.
11:05 AM BBT – Pet loops for HOH lockdown.
1:20 PM BBT – Feeds return. The HGs are cleaning and getting ready for the show.
1:40 PM BBT – Jessica talks about having anxiety that Julie is going to cut her off because she is worried her speech is too long. Nicole asks her if she wants to practice her speech with her she can, but Jessica is worried she will sound stupid.
2:00 PM BBT – The HGs are just hanging around getting ready for the show or relaxing. Nothing much going on at the moment.
2:15 PM BBT – Christie promises Nicole again that she didn't swear or shake on a deal with Jackson. Christie says it was a one week deal two weeks ago.
2:20 PM BBT – Jackson worries Nicole and Cliff might throw it to Christie and Tommy. Nicole promises she's going to fight hard for it.
2:25 PM BBT – Nicole camtalks that everyone tells her she's safe so who is she supposed to nom if she wins HOH. She says she's ready to nominate all of the couples and just keep her and Cliff safe.
2:35 PM BBT – Nicole checks in with Holly and Jackson. She promises them she's not doing anything crazy.
2:40 PM BBT – Holly tells Jackson that Christie is a backstabbing bitch. They agree she's a hypocrite.
2:50 PM BBT – Nicole asks the noms, whoever goes tonight, to pass along a message to the Jurors that the HGs miss them.
3:00 PM BBT – HGs hanging out and waiting on the show.
Some last-minute jitters for the HGs but not shifts in the plans to evict Jessica and then the excitement begins with who will take power and which couple will be targeted in tonight's Double Eviction!
You can watch all of these Big Brother events using the archives Flashback, the DVR-like feature of this year's Live Feeds which means it's always live, even when you missed it! Sign-up now to get the free trial to watch it all live & uncensored.

Gallery: Live Feeds Highlights
Download our Big Brother App, join us on Facebook & Twitter, and get our Email Updates for more!