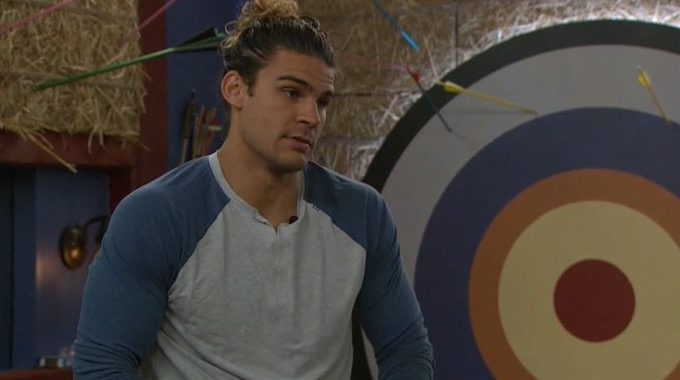 The Big Brother 21 HGs spent the day scrambling now that there has been a shift in power inside the house. Everyone is getting in their one on ones with the HOH and the Six Shooters have realized that two of their own could be in danger. Keep reading to find out who could be going up at today's Nomination Ceremony right here!
If you've got the Live Feeds (Free Trial) then you can watch all of these moments with the Flashback feature to go back and watch those important conversations or funny scenes you may have missed.
Big Brother 21 Live Feed Highlights – Friday, July 19, 2019:
10:00 AM BBT – HGs waking up.

10:25 AM BBT – Cliff tells Nick that enough people mentioned Nick and Bella's name to know that they are separate from the rest. He tells Nick that he doesn't want to put him and Bella up. They compare notes a little before talking about how to approach noms. Nick tells Cliff that if he wins next week, he is putting up Jack and Jackson like he should have last week. Cliff wonders if they got Jack out this week, who would they target next week. Nick says, Jackson. Cliff mentions that Jack is his target, he just needs to make sure he has the support to get him out.

10:45 AM BBT – Nick and Sam are talking to Analyse. Nick is taking jabs about Six Shooters coming after him and Sam tells her that he feels stupid for believing them because he knows that they are on their radar. Nick also tells Analyse that he won't be shocked to see him and Christie's face when they do noms. Nick tells her that his biggest fear is trusting them and then gets taken out by them.

10:50 AM BBT – Sam goes to talk to Cliff. Tell Cliff how upset he was at the six for not filling him in on the flipped vote. Sam asks Cliff if he plans on making a big move and Cliff tells him that it doesn't make sense for him not to. Sam warns Cliff that they have to be careful with what they say to Christie. Cliff worries about how close Christie and Jack are, but Sam tells him that she has mentioned that one of them (Jack or Jackson) has to go.

11:05 AM BBT – Cliff throws out the choice of Jack and Analyse or Jack and Jackson on the block together. Sam mentions touching base with Christie and Tommy for him. Bella walks in and Sam heads out. Cliff tells Bella that she and Nick are getting thrown under the bus by everyone. He tells Bella that him going after the couples was blown out of proportion. Bella tells Cliff that her, Nick, and Sam have his back.

11:18 AM BBT – Christie tells Tommy that she is upset at Jackson for telling Cliff about her power and then Jack told Nicole about it too.

11:25 AM BBT – Jack is up in the HOH room now. He is gassing up Cliff and telling him that he is a smart guy and he can see the divide in the house since the flip vote last night. Jack is throwing Nick and Bella under the bus without mentioning their names. Cliff tells him that he is still deciding on what he is going to do, but he has to keep in mind that six people voted against him last night.

11:33 AM BBT – Kat's turn. She tells Cliff that Jackson is doing damage control with her because they blindsided her too. Kat mentions that Jackson's vendetta is against Nick and Bella. Kat tells Cliff that Ovi told Jack and Jackson about his power and what the power did. Cliff tells Kat that Nick and Bella aren't his big targets this week. He tells her that process of elimination, Jack, Analyse, Christie, and Tommy are the four he is thinking about. Kat tells him that she would hate to vote against Tommy or Christie. Cliff tells her that Tommy would be put up as a pawn. Kat tells him that Jack and Tommy would be a good scenario, but he is worried that Jack would win POV and take himself down and then his option is Analyse.

11:40 AM BBT – Kat is reporting back to Jack. She tells him that Cliff isn't going after her, Jess, Nicole, but he hasn't said who he is targeting.

11:45 AM BBT – Everyone officially knows about Christie's power.

11:47 AM BBT – Sam, Bella, and Nick are talking about how this is there only chance to get Jack out.

11:50 AM BBT – Kat is talking to Jackson. Jackson wants Kat to try and get Cliff to put Jackson up as a pawn. She tells him that Jackson and Holly aren't his targets and Jackson said: "good because I want to be a pawn."

12:00 PM BBT – Jackson is talking to Holly. She is mad because she wanted to talk to Jackson after he got out of the DR but he went to talk to Kat all night. Holly tells Jackson it's just hard to trust their fate in Kat's hands. Christie walks in and tells Jackson that she is scared. Christie says that Sam said Cliff was targeting Jack. Jackson tells her that Kat said that Cliff didn't say anything about putting Jack or Christie up.

12:08 PM BBT – HGs are called to the HOH for lockdown. Feeds go down.

1:33 PM BBT – Feeds are back. Jackson, Tommy, Nick, and Sam are HNs this week. Analyse is pitching to Cliff in the HOH.

1:38 PM BBT – Tommy is now meeting with Cliff. Cliff tells him that knowing that him (T) and Christie aren't his main targets, is there anyone he won't vote against. Tommy tells him no, that he is there for him. Cliff also tells him that even though he doesn't trust Nick and Bella completely, they might not be his targets this week. Cliff tells him that he is thinking Jack and Jackson or Analyse.

1:53 PM BBT – Tommy goes to tell Jack, Jackson, and Holly that he talked to Cliff and it looks like it's going to be two of the six going up today. Jackson wants to all go up and talk to him, but Tommy thinks that would be too aggressive. They just have to gun for the Veto. Jackson says that's what happens when they don't pull off the HOH win. Tommy says that they still have Christie's power, they just have to get Christie to use it if one of them wins the Veto.

1:58 PM BBT – Cliff tells Christie that Nick and Bella aren't his targets this week. He tells her that he has to protect himself a little, but he wants her to know that he isn't going after her and Tommy.

2:05 PM BBT – Nicole comes into the room with Tommy and Jack and they are filling her in on what Cliff told Tommy. Jack and Tommy both told her that she can make whatever move is best for her game and that there wouldn't be any hard feelings. Tommy tells her that she doesn't owe them anything.

2:09 PM BBT – Jack is telling Kat that Cliff is siding with Nick, Bella, and Sam and two of the six will be going up.

2:15 PM BBT – Cliff tells Sam that he wants to work with him, Nick, and Bella. He says that he is looking at Jack as his primary target this week with Jackson as a backup target.

2:18 PM BBT – Analyse is telling Christie about her conversation with Cliff. They are putting the pieces together and realize that Jack is most likely going up. Jackson comes in and says that he thinks he is going up but isn't his target. Jackson says that in order to try and save the six, one of them has to win the Veto and Christie has to use her power. Jack walks in and Christie repeats everything.

2:45 PM BBT – Holly is talking to Cliff now. He is telling her that he really wants to work with her and Jackson. However, he isn't going to make a move that is safe either. He also tells her that he isn't sure that he is going to be using a pawn in this situation. Holly warns him that working with Bella and Nick not end well, look at Kemi and Nicole.

3:00 PM BBT – Jackson goes up to Cliff to tell him that Ovi asked Jackson to tell Cliff about his power and to explain to Cliff that he didn't tell him about it while he was in the game because he was protecting him (Cliff already knows that Ovi had a power). Jackson told Analyse and Jack that he was going to do this in case Cliff isn't taking a shot at Bella because he thinks she has the power. Cliff tells him that there are people whose game he doesn't respect and he is trying to figure out if he can go after them. Jackson tells him he has a lot of people that would support him. Cliff lets Jackson know that he doesn't want to see him or Holly go home.
Six Shooters are scrambling trying to get Cliff to target Nick and Bella, but Cliff has something else in mind for this week. We still don't know who Cliff is going to put up for Nominations, but we have a pretty good idea that Jack is going to be one of them. We will have nomination spoilers for you as soon as they are available!
You can watch all of these Big Brother events using the archives Flashback, the DVR-like feature of this year's Live Feeds which means it's always live, even when you missed it! Sign-up now to get the free trial to watch it all live & uncensored.


Gallery: Live Feeds Highlights
Download our Big Brother App, join us on Facebook & Twitter, and get our Email Updates for more!