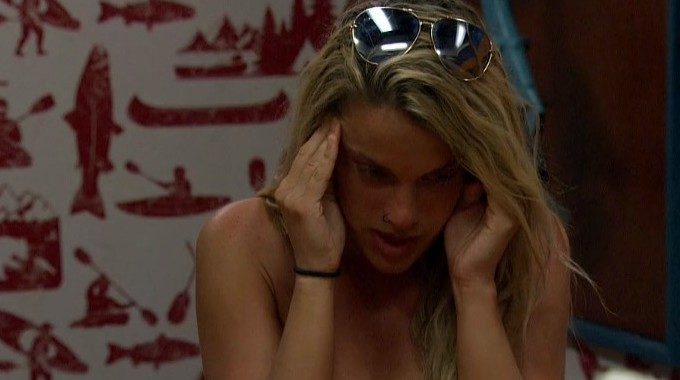 Saturday was a long one on the Big Brother 21 Feeds as Christie stressed the plan to target a Backdoor. Eventually, she had enough of the idea and set a course correction to send out another target. Meanwhile, the not-a-target tearful HG continued to cry and fret to everyone around. Long day.
Don't forget to sign up for the Big Brother Live Feeds right now so you don't miss anything else this season. Anything you want to watch from our Highlights report is always available using the rewind feature to pick any day, time, and camera to watch it again. Enjoy!
Big Brother 21 Live Feed Highlights – Saturday, June 29, 2019:
8:05 AM BBT – Lights come up on but HGs aren't getting up.

9:55 AM BBT – Cliff camtalks encouraging Feedsters to keep watching today since there's no Veto comp so Feeds should stay up all day.

11:00 AM BBT – Jackson talks with Cliff about wanting to work with him, Holly, and Kat.

11:45 AM BBT – Christie talks with Kemi to see what's going on. Kemi says she heard Kat say Christie was her target.

12:05 PM BBT – Christe tells Tommy that Kemi isn't a threat to them. They're going to talk with Sam.

12:10 PM BBT – HGs have a funeral for the fish.

12:20 PM BBT – Nick mentions to Sam that keeping Kemi wouldn't be bad for their game.

12:35 PM BBT – Christie tells Tommy and Jack that they should stick to the BD Kemi plan and then rebuild their 8.

12:40 PM BBT – Jack is questioning Kat over things she's said about him, Kemi, and Christie. Kat is having a hard time keeping her stories straight.

1:00 PM BBT – Jack promises Kat she's safe and to trust him. He says Kemi still has no idea she's the target.

1:10 PM BBT – Holly and Kat agree that Kemi is the victim in this situation. They think Kemi would come to their side if she stayed.

1:55 PM BBT – Kat continues to worry. Jackson is trying to calm her and warn her she's only going to make it worse for herself.

2:30 PM BBT – Cliff counts the votes with Kat. He thinks Kemi will be out the door maybe 10-2 or 11-2. Cliff fears they could be easy pawns now after being up at the start.

3:25 PM BBT – Jessica and Nicole discuss how Nick wanted Kemi out before he was following Bella around and now he wants what she wants.

4:00 PM BBT – Kat is back to worrying about the vote. Jackson continues to tell her to calm and stop.

4:00 PM BBT – Kemi worries to Nicole that she (K) might be going up. Nicole denies knowing anything of the sort.

4:15 PM BBT – Cliff tells Jack that he liked the original plan to BD Kemi and says he doesn't want to see Kat go.

4:45 PM BBT – Christie and Jack are in the HOH room. She wants to know what's going on with the votes and this plan to get Kemi. Jack is blaming the situation on Nick then says Kat may have been manipulating the situation. Christie says she wants Kemi to go but worries Nick will come after her. Jack says he and Jackson will be the targets instead.

4:55 PM BBT – Jack again swears his allegiance to Christie and says he'll let it end his game if that's what happens.

5:00 PM BBT – Ovi arrives and Christie starts crying that the house is divided. She says she's sticking to the plan to BD Kemi.

5:15 PM BBT – Christie goes outside and asks Nick why he isn't working with the 8. Nick says he is. They want to get the group together overnight to talk.

5:30 PM BBT – Kat tells Holly this may all be a big distraction and the plan is to get her (K) out because she's very important. Holly tells Kat she doubts anyone cares that much.

5:45 PM BBT – Christie cries to Tommy that she fears she's playing someone else's game. Christie contemplates maybe they should BD Jack instead. Tommy agrees that he wants him out.

5:50 PM BBT – Christie thinks that it goes back to Kemi badmouthing someone's cooking and now she's their target. Christie doesn't want to BD Kemi.

6:15 PM BBT – Christie goes to get Sam to discuss his Veto plans. She tells him what she's been realizing.

6:25 PM BBT – Christie tells Sam to do what he wants with the Veto but maybe it wouldn't be so bad if Kat went this week.

6:35 PM BBT – Sam asks if they'd have the votes to get Jack out. Christie isn't sure.

6:45 PM BBT – Christie still wants to go after Jack if they have the votes. Sam suggests Ovi as an alternative. He's sure everyone would vote him out.

7:00 PM BBT – Sam plans to tell others that he doesn't know what she (C) wants him to do with the Veto yet and if it's Jack asking then he'll say he's definitely using it anyway.

7:25 PM BBT – Christie has HGs draw an M&M to see who will split her wine bottle with her. Jessica wins.

7:25 PM BBT – Jack and Jackson discuss how Christie might not be as solid with them as they had thought.

8:05 PM BBT – Jack, Sam, and Nick chat about Christie. Jack is surprised by all the emotions from her.

8:45 PM BBT – Kat was crying again. It's Tommy's turn to comfort her.

9:10 PM BBT – Sam tells Nick that Christie is going to act shocked when he uses the Veto to save Cliff.

9:25 PM BBT – Kat is crying again. Jessica's turn to comfort. Jessica explains to Kat the new plan is to renom and vote out Ovi. She promises Kat the women will all vote to keep her.

10:55 PM BBT – Sam tells Bella about Christie's plan to renom Ovi instead of Kemi. He asks Bella not to let Christie know that she knows.

11:30 PM BBT – Ovi talks about his goal to reach Day 99 in the house.

12:10 AM BBT – Tommy tells Ovi about how GinaMarie hurt the Staten Island image from her behavior on BB15. He thinks it took a long time for them to be willing to cast another HG from there. He wants to repair that image.

12:20 AM BBT – Christie explains to Jack, Jackson, Analyse, and Holly that she doesn't want to renom Kemi. Before she can name Ovi as her renom plan he walks in so the conversation changes.

12:45 AM BBT – Jessica talking with Nicole that she's sorry Ovi will be going up but Christie feels Ovi will be the easiest option of the guys. She wants to keep Kat.

2:25 AM BBT – Jack and Jackson worry about their F8 alliance. Jackson is concerned about Nick and Bella but wants to keep using them for as long as possible.

2:35 AM BBT – Kemi tells Bella she hopes the Veto isn't used. She also doesn't want to see Holly, Jack, or Jackson win HOH next.

2:50 AM BBT – Kemi goes over the votes with Nicole for whether they could get out Jack. She details out the members of a F8 alliance Jack has which she knows about because she overheard Jack and Jackson on Day 2 discussing it.

3:10 AM BBT – Kemi shares that if she wins HOH she'll nom Jack and Jackson side by side.

3:30 AM BBT – HGs are all off to bed.
Veto meeting should probably happen on Sunday and Kemi should probably be safe. Unless something changes. Again. It probably won't though as Christie is right that getting rid of Kemi doesn't do much for her game. Ovi looks to be the easiest choice for her to avoid that. Someone's gotta go!
You can watch all of these Big Brother events using the archives Flashback, the DVR-like feature of this year's Live Feeds which means it's always live, even when you missed it! Sign-up now and get the free trial to watch it all live & uncensored.


Gallery: Live Feeds Highlights