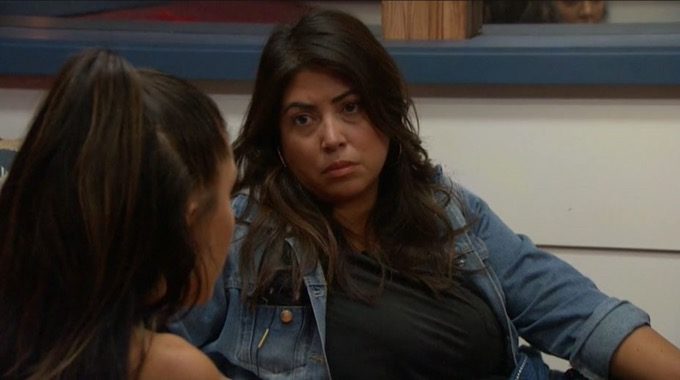 Last night on the Big Brother live feeds we watched as one HG shared some information about a new alliance forming in the house to Jessica. What she did with that information later is what most people are shaking their heads at. Read on to get all the details!
At 11 PM BBT (cams 1 and 2) we watched as Nicole sat Jessica down and told her that she had something to tell her. She tells Jessica that she doesn't want to be left out on a limb because she is the only person she can trust in this house. She tells her that what she is about to tell her could blow up her game, but she can't keep this from her. Nicole tells her that Nick and Cliff have both approached her about there being a plan of a F6 with Christie, Tommy, Cliff, Analyse, Nick, and her.
Nicole adds that Jackson and Holly are their first targets, but Jessica would be targeted after that and it's not sitting well with her. She tells Jessica that she is trying to figure out how to move forward delicately. Nicole tells her that they have an opportunity to change how things go if her, Jessica, Holly, and Jackson keep Kat then it will be five against five.
Delicately isn't how I would describe how Jessica moved forward with that information. She went to Holly and told her about what Nicole told her and adds that Holly and Jackson are their next targets. She adds that she is committed to voting out Cliff, Kat is her best friend in the house.
After her conversation with Holly, Jessica talks to Analyse and tells her that she knows there is something in the works that involves Cliff, Analyse, Christie, and Nick. Analyse gets very defensive and denies that there is any kind of alliance. Analyse is able to warn Christie that Jessica knows about the alliance before Jessica goes and questions her about it. Christie, Analyse, and Jessica all talk about how there is no alliance and Christie get emotional and said that she is voting our Kat because she doesn't trust the dynamic of Kat, Holly, and Jackson.
Jessica tries to talk both of them into voting to keep Kat because she is being pinned as a more dangerous player than someone who has been part of a ton of different deals in the house. Jessica get angry that Christie is talking like she has to vote Kat out over Cliff. Christie tells her that if someone is offering her safety, then she is going to take it and Cliff is set to target Jackson and Holly. Jessica reminds them that Kat has said the same thing, but Christie adds that Kat's actions haven't matched that.
While Jessica thought that this information might sway some of the HGs to vote out Cliff, it seems to have backfired. Do you think that this helped Kat's game? Or did it just make Jessica a bigger target?
Download our Big Brother App, join us on Facebook & Twitter, and get our Email Updates for lots more Big Brother coverage.
Did you know you can get a Free Trial to check out the Live Feed in-house cameras for Big Brother? Watch any moment from the season both live and in the past with the Flashback feature. If you haven't tried the Feeds yet then this is your week to do it! It's twenty cents a day and the cheapest entertainment you'll find all summer.