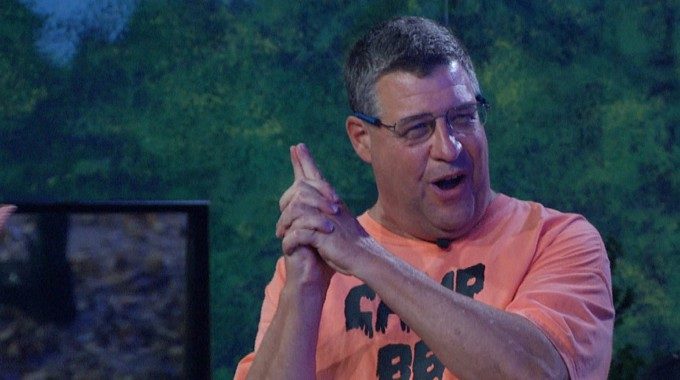 We waited into the fourth week of Big Brother 21 to have our first power shift in the game and it was a big one. Cliff Hogg snatched victory from Jack, sent the Jax twins to the Block, and then, well, then things fell apart.
After the Veto comp ended we saw Jackson had won the power and you knew that meant he'd save himself. He's a knucklehead but not so much he wouldn't get himself out of danger faster than breaking a showmance (or two). So now the opportunities for system failure were introduced.
Christie's power to giveaway renom control has been floating out there and is still good for another two rounds past today. She doesn't want to use it, we all know that and so she's worked on convincing Cliff he doesn't have an alternative but to bend to her will and that of the Shooters.
On Saturday and Sunday, we watched a series of conversations on the Live Feeds that kept us guessing on the real plan. Cliff spoke with Nick who encouraged Cliff to say whatever it took to get Christie comfy enough to avoid using the power and then he'd pull a switcharoo. This is Big Brother, it's about deception, and at first, Cliff seemed to be game but now he's spoken against the move.
Sure, deceiving Christie would blow up his spot but Cliff has to know this current track will most likely lead to his eviction when up against the Shooters alliance. If he at least shook the gameboard and reset the patterns he has hope in the ensuing chaos. Alliances would shift and so would the numbers needed to control the game. Even now the votes are razor-thin and passing this opportunity will only make it worse.
Say Christie's power wasn't there then Cliff would name the renom as Holly or Analyse. They'd have the five votes needed to send it up to Cliff for a tiebreaker and he could send Jack out the door. But with Christie using her power it would send Bella to the Block and remove one of the five votes they require. Cliff would then need Kat's vote to force the tie against Jack. Guess who Kat isn't voting out…
On Sunday Kat told Cliff she was more worried about Bella than Jack and she'd vote out Bella over Jack. Yikes. Kat knows she's in a good spot and not a target for the Shooters so this stance is understandable but still frustrating when we want to see some action in the game.
Cliff can do basic math. He knows he doesn't have the numbers to get rid of Jack but now he's taking his defeat even further. Cliff has offered to Christie that he'll renom Bella himself and let her save the power for later. What?? Yes, he's offering to do Christie's dirty work for her. This is insane.
What Cliff should at the very least be doing in this position of defeat is taking at least the victory of forcing Christie to burn her power to get what she wants. It's his HOH and he should continue to pursue his plan. If she wants to change that trajectory then she can do it too but there's no sense in letting her eat her cake and keep it too.
Cliff's reasoning on Sunday was that he doesn't have a reason to save Bella if everyone wants her out. You're not trying to save Bella, Cliff. You're trying to get out Jack! Bella staying is the side effect, not the goal.
On the bright side, do you remember last week when Christie was 100% safe and freaked out before the Veto meeting? Well, there's more at stake this round and she doesn't have an ally sitting in the HOH seat. Perhaps we can bank on a freakout mid-morning and she rushes to the DR to make sure she doesn't end up on the Block. Her request has to be given to DR by 11AM BBT today so let's see.
In the meantime, Cliff's HOH reign will go in the books as a flop at this rate. There's always a chance since Jack will still be on the Block but I wouldn't hold your breath. Blerg.