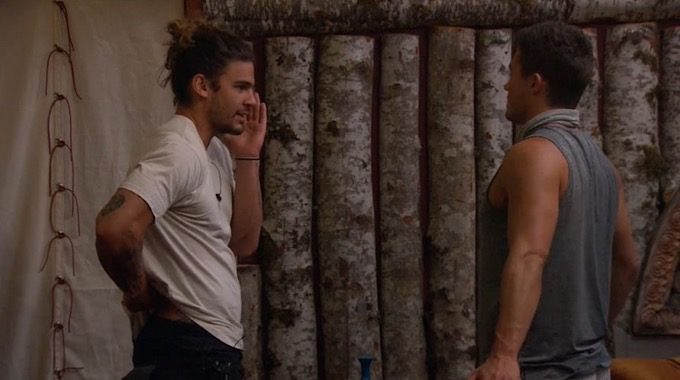 Wednesday on the Big Brother live feeds, we watched as Sam finally told Jackson his side of everything that went on with Christie during Cliff's HOH. This caused the crack in the Six Shooters alliance to turn into a huge, gaping, hole.
It all started at 1:50 PM BBT (cams 3 and 4) when Sam decided that he was going to tell Jackson all about Christie's plans during Cliff's HOH. Sam tells Jackson that during Cliff's HOH, Christie was perfectly fine with sending Jack or Jackson out the doors as long as that meant she didn't hit the block.
He added that Christie wasn't planning on using her power and was going to claim that Jack and Jackson were pressuring her to use it. This would open her up to not using the power and blaming their selfishness and bullying on why. However, when Jackson won POV, that changed how everything went down and Christie had to show loyalty to Jack and Jackson so she made a deal with Cliff and pinned Nick and Sam as the bullies.
Jackson went on to tell Holly about all of this making her wish she knew before the POV Ceremony so she would have put Nicole up and kept Sam in the house. Jackson then told Jack about this and while Jack didn't have much to say to Jackson, we found out a little later when Jack talked to Tommy that he didn't believe anything that Sam said about Christie.
At about 12:10 AM BBT (cams 1 and 2), Jackson and Jack have another conversation. Jackson tells Jack about how Cliff told him Christie wanted to take a shot at Jackson because he is disrespectful of women and told Cliff that Jackson was the rogue vote and mentioned Jack as a backup. Jackson tells Jack that Christie isn't to be trusted and he doesn't know where Analyse and Tommy lie so this all has to stay between them. Jack agrees and leaves the room.
Jackson is all for going after Christie before she comes after him, but Jack doesn't think that Sam is telling the truth. Jack is trying to make it seem like he is with Jackson, but then going and having conversations with Analyse and Tommy about keeping Sam and sending Kat out the door because she is a number for Jackson.
So where does this leave the Six Shooters? It looks like Jackson and Holly could be working with Cliff, Nicole, and possibly Jessica next week. This will leave Jack, Analyse, and Tommy working with no one but themselves and Christie moving forward. However, I don't see Jack and Analyse completely cutting off Holly and Jackson just yet. We also have Nick and Kat who are wild cards in this and will most likely work both sides of the house until they are forced to pick a side.
Download our Big Brother App, join us on Facebook & Twitter, and get our Email Updates for lots more Big Brother coverage.
Did you know you can get a Free Trial to check out the Live Feed in-house cameras for Big Brother? Watch any moment from the season both live and in the past with the Flashback feature. If you haven't tried the Feeds yet then this is your week to do it! It's twenty cents a day and the cheapest entertainment you'll find all summer.