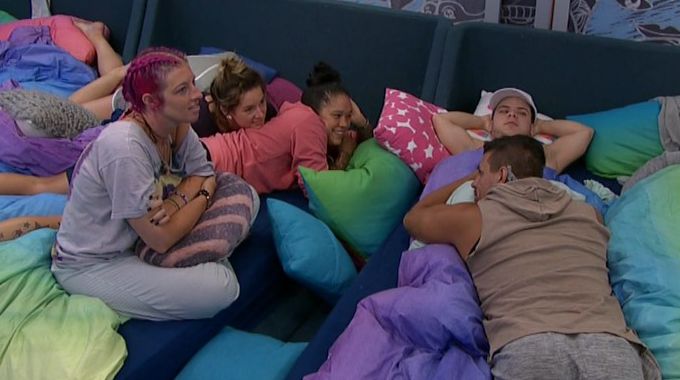 We're wrapping up Week 2 of Big Brother 20 with FOUTTE in tatters while the L6 alliance is starting to expand and perhaps change in its own ways. With Swaggy practically already gone we're waiting on the next Head of Household competition to see just which way the upcoming week will go. But even though, what's to come of these once more evenly weighted alliances?
FOUTTE started out with Kaitlyn, Swaggy, Faysal, Angie, and Haleigh but "To The End" was apparently referencing something more like the end of that week, not the whole season. So now Kaitlyn has flipped and knocked out Swaggy while the group basically picked up Bayleigh and maybe, kinda Scotty who became a free agent with Steve's departure.
Scottie is in a weird spot as he's being courted by Tyler and Co. (see: this week's Veto usage), but he really seems more comfortable with Swaggy's side. Of course there we have it again that Scottie is getting close with someone who is about to go. Maybe he turns out to be like that cat who starts hanging around certain rooms at the nursing home. You know the story I mean. Scottie might see the writing on the wall and try to cozy up with L6 but Winston has his eye on him and that could be an issue.
Speaking of L6, they're hanging on pretty strong here. Tyler is leading that pack and has used Kaitlyn well to their benefit for the past two weeks. Kaitlyn has told her old group that she's solid with them instead of L6, but would either side want her anyway? She can't be trusted and is hardly steady in her plans. Kaitlyn will try to tag along with Tyler, but she's completely expendable and definitely not dependable.
JC is more or less L6's #7 even though he doesn't realize he isn't part of their original core. I don't see him flipping against Tyler and crew so that's another number in their favor. The same goes for Sam after L6 rallied to save her in Week 1. She'll be sticking with them for the time being.
So that puts eight HGs in the L6 column, four in the FOUTTE column, and 2 wild cards (Kaitlyn & Scottie) in the middle. The numbers look bad for FOUTTE but imagine one of them wins HOH tonight and gets two L6's on the Block then pulls over Kaitlyn and Scottie. They're nearly neck and neck again. L6 would still control the vote 6-5 and decide who goes next, but the numbers gap will have closed greatly from what first looked like 8 vs 4. Then again if L6 wins control tonight that's all out the window and we've got another one-sided week ahead of us.
What do you want to see happen tonight with the Head of Household competition? Is it time for FOUTTE to be finished off or should the power swing back and balance the game? Share your thoughts below and get ready for tonight's Big Brother episode!