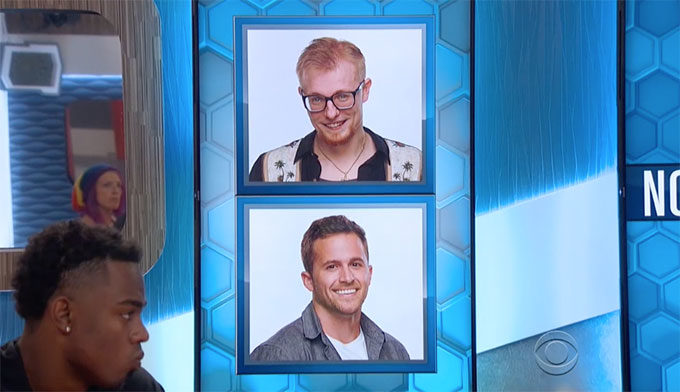 As we saw during Sunday night's episode of Big Brother 20 (and all day, every day on the Live Feeds), Kaitlyn is in the middle of executing a true backdoor plan that was orchestrated by Tyler.
When Kaitlyn won HOH, she had no idea what she was going to do, so she turned to her intuition (aka Tyler) for guidance. He came up with the plan to backdoor Swaggy C, and she hasn't backed down from that. It was risky when she went with Winston and Scottie as two pawns, but when Swaggy didn't get picked to play in the Veto competition, the plan was a go.
It's rare that there's a true backdoor these days as most people targeted get to play in the veto, but Swaggy has had no chance to keep himself safe this week. And since Tyler won the Veto competition, there's no chance of Swaggy not landing on the block come today at the Veto ceremony.
The plan as of now is for Tyler to use the POV to save Scottie and Kaitlyn will name Swaggy as the replacement. Of course we've got Winston, who is in on the plan, starting to sweat. As we saw during Sunday's Live Feeds, Winston and Brett began discussing ways to get Winston off the block instead of Scottie.
Winston coming off the block probably would actually be smarter for Tyler and Kaitlyn's plans as more people would be more likely to flip on Winston to save Swaggy. Now that would make for quite the dramatic week.
As of now Swaggy is still in the dark even though the veto plans are spreading. Kaitlyn told Haleigh the plan and then Haleigh told Rockstar. Of course they're on Swaggy's side, so they're both confused and annoyed by Kaitlyn's plans. Rockstar knows it's Tyler's doing, though, so there's at least one person coming for Tyler after this.
We'll be watching for the Veto Ceremony coming up soon and will have the spoiler results then. What do you think of Tyler's Veto plan? Is he making the right choice here?
Get the results when they're announced. Grab our Big Brother App and we'll send you an alert when the spoilers are in. Join us on Facebook, Twitter, and by Email Updates to get more results all season.