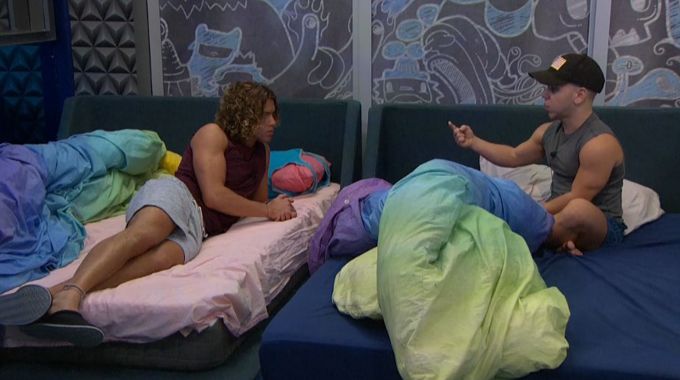 The Veto scenario is simple this week on Big Brother 20. There's no player draw with only five Houseguests left in the game and the pressure is on for the nominees and the rest of L6. If either nominee gets the win here then an L6 will have to hit the Block under their own HOH. It'll almost feel like FOUTTE is back in the game.
Angela sent JC and Sam to the Block last night. No surprise. But some fans are surprised to find out that Sam is the target over JC. If she doesn't win the Veto then she will be the next HG voted out and it'll happen during the special Tuesday-taped, Wednesday-broadcast episode.
JC has yet to win anything all season and his competition will be fierce but if he's due then now is the time. He should be safe if L6 wins, but if Sam gets it then he's the one taking the heat with the votes.
As for who the renom would be, well I think it's safe to say the lovebirds won't be renom'ing each other so watch for Kaycee to hit the Block in the case of either nominee besting L6 in today's battle. Even then Kaycee wouldn't be in danger unless Tyler decided to turn on her. Otherwise Tyler could tie the vote in Kaycee's favor and Angela would break it to keep her.
We haven't heard any tips on what sort of Veto competition the Big Brother 20 HGs will face and it hasn't started yet so maybe they're waiting on another nighttime setting. Any particular POV competition you'd like to see put back in action for this week?
We'll be watching for the spoilers and will share results as soon as they're back. Who do you want to win the Veto today? Share your picks below!