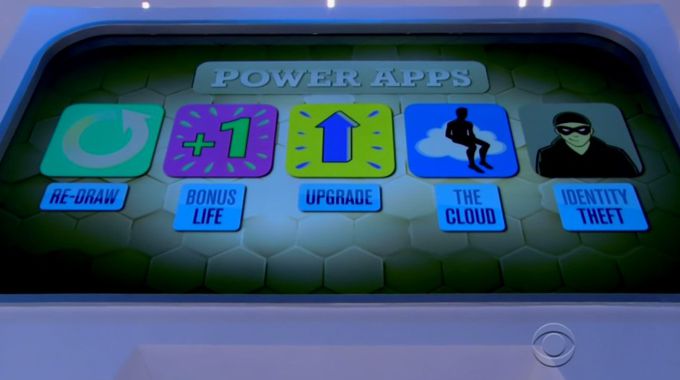 The Big Brother 20 twist of the BB App Store has had an impressive impact on the game so far while managing to avoid actually showing up as anything more than a specter of a threat. Despite three powers being handed out in the game none of them have yet to appear and that's leaving HGs to get tangled in their own confusion and ridiculous speculations. It's great!
After last season's disappointing Tree of Temptation that garnered utter disdain and disregard by the HGs this season's power twist has worked out a lot better, especially while barely lifting a finger.
The Big Brother App Store twist has already ended its weekly rounds of voting after we saw RoboSam earn a "Bonus Life," Tyler nab a "Cloud," and Bayleigh snag the "Identity Theft" power.
Gallery: BB App Store Power Details
click images to see full-size views
Sam revealed just enough info about her power to Tyler in the first round for him to flip Kaitlyn's vote and keep Sam over Steve. Since then Sam's power has expanded, thanks to word of mouth, to seemingly limitless depths. Kaitlyn has spent days telling others that Sam's Bonus Life would allow her (Sam) to cherry pick an evictee if she herself was evicted. Nope. It simply gives Sam, or a HG of her choosing, the "chance" to get back in the game after eviction.
Kaitlyn ran her mouth about this secret power to whoever would listen and it's been wildly entertaining. She's explained that basically, this is a power that's sure to be used on her since she saved Sam that first week. It would rain down fireballs of vengeance and carry her away on the wings of Grandpa Lou in the case of an emergency. More or less. Her delusions are fantastic.
Next, we've got Tyler with his Cloud power that will let him pre-emptively take himself out of the pool of options should someone try and target him as a nom or renom. The catch there being he can only use it once and it has to be a pre-emptive move before the specific event. He can't wait until he's been nom'd or renom'd. This is an okay power if someone is telegraphing their punches, but Bayleigh's is better. No one knows Tyler has a power and he's being smart to not tell anyone, especially Kaitlyn.
The final Big Brother 20 power handed out was Bayleigh's Identity Theft which is pretty awesome. She can keep this until F8 and override an HOH's noms with picks of her own. Seriously! That's amazing. The catch here is that she can't change the renom if that happens. So if she puts up, for example, Tyler and Angela then Tyler wins Veto and saves himself then Bayleigh's power wouldn't allow her to pick the renom. That power to pick the renom would go back to the actual HOH.
So right now HGs pretty much all know Sam has a power, but she's been telling folks this was her last week to use it. True! She can activate it manually through this week, but otherwise, it is automatically invoked in the fourth round. Risky, risky move. It could basically negate next week's eviction no matter who gets it instead of putting it to a known use this week. Her choice, her consequence.
Tyler has kept his mouth shut entirely and that's great. He'll just have to keep watching for when to use it properly in the next eight weeks (seven now at this point, right?). Bayleigh has definitely told Faysal, but I'm not sure how many other HGs know she's got this app in her pocket. It probably won't be a secret though on who did it when her app is put in to play.
Until then though the HGs are already wildly speculating. Kaitlyn is leading the pack with her own style of crazy, but she isn't alone. Angie thinks she's got it all figured out while suspecting JC has one power and Brett has the other. She thinks JC has the power because he said so, after she asked him if he did. He was messing with her and it worked. Even Sam seemed to believe that Brett had a power too since she called him up to make peace the other day fearing he'd use his power against her. Brett obviously doesn't have a power, but HGs don't know that like we do.
Jumping back to Kaitlyn's delusions, she heard enough from Sam on the various app options (see the lead image above) that she was able to detail it out to other HGs. That's lead them to believe Kaitlyn got one herself which enabled her bold confrontation with the Bros without fear of retribution. The paranoia is running rampant!
At this point the fear of the powers has flipped the first vote, lead Kaitlyn off the plank, made HGs suspicious of Kaitlyn, Brett, and even JC without even being used! It's awesome. Kudos to production on putting together a twist that's delivered without delivering a thing. You know, that makes me think they should try this again but only give out the Crapps while telling HGs superpowers were also awarded. Anyway, that's something for another time.
What do you think of the BB App Store twist for Big Brother 20? Do you like it or find it disappointing? What do you hope to see happen with these powers when they finally arrive on the Big Brother 20 scene? Has the hype built up too much for them to live up to the expectations or will HGs just squander the opportunities? Share your thoughts below!