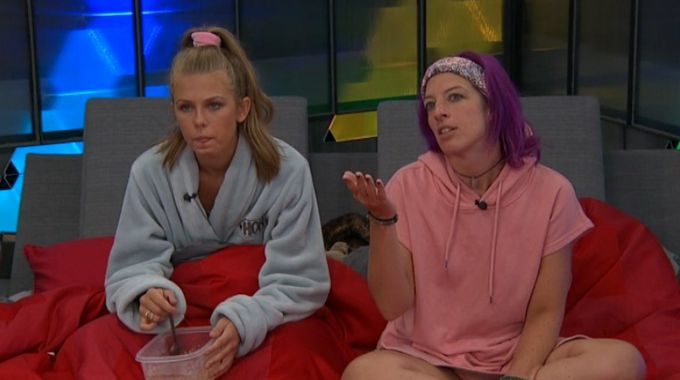 Veto players have been picked for this week's competition expected later today in the Big Brother 20 house after the Hacker struck last night and changed up Haleigh's nominees. There was more Hacking to be done today as well with one of the three add-on players being selected by the mysterious figure.
Okay, it wasn't a mystery to us that Kaycee won the Hacker comp this week for Big Brother 20 and was set to pick Tyler to play in their favor, but half the house is still uncertain on that and two other players still needed to be drawn and added to the mix.
The initial three players in the comp were Haleigh (HOH) and her two noms, Angela and Kaycee. The Hacker, secretly played by Kaycee this week, picked Tyler just as she planned. Two more players were drawn as well.
Week 7 Power of Veto Add-On Players:
Tyler – picked by Hacker (Kaycee)
Kaycee
Faysal
Sitting on the sidelines will be JC, Scottie, and Sam. That puts Brett in the hosting duties unless someone from Big Brother's past shows up to take over the hosting role again like we saw last week.
This is a pretty even draw for both sides. Kaycee was a good draw for L6 plus Tyler as her handpick champion. Then Hive has Faysal and Haleigh playing along with RS as a nominee. Not bad in either direction and given the theme of today's comp it's going to be OTEV!
Yes, OTEV is back for the season, per leaker Vegas, and this is a great week for it. We've got mostly all physically competitive players but you know even RS could surprise us given her week of Space Pecs training, right?! This is going to be a great one to watch and we'll wait anxiously for the spoiler results once things kick off later today.
Who do you hope to see win the Veto today for Big Brother? Share your top picks and get ready for the spoilers later today!