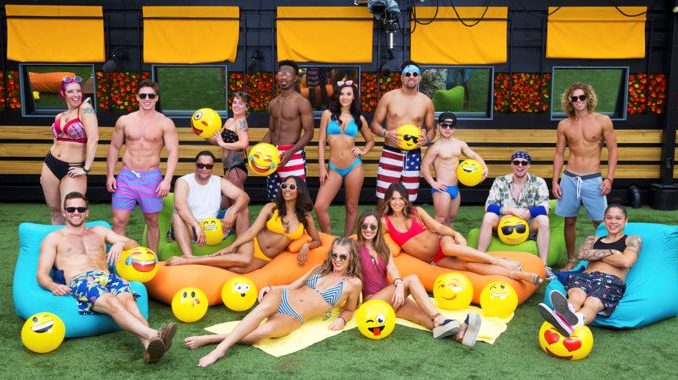 Big Brother 20's premiere event continues now on CBS and All Access with the remains of our debut adventure. 16 Houseguests are in the door, half of them are safe thanks to Chris, and now the other half must battle it out for HOH. With only have the house eligible for eviction the stakes are high.
We're still going through the pre-recorded content from the preseason here, so tonight's Big Brother isn't live but starting next week we will see Thursday episodes broadcast live and our first Houseguest evicted. That's right, no one is going home tonight, but the course will be set for that first elimination of Season 20.
The episode left off on Wednesday with Chris picking two groups for safety so now we'll pick up with that drama over who was left out in the cold. Kaitlyn was already fuming over his choice, but I imagine she won't be the only one upset that he didn't stick to his promise of safety for Angela. Oh well, at least there weren't any bracelets this year. Wait, I guess there kinda were. Anyway, on to tonight's drama.
HOH Competition:
Only HGs not picked by Chris for safety will be competing. That means we've got Steve, JC, Winston, Sam, Bayleigh, Tyler, Kaitlyn, and Angela in the race. Here they have to balance across a wandering beam, pick up a ball, and target another player's tube to fill. As a player gets to 10 balls in his or her tube, that player will be out.
Steve and Sam become the early targets and sure enough, Sam is out. It's a cutthroat comp and HGs start buddying up to go after each other. Soon it all comes down to Bayleigh and Tyler…
Tyler wins Head of Household!
Nominations:
Chris and his allies were pushing for a bigger target, but Tyler wanted to take the easy road out and blamed his lowkey nominations on who was out first in the HOH competition.
Sam & Steve were nominated.
We've got our HOH and the first Noms of the season. Off to the Feeds we go before Sunday's episode where we'll see what happens with this new BB Power App twist!
When tonight's Big Brother 20 episode ends on the west coast the Live Feeds will begin and we'll be ready to watch our summer of Feeds fun! Grab your Free Trial now and don't miss a moment.


Want even more Big Brother 20 spoilers, updates, and news? Download our Big Brother App, join us on Facebook & Twitter, and get our Email Updates for constant coverage all summer.