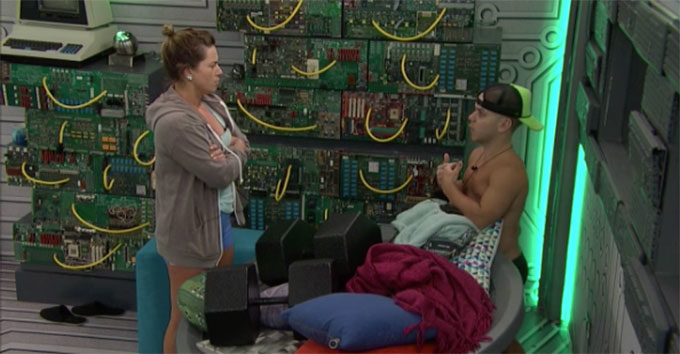 The Big Brother 20 houseguests had a peaceful evening that even involved a backyard picnic. But that didn't stop the game talk and planning ahead for the upcoming week. Rockstar continued to feel "cautiously optimistic" about the vote and Haleigh worked on preparing herself for the challenging week ahead as outgoing HOH.
If you've got the Live Feeds (Free Trial) then you can watch all of these moments with the Flashback feature to go back and watch those important conversations or funny scenes you may have missed.
Big Brother 20 Live Feed Highlights – Tuesday, August 14, 2018:
4:55 PM BBT – Angela let Kaycee know that Brett has been helping RS craft her eviction speech.

4:55 PM BBT – JC points out to Faysal that RS is saying she'd use Scottie as a pawn but is also expecting Scottie to vote to keep her.

5:05 PM BBT – JC explains to Faysal what's gone so wrong with the group. He points out how there's no collaboration or teamwork. Everyone is off doing their own thing. Haleigh got the Hacker and did what she wanted. Scottie goes off and votes. Bayleigh revealed her app to Rachel. There's no coordination, he explains.

5:15 PM BBT – HGs discussing various HOH comps and what they could have coming up.

6:25 PM BBT – Haleigh and Brett are hanging out alone in the HOH room and chatting. Haleigh brings up the vote and Brett mentions only that RS seems more comfortable. She asks if he still feels the same on everything. Brett says he does without explaining further.

6:30 PM BBT – Haleigh tells Brett that if it's the slip and slide comp she's going for any cash prize because she doesn't think she could win.

6:45 PM BBT – Sam has entered a dark place as she speaks of loneliness and fearing she won't have a partner in life.

7:20 PM BBT – HGs have a picnic in the backyard.

8:33 PM BBT – Sam asks JC what he wants to do. JC says he wants Kaycee to stay. JC says he isn't telling anyone how he's voting because he doesn't want his vote canceled. Sam says she isn't telling anyone either. JC tells Sam not to do what she did last week and tell everyone how she voted. He tells her that's bad for her game and she's one of his favorite people in the house and she doesn't want her to go home.

8:38 PM BBT – JC tells Sam that he'll tell her how he's voting on Thursday.

10:10 PM BBT – Haleigh asks Faysal if he's talked to JC. Faysal says yes but it's not doing any good because JC wants to wait until they get closer to Thursday to talk about the vote. Haleigh doesn't think that makes any sense. Faysal says JC says he doesn't want the hacker to cancel his vote.

10:12 PM BBT – Haleigh asks if anyone has talked to Brett. She said he told her that he wants to keep Rockstar. Faysal asks if she believes Brett. She says as much as she can. She says the same thing about Sam.

10:15 PM BBT – Faysal tells Scottie and Haleigh that Rockstar is following JC around and that's not doing her any favors because he finds that very annoying.

10:27 PM BBT – Haleigh tells Rockstar to be careful with JC. Faysal says hovering over JC doesn't get his vote. Rockstar says she's not hovering.

10:52 PM BBT – Faysal tells Haleigh he's going to get in the hot tub with Scottie. Haleigh says that's good. He says he likes Scottie, but he doesn't know if they can trust him. Haleigh says he should invite Brett to hot tub also. She tells him he needs to work on his social skills.

10:54 PM BBT – Haleigh tells Faysal they just really need to set themselves up for this next week because it's going to be tough on her after targeting Tyler and not being able to play in HOH.

10:57 PM BBT – Faysal is sitting on the HOH bathroom sink and the whole sink comes off the wall and breaks into a few pieces.

11:03 PM BBT – DR calls Faysal to come in. He wonders if they're mad.

11:07 PM BBT – JC announces there is beer then adds that he's just kidding.

11:15 PM BBT – Haleigh is worried JC is going to flip his vote again (they're expecting him to VTE Kaycee). She says she won't work with him again if he does and would go after him. Faysal promises that JC isn't coming after them.

12:00 AM BBT – HGs hanging around in the backyard playing pool and enjoying the hot tub.

12:50 AM BBT – Brett and Faysal talk in the hot tub. Faysal asks and Brett assures him he's voting to keep RS. Faysal asks about JC's voting plans. Brett says he hasn't talked with JC.

12:30 AM BBT – HGs discussing evicted HGs and what they're up to back at home.

1:00 AM BBT – Scottie and Faysal discussing how Scottie hasn't kissed anyone before. Faysal tries to share tips, but Scottie isn't interested.

1:15 AM BBT – Talk turns to hugging. Faysal says Haleigh isn't a very good hugger. Scottie agrees but adds that Brett and Kaycee are the best huggers while Faysal says he thinks Sam is the best.

1:30 AM BBT – Kaycee, Tyler, JC, and Brett discuss their lost members of L6. They hope they aren't bitter and call all be friends after the show.

2:30 AM BBT – Tyler tells Kaycee that JC was asking if he and Angela were a showmance. Tyler says they aren't, but he wishes they were.

2:35 AM BBT – Scottie and Brett discuss the vote this week. Scottie worries they'll have burned their bridges with Haleigh if they vote out RS. Brett says he likes working with Haleigh and doesn't think she'd cut them off if they voted out RS.

2:50 AM BBT – Scottie presses Brett on the votes to keep RS. Brett plays it up that he suspects JC and Sam will flip and RS could end up going.

3:00 AM BBT – Scottie continues to pitch Brett on working with Haleigh as he points out how Haleigh saved him with the Hacker last week. Brett says that was just to make it more likely of Tyler going home against RS instead of Scottie.

3:15 AM BBT – Most HGs are in bed while Scottie gets ready for the same.
A calm night but still some good game talk in the mix as Hive works to secure RS's safety, but it still doesn't look like there will be enough support to make that happen this week.
You can watch all of these Big Brother events using the archives Flashback, the DVR-like feature of this year's Live Feeds which means it's always live, even when you missed it! Sign-up now to get the free trial to watch it all live & uncensored.

Gallery: Live Feeds Highlights
click images to see full-size