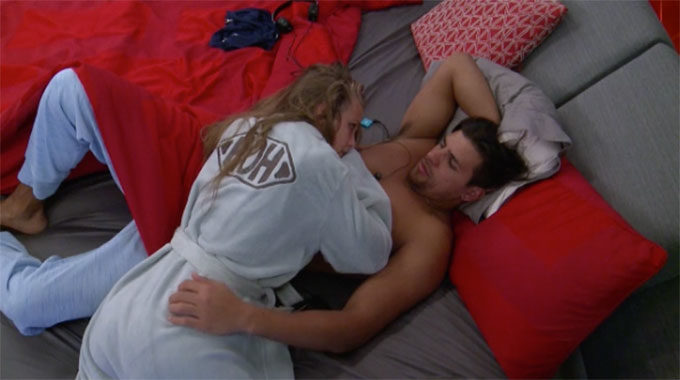 Rockstar and company continued to be obvious to what's going on in the Big Brother 20 house Monday night as they keeping counting the votes wrong, thinking Kaycee will be heading out the door Sunday.
If you've got the Live Feeds (Free Trial) then you can watch all of these moments with the Flashback feature to go back and watch those important conversations or funny scenes you may have missed.
Big Brother 20 Live Feed Highlights – Monday, August 13, 2018:
3:30 PM BBT – RS has decided she should expose Tyler and Angela's showmance in her eviction speech. Haleigh doesn't think that's a good move.

4:00 PM BBT – RS lets Sam know her target will be Angela and she'd nominate her with Tyler should she stay. RS advises Sam to tell others she's voting to evict RS so the Hacker doesn't cancel her vote.

4:00 PM BBT – JC and Faysal argue over whether or not Kaitlyn's boyfriend was real (he was). Faysal doesn't think he existed, but JC is sure he did.

4:10 PM BBT – JC warns Tyler to cancel Faysal's vote. Tyler tells him he's not the Hacker, but JC doesn't believe him and says he thinks Tyler also had the 2nd power app.

4:25 PM BBT – Sam asks JC how he's going to vote. He says he's worried about the Hacker, but if she promises not to say then he'll tell her his vote is going to be against RS. Sam says she'll just draw from dots in a cup again.

5:30 PM BBT – Haleigh tells RS that she thinks the votes will work out and everyone is in agreement to just vote out Kaycee.

5:55 PM BBT – RS talked with Haleigh about Scottie and if they would have ever had a showmance. Haleigh says she doesn't want Scottie to get the wrong impression and think she's interested or attracted to him.

6:15 PM BBT – Scottie tells Haleigh he's still uncertain but thinks RS is better for his game while Kaycee would probably come for Haleigh. Haleigh mentions considering JC as a renom but didn't think they had the votes to get him. She also thinks Sam might be playing with them. Scottie expects Sam to vote against RS. Haleigh goes over the votes with Scottie and thinks they have four solid votes to keep RS. She thinks she's good with everyone but the three she put up.

6:30 PM BBT – Haleigh suggests if they can break away one vote from the other side then JC would be less likely to side with them since he just wants to be with the majority.

6:40 PM BBT – Haleigh reveals to Scottie how Kaitlyn told her just before the live vote that they needed to flip their votes to keep Sam because she had a power that was going to punish them otherwise.

6:50 PM BBT – RS arrives in the HOH room and wants to spread the rumor of a showmance between Tyler and Angela.

6:55 PM BBT – Scottie says either his vote or Faysal's vote will be canceled by the Hacker. He suggests they could have a House Meeting and make everyone reveal their voting intentions. Haleigh isn't so sure about Sam's vote still, but RS is sure they have hers.

7:06 PM BBT – Rockstar is still beating herself up over almost winning OTEV and showing Tyler her answers, helping him win.

7:15 PM BBT – Haleigh and Rockstar think Angela is a bigger target than Tyler. They say next week Angela needs to go so Tyler is neutralized. They say he should be the pawn though that way if he wins Veto he saves himself and not Angela.

8:05 PM BBT – Rockstar is getting nervous because JC is hanging out with Angela and Tyler. She asks Faysal if he's going to get JC away from that. He asks her how he's supposed to do that and she says just pick him up over his shoulders.

8:13 PM BBT – Faysal asks Rockstar if she's confident she has Sam's vote. She says she is.

8:15 PM BBT – Haleigh thinks Kaycee has no friendships in the house so people won't feel obligated to keep her.

8:56 PM BBT – Haleigh tells Scottie that Sam makes her nervous. He says she does to him too. She thinks she's still voting to keep Rockstar but she doesn't trust Sam moving forward.

9:33 PM BBT – Rockstar is not totally trusting Scottie's vote this week because of the past flipped votes. Rockstar says she trusts Haleigh, Sam, and Brett more than Scottie.

9:40 PM BBT – Tyler tells Kaycee that she stepped up her game when she had to and says she's going to start winning everything.

10:20 PM BBT – Faysal tells Haleigh that if he wins HOH soon he might take a shot at Scottie. Haleigh tells him that is stupid because they have too many other targets. He asks who and she says Angela, Tyler, and Brett. Faysal says Tyler isn't coming for him. Haleigh is angry because Tyler is coming for her and Faysal seems to only care about himself. Faysal says, of course, Tyler needs to go but he just finds Scottie to be sneaky.

10:43 PM BBT – Haleigh and Faysal still arguing over who they should trust. She tells him that he feels more comfortable with JC than she does and she feels more comfortable with Scottie than he does. Faysal thinks he still has control over JC.

10:55 PM BBT – Faysal tells Haleigh that if JC doesn't vote with them then he's going to start thinking he's with the other side.

11:30 PM BBT – HGs are lounging and feeling bored.

12:30 AM BBT – L6 is hanging out and chatting about trips and adventures they'd like to take after Big Brother is over.

1:35 AM BBT – RS is working on JC to persuade his vote. She warns him he'll be a pawn target next if she goes. JC doesn't want to hear it and says he's avoiding vote talk this week with the Hacker cancellation out there.

1:40 AM BBT – After JC goes back inside Hive discusses that JC seems to be with them and thinks he's loyal to them now.

1:45 AM BBT – JC lets Tyler and Angela know how the other side was working on him for his vote. JC wants to target Scottie next.

3:00 AM BBT – Haleigh, Faysal, and RS are still awake and discussing how good their side of the house is versus the other side.

3:30 AM BBT – Lights are out inside while Sam sits outside alone crafting something new.

4:30 AM BBT – Sam is still wandering around the house. She's the last HG awake.
Another week, another Hive blindside. It's kinda pitiful but makes for great TV. We'll need something major to happen for votes to shift against Kaycee and I don't see that happening. It's more of a question of whether or not the other side will piece it together before Julie reveals the vote count.
You can watch all of these Big Brother events using the archives Flashback, the DVR-like feature of this year's Live Feeds which means it's always live, even when you missed it! Sign-up now to get the free trial to watch it all live & uncensored.

Gallery: Live Feeds Highlights
click images to see full-size