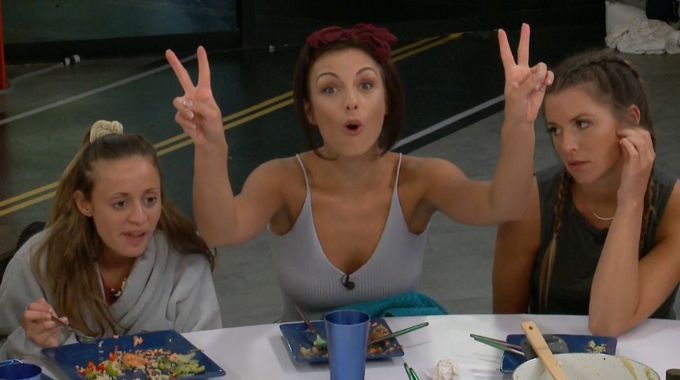 Friday evening gave the houseguests another trip to the  BB App Store and gave us our second set of Big Brother 20 nominations. And as planned, Kaitlyn put two pawns on the block with a plan to backdoor Swaggy C.
Rewind to Friday's Daytime Highlights report if you need to get caught up before the overnight updates.
If you've got the Live Feeds (Free Trial) then you can watch all of these moments with the Flashback feature to go back and watch those important conversations or funny scenes you may have missed.
Big Brother 20 Live Feed Highlights – Friday, July 6, 2018:
5:40 PM BBT – Feeds return from a long downtime due to the BB App Store.

5:45 PM BBT – Kaitlyn promises Scottie he'll be safe this week. He's worried about being a pawn and going home.

6:00 PM BBT – Tyler tells Kaycee that he thinks Swaggy got the Power App.

6:10 PM BBT – HGs are sharing a big group dinner while Faysal & Kaitlyn hide under the covers.

6:19 PM BBT – Rachel confirms she was the least trending HG this week. Her app is something to do with yelling (Yell vs "Yelp").

6:30 PM BBT – Bayleigh is crying after being stressed and feeling insecure. JC is doing a good job of talking her through it and cheering her up.

6:40 PM BBT – Tyler is talking with Kaitlyn who details out her nominations speech for Winston and Scottie.

6:48 PM BBT – Feeds go down for nominations.

8:15 PM BBT – Feeds return. Winston and Scottie's photos are on the nomination wall.

8:17 PM BBT – Haleigh talking about Winston acting mad over being nominated and she thinks it's funny that Rachel was shocked.

8:24 PM BBT – Winston and Kaitlyn are talking and acting fine because he knew he was going up as a pawn to help with the backdoor Swaggy plan. She says she's sorry and he tells her it's OK.

8:40 PM BBT – Brett and Winston are convinced that Scottie got the power from the BB App Store this week because he lost his closest friend in the house.

9:03 PM BBT – Sam explains to Jaycee what the other power apps were called. They speculate what they could mean.

9:23 PM BBT – Angela is worried that if Swaggy goes he'll come back by winning a Battle Back. Winston tells her they can't worry about that and adds that the people who come back always go right back out anyway.

9:29 PM BBT – Winston is trashing Sam to Angela now. He calls her a liability and says she needs to shut up about the power and use it on him.

10:30 PM BBT – Bayleigh tells Haleigh she's worried about Kaitlyn after she cornered her in the bathroom and didn't give her a hug.

10:55 PM BBT – Swaggy and Faysal gametalk on their status. Faysal thinks they're safe again this week. Swaggy fears they can't really trust Tyler since it seems like he's holding something back.

11:05 PM BBT – Bayleigh, Swaggy, and Faysal go over the votes and believe they have the numbers to keep Scottie.

11:35 PM BBT – Faysal and Brett mention they didn't have to do multiple rounds of auditions. They went to one event and were in.

12:15 AM BBT – Rachel is frustrated that she's irrelevant in the game and now she can't get a power app because she got the Crapp.

1:25 AM BBT – Sam is trying to cheer Rachel up about being least trending.

2:00 AM BBT – Swaggy and Scottie are frustrated with Tyler, but wonder if maybe he really is trying to help Scottie over the Bros. Swaggy thinks he heard someone say they didn't want him to play in Veto so now he's worried. He wonders if Tyler told someone about his comment that Kaitlyn was at the bottom of their group's list.

3:15 AM BBT – Lights are out and HGs are in bed.
Swaggy isn't terribly worried yet, just a little, but he should be. Kaitlyn is working on her plan to get him evicted this week but Veto will play a major part in that effort. We'll see what happens on Saturday and whether or not Swaggy wises up to the threat ahead.
You can watch all of these Big Brother events using the archives Flashback, the DVR-like feature of this year's Live Feeds which means it's always live, even when you missed it! Sign-up now to get the free trial to watch it all live & uncensored.

Gallery: Live Feeds Highlights
click images to see full-size