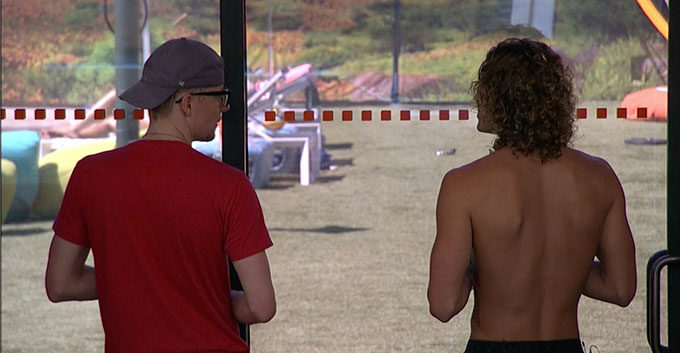 For the first time this season, the Big Brother 20 eviction vote is already pretty much set in stone on a Tuesday. And because of that, there was little fight left in either of the nominees as one feels really safe and the other sees the writing on the wall. The other HGs have started talking about next week and who the upcoming targets should be, Read on for all the discussions inside the Big Brother house Tuesday morning and afternoon.
If you've got the Live Feeds (Free Trial) then you can watch all of these moments with the Flashback feature to go back and watch those important conversations or funny scenes you may have missed.
Big Brother 20 Live Feed Highlights – Tuesday, August 21, 2018:
10:15 AM BBT – HGs got their wake up call.

10:25 AM BBT – Sam tells Angela how she was hurt that she thought Scottie was her friend but then was surprised by what he was doing. Angela says Scottie was just being desperate to save himself.

11:15 AM BBT – Sam declares she's going to turn in her cigarettes and get on the patch tomorrow.

11:50 AM BBT – Tyler and Angela plan for a DE this week (there isn't one). They think about going for Faysal as the renom if necessary, otherwise Haleigh and Sam. Angela says she's worried about getting Faysal out now might hurt them with the Jury. Tyler says Faysal and Haleigh came to them too late in the game to get priority.

11:51 AM BBT – Angela tells Tyler she'd like to keep Faysal and Haleigh since they're keeping them safe this week. Tyler doesn't want to risk letting Faysal or Haleigh getting them first. Tyler doesn't believe Haleigh is too trustworthy.

11:55 AM BBT – Tyler mentions to Angela that Scottie's theory was Faysal might be the swing vote since he was always acting confused so he was either playing it off like a genius or was just an idiot. Tyler thinks Faysal was just an idiot since they know the truth.

11:56 AM BBT – Angela worries Brett could start feeling like the odd man out in the L6 group. Tyler says it's good for them all for Brett to keep playing a distant role to them.

12:00 PM BBT – Tyler and Angela think that if Haleigh wins HOW she'll nominate Sam and Brett and they can vote out Sam and keep Brett.

12:35 PN BBT – Tyler tells Angela that if he is on the block any eviction night he goes home. She says she doesn't think he does.

1:25 PM BBT – HGs hanging out, not much going on. Some are laying in the sun, others working out.

2:32 PM BBT – Tyler is telling Scottie he should talk to Sam about her vote. He tells Tyler that she was crying over Scottie trying to get her up. Scottie says he doesn't think that's why she was crying. Talk turns to Scottie think Faysal is the one who has been flipping votes.

2:35 PM BBT – Scottie says he already talked to Sam and she forgave him. He says he doesn't know if Haleigh forgives him or not.

2:53 PM BBT – Scottie apologizes to Haleigh again and says he feels he was alway Faysal's target. He says they need to talk more later about what went down because he thought he held up the end of his bargain with Faysal and he still ended up on the block and is likely going home.

3:30 PM BBT – Haleigh,  JC and Brett are talking about levels of hotness in the house. JC says if Brett had Tyler's personality he would have a crush on that person.
Scottie is toast and he knows it. The best he thinks he could do is a tie (even though he can't really even get that) and then Faysal wouldn't break it in his favor anyway. Scottie knows his last hope is a jury Battle Back, and no one knows if that will be a thing this season or not.
You can watch all of these Big Brother events using the archives Flashback, the DVR-like feature of this year's Live Feeds which means it's always live, even when you missed it! Sign-up now to get the free trial to watch it all live & uncensored.

Gallery: Live Feeds Highlights