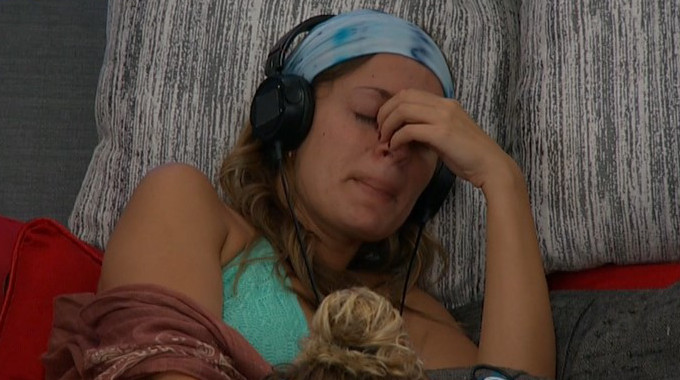 Veto Day came to the Big Brother 20 house and brought with it the blindside we were expecting. The noms are set for this week and now the race is on to find seven votes, if it can be done. Well it can definitely be done in one direction, but is there time to flip that plan?
If you've got the Live Feeds (Free Trial) then you can watch all of these moments with the Flashback feature to go back and watch those important conversations or funny scenes you may have missed.
Big Brother 20 Live Feed Highlights – Monday, July 9, 2018:
9:15 AM BBT – HGs are up for the day.

9:40 AM BBT – Bayleigh asks Rockstar and Haleigh how it makes any sense for Tyler to use the Veto to save Scottie and renom Angela (like Haleigh told Bayleigh) if Tyler is on the other side. Rockstar and Haleigh can't give a good answer. Bayleigh leaves and Haleigh says she hates lying to Bayleigh like that.

12:03 PM BBT – Feeds are back from the Veto comp. Swaggy and Bayleigh are in the HN room. Swaggy says he's not going to lose his cool and won't panic.

12:05 PM BBT – Tyler, Haleigh and JC are comforting Kaitlyn who is in tears over what she did at the veto ceremony. She says this isn't who she is in real life but she's not going to waste this unique opportunity so she wanted to make the bold move. Tyler tells her that her clients and people who know here will know this is just a game and some people may respect her even more for making a big move.

12:12 PM BBT – Scotty says Tyler had to know Swaggy was going up. Faysal says of course he knew. Faysal says right before the ceremony Kaitlyn apologized and said she hopes he can forgive her for what she's about to do.

12:40 PM BBT –  Bayleigh and Kaitlyn talking about Swaggy going up. Kaitlyn said that Swaggy was saying really F'd up stuff about her like she's a liability to his game. She says she knows there was going to be a point where he would take her out. She said he also avoided her all week so she knew something was up. She said she would look so pathetic if she didn't do this. She said she had to listen to her intuition on this.

12:43 PM BBT – Bayleigh told Kaitlyn she's not upset with her, she's just really surprised. Bayleigh said it just breaks her heart because Swaggy is the only person she has. She breaks down and tells Kaitlyn that she has all those people on her side and Bayleigh has no one.

12:45 PM BBT – Still in tears, Bayleigh told Kaitlyn she understands why she nominated Swaggy because she's been trying to keep him calm this whole time. She said she knows he gets snappy with people and she's done everything she can to keep him from doing that to people. Kaitlyn tells Bayleigh that now that she's nominated Swaggy, the game can kind of reset. She said Swaggy drew that line in the house Week 1 for no reason and now people can step back and play the game for themselves.

1:40 PM BBT – Winston asks Brett and Haleigh how it's going after the ceremony. Brett said everything is good but Bayleigh did try to break Kaitlyn down. Winston says he saw that side of Bayleigh before and it shocked him.

1:45 PM BBT – Winston asks if anyone has heard anything about the power apps. He's worried it could effect the vote this week. They don't think Swaggy has an app power. Brett thinks Scottie has one of the powers.

1:47 PM BBT – Haleigh is talking about some pretty serious sounding symptoms she's having (headache, impaired vision and a nose bleed) and feeds cut away.

2:00 PM BBT – Haleigh goes to talk to Swaggy. She tells him that Kaitlyn heard he was saying stuff about her and she must have believed it. Swaggy says it's not over until Thursday. Haleigh tells Swaggy to just lay low and maybe people will hate Winston by Thursday.

2:10 PM BBT – Rockstar tells Swaggy that Tyler got into Kaitlyn's ear. She says Swaggy lessens Tyler's chance of winning the game, so he probably wants him out. Rockstar says he's smart and needs to go.

2:25 PM BBT – Rockstar and Swaggy talk about the events of the day. Rockstar doesn't understand why Kaitlyn says he bullied her. Swaggy says he never bullied her, but she got worried about who he would target if he won HOH next.

2:30 PM BBT – The house is chilled out for now. People are resting or lounging outside by the pool and in the sun.
Kaitlyn seems to think that nominating and evicting Swaggy this week will reunite the house. I don't think that's going to happen. There are still a few days for things to change, but as of now, it really looks like Swaggy C is going to be in trouble come Thursday.
You can watch all of these Big Brother events using the archives Flashback, the DVR-like feature of this year's Live Feeds which means it's always live, even when you missed it! Sign-up now to get the free trial to watch it all live & uncensored.

Gallery: Live Feeds Highlights
click images to see full-size