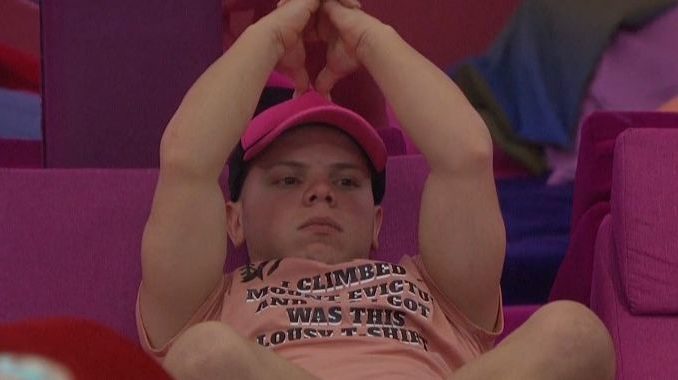 We're going to approach our Big Brother 20 Feed Highlights a little differently for Saturday this time around. It was a slow day as the HGs waited on the second round of the Final HOH but once it wrapped up there were still a few important discussion worth noting for the HGs reactions to the outcome. Let's take a look at those and skip over the "HGs napped" updates.
Feeds returned at 9:11 PM BBT 9/22 from the Round 2 competition and we had all three HGs sitting calmly in the kitchen. JC had just been defeated by Kaycee who was sitting silently on the spiral stairs. After a little chatting among the group JC leaves for the storage room giving a brief opportunity for Tyler and Kaycee to quietly celebrate their paired wins as the Coast2Coast alliance appears to be holding strong here at the end of BB20.
Move forward to 9:37 PM BBT as JC sits alone in the pink bedroom. He's crushed and upset, as you'd expect. He can't believe this second round was another physical competition. Round 2 is typically a physical+mental comp, but JC didn't remember or know that. It's what we all would expect but he's pinning his loss on that physical side.
JC complains to the empty room that he got this far because of his social and mental strengths but then Big Brother did two physical comps in a row. Yep, that's what they do. In fact, it sounds like the climbing wall was back like we saw for years. It gets worse for his frustrations. "F**king 40 seconds," says JC. Ouch. He lost by such a narrow margin.
Obviously, Kaycee wasn't going to be feeling so down on this one. Jump ahead to 10:00 PM BBT to find Tyler and Kaycee alone and celebrating. She's ecstatic with what they pulled off in these two rounds. She's telling Tyler how happy she is to have made it to the end with her F2 "Ride or Die" that they set on Day 1. Tyler calls it as potentially "legendary" for them to have pulled off. They start to discuss telling JC that night but then decide it'd be better to wait until the end so he doesn't try to talk them into anything.
JC and Tyler have another interesting discussion as JC laments Kaycee making it this far with them. Jump ahead 11:25 PM BBT. JC is discussing getting second place to Tyler and worrying about Tyler being able to beat Kaycee in Round 3. He shares how he regrets they kept Kaycee but Tyler says it looked like the right choice to bring her awhile back because she hadn't won anything until the last half of the game. JC implores Tyler to win R3 so they can be the F2 together. JC is certain if Kaycee wins R3 she'll be taking Tyler, not him.
So there we go, the night wrapped up and HGs headed off to bed with JC worrying over his chances at reaching F2 while both Tyler and Kaycee seem decided on taking each other. It'll be interesting to see if Tyler throws R3 to avoid cutting JC and facing his wrath from the Jury but that's obviously a risky move for him. We know Kaycee seems truly set on keeping Tyler, but we see much more than he does. Then again after she cut Angela and kept him during the F4 eviction he's probably got to be feeling pretty good about his chances.
You can watch all of these Big Brother events using the archives Flashback, the DVR-like feature of this year's Live Feeds which means it's always live, even when you missed it! Sign-up now to get the free trial to watch it all live & uncensored.