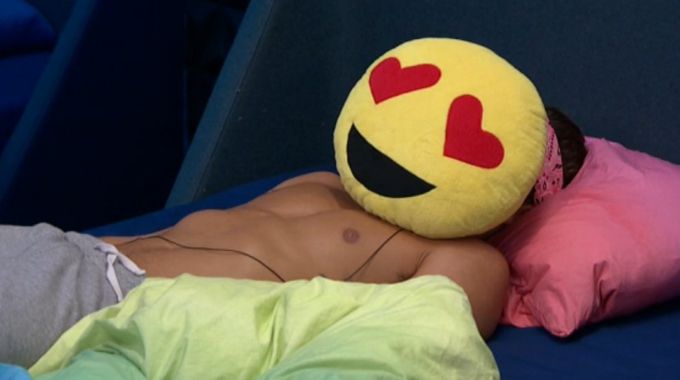 Veto Comp day brought the return of BB Comics for Big Brother 20 and that delivered a very impressive performance from the winner that should be interesting to see on Wednesday's show. It also brought us a clear picture of what's ahead for Thursday's eviction plans but with the DE looming in the near future we could still get a surprising night.
If you've got the Live Feeds (Free Trial) then you can watch all of these moments with the Flashback feature to go back and watch those important conversations or funny scenes you may have missed.
Big Brother 20 Live Feed Highlights – Saturday, September 8, 2018:
9:30 AM BBT – HGs got their wake up call.

10:00 AM BBT – HGs discussing how they're down to the last few weeks of the season. They're excited but scared.

11:00 AM BBT – HGs lounging around waiting for the players pick.

12:10 PM BBT – Feeds are back from picking Veto players. Brett discusses being excited. JC is the only HG not playing.

12:20 PM BBT – Angela walks into the bathroom and says L6! Brett quickly lets her know JC was in the WC.

1:10 PM BBT – L6 discussing Angela saying "L6" when JC could have heard her. They want to pick each other if there's a luxury or prize but decide that may not be a good idea.

1:45 PM BBT – Angela tells Kaycee how Haleigh keeps talking about them working together next week like she (H) will still be there.

1:50 PM BBT – JC is pushing Tyler to get Kaycee to renom Brett instead of him (JC) if either nom wins the Veto.

2:00 PM BBT – JC is adamant that he shouldn't be the renom. JC tells Tyler that Angela should go this week if there's a DE. Tyler tells JC he better win HOH and do it then if he wants it to happen. JC is assertive that Angela should be going after Haleigh.

4:00 PM BBT – HGs were hanging around anxiously hoping for JC to come back from DR as they hoped he'd announce the start of the Veto competition. They were disappointed.

4:40 PM BBT – HGs are gathered and playing activity games to pass the time.

5:45 PM BBT – HGs sharing stories about life back home.

7:55 PM BBT – Feeds cut for Veto comp.

12:10 AM BBT – Feeds return. Kaycee is wearing the medallion.

12:15 AM BBT – Haleigh mentions being embarrassed by her run time. She took 18 minutes to complete. Kaycee did the comp in 2 minutes. Apparently, she only required one pass

12:20 AM BBT – Brett talking with Tyler about how L6 took first, second, third, and fourth in the comp.

12:25 AM BBT – HGs wondering if Winston was a secret twist of another twin switching out from something they saw in his comic.

12:50 AM BBT – Sam talks with Kaycee and worries about not being athletic enough to compete against the rest of the house. Kaycee assures Sam she's okay this week. Kaycee shared one of her beers with Sam after Haleigh left.

1:10 AM BBT – JC is enjoying regular food now that HN's are over for the week.

1:15 AM BBT – Kaycee explains the comp to JC. There was a helicopter they held on to while gliding across then walked across a balance beam that was spinning.

2:00 AM BBT – Angela and Kaycee are hanging out in the HOH room and go ahead with enjoying the HOH basket beer.

2:05 AM BBT – Kaycee and Angela discuss how Haleigh is going home this week and then wonder how to make sure JC is going up if Sam gets HOH.

2:10 AM BBT – Brett joined the HOH crew. He mentions how he trash talked the Jurors during the comp and then remembered they get to see the comps.

2:15 AM BBT – Kaycee tells the group how Sam is worried about not being athletic enough to compete. Brett suggests Sam is throwing everything.

2:30 AM BBT – Brett mentions Haleigh's comment that Tyler asked her to be BD'd instead of going up front. They don't understand why. (Tyler had the Cloud App.)

2:40 AM BBT – Brett admits that Winston leaving was actually really good for his game.

3:10 AM BBT – Tyler warns Kaycee that JC is pushing for Angela to go if there's a DE on Thursday. Kaycee doesn't think Brett would turn against L6 and support JC in that.

3:15 AM BBT – Tyler notes that if JC does win HOH and nominates Kaycee and Angela then if L6 wins the Veto they could get Sam renom'd and she'd go home instead of an L6.

3:25 AM BBT – Sam is cleaning out the kitchen while others are going to sleep.

4:30 AM BBT – Brett is wrapping up a shower and heading to bed.

5:00 AM BBT – Everyone is out for the night.
Haleigh is done and she knows it. The question is really whether or not L6 can keep it together and survive another round of elimination now that it'll be just JC and Sam on the outskirts of their alliance. Expect a slow few days leading into the Double.
You can watch all of these Big Brother events using the archives Flashback, the DVR-like feature of this year's Live Feeds which means it's always live, even when you missed it! Sign-up now to get the free trial to watch it all live & uncensored.