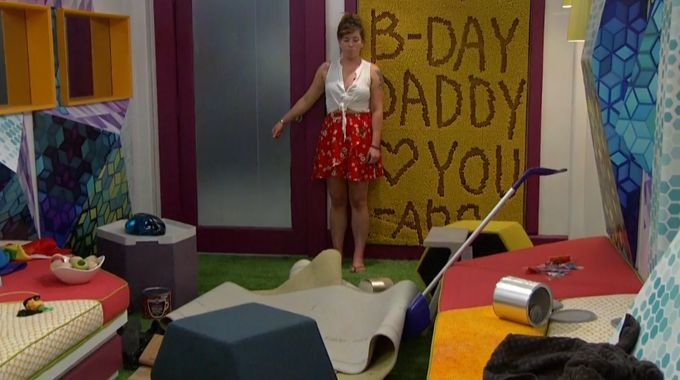 Veto Day delivered mayhem and destruction in the Big Brother 20 house thanks to the Hide & Seek Veto as HGs battled for the chance to overturn or protect Faysal's decisions on this week's nominees. Deep in the night, a new plan was hatched for one HG's second chance.
If you've got the Live Feeds (Free Trial) then you can watch all of these moments with the Flashback feature to go back and watch those important conversations or funny scenes you may have missed.
Big Brother 20 Live Feed Highlights – Saturday, August 18, 2018:
8:00 AM BBT – Sam is up and Brett soon joins her in the kitchen. HGs slow to stir.

8:45 AM BBT – Feeds cut for players pick.

9:05 AM BBT – Feeds are back. Faysal is glad Tyler was picked (by Brett's draw) since he thinks Tyler wouldn't use it.

9:10 AM BBT – Faysal and Tyler talk about winning the Veto then not using it. Both are excited to play.

9:30 AM BBT – Tyler and Faysal continue to talk. Faysal pontificates on the arch of the season as the HGs who have survived are the ones leading in wins. Tyler suggests he was never close to Angela before she saved him and he promises he's not coming after Haleigh.

9:35 AM BBT – Faysal says he's okay with Scottie but doesn't feel comfortable with him.

9:55 AM BBT – Faysal wonders who will get evicted if the noms don't change. Tyler doesn't have an answer for him. Faysal says he trusts Tyler.

10:30 AM BBT – Tyler asks Sam if she's told anyone about his power app. She promises she hasn't and wouldn't.

11:47 AM BBT – Feeds cut for the Veto comp.

5:47 PM BBT – Feeds return. House is trashed. Brett is wearing the medallion and has won the Power of Veto.

5:59 PM BBT – Sam stands alone in the Lounge and whispers that someone broke her dreamcatcher. She's upset.

6:10 PM BBT – Kaycee checked on Sam and lets her know she put her bed back together.

6:15 PM BBT – Brett and Angela celebrate in the Storage room. Brett can't wait to tell Faysal off in his speech and says he'll point out that Faysal promised him he wouldn't nominate him, but then did it anyway.

6:25 PM BBT – Faysal has been avoiding cleaning by hiding in the HOH room. JC comes to talk with him. He says Faysal shouldn't try to nominate Tyler or Angela or else Brett and Tyler might come after him next week.

6:30 PM BBT – Faysal doesn't want to help clean up since he's HOH but finally agrees to go downstairs and avoid cleaning while still being seen.

6:45 PM BBT – Clean up continues.

6:55 PM BBT – HGs try to console Sam but she isn't interested and remains in shock over the state of the house.

7:30 PM BBT – Tyler and Faysal talk game as Tyler promises to go to Haleigh and make sure they're good. Both agree that JC likes each of them and can be trusted.

7:40 PM BBT – Brett and JC talk about whether or not the Faysal fight was staged yesterday. JC thinks it was real.

7:50 PM BBT – Sam remains upset over the condition of the house. She says she's most bothered about the wasted food.

8:25 PM BBT – Faysal tells Haleigh he wants to make a deal for the two of them plus Angela and Tyler. He doesn't want to nominate Tyler because Tyler would stay and come for them.

8:35 PM BBT – Haleigh says if there's a DE this week and she gets HOH then she'll nom Brett and Sam then renom Kaycee if needed. She worries that Sam will be coming after her.

8:50 PM BBT – Faysal suggests he could tell Sam that her name is being thrown around for renom, but then when he doesn't nominate her she'll trust them more. Haleigh says that's a bad plan because Sam could assume it was her (H) who was telling Faysal to do that.

8:53 PM BBT – Faysal says no one will put him up since he keeps winning Vetoes.

9:20 PM BBT – Faysal tries his idea of scaring Sam. He tells her that no one has said anything, but he expects them to try and pitch her for the Block, but promises he isn't going to do it. She says she wasn't trying to tell him who to nominate, but she hopes it isn't her.

10:05 PM BBT – Tyler and JC compare notes that it looks like Faysal isn't going to nominate either of them. Tyler wants JC to say to Faysal that Tyler already wanted to work with Haleigh rather than that JC had to convince him of it.

10:30 PM BBT – Scottie explains how his strategy was to pour liquids on the floor so no one would get down there to look around for the Veto cards.

10:35 PM BBT – Sam is worrying to Tyler about their partnership. She thinks he's drifting away to Kaycee and Angela instead of her. Tyler is promising her they're still a solid F2.

10:55 PM BBT – Scottie suggests RS will lose it when she sees him arrive at Jury after Faysal got him out.

11:05 PM BBT – Faysal has settled on Kaycee going up and tells Haleigh that he'll talk to Kaycee about it tomorrow.

11:10 PM BBT – Haleigh is upset that Sam came up to ask for safety and that Faysal agreed so quickly. She says she wants Sam out. Haleigh is also concerned that she saw JC and Tyler talking alone for a long time. Faysal says he trusts Tyler and he's sure he'll vote out Scottie this week. Faysal worries he'll be nominated if Brett or Kaycee gets HOH.

11:35 PM BBT – Scottie and Sam discuss his speech and how he can try to convince Brett to use the Veto on him. Scottie says they can still work together even though Brett lied and it got Scottie on the Block (about who voted to keep RS).

11:40 PM BBT – Sam says she'll make a good Juror because she'll be impartial, but she won't like HGs who have lied.

11:45 PM BBT – Sam doesn't think the first Hacker was Haleigh, but Scottie does and is confused why Haleigh would save him then Faysal would nominate him.

11:50 PM BBT – Scottie says he's definitely targeting Faysal now because he put him on the Block.

12:07 AM BBT – Sam says she's already planned her self-eviction speech.

12:10 AM BBT – Brett joined the discussion. Sam asked if he'd use the Veto on Scottie. Brett says that'd be a terrible and dangerous move.

12:25 AM BBT – Sam and Scottie continue their talk. She admits she won't have any influence on the decision this week and will have to vote with the majority.

12:30 AM BBT – Haleigh encourages Faysal to put up Sam instead of Kaycee since they both like Kaycee. She thinks Sam is the best next option if he isn't willing to go after Tyler or Angela.

12:35 AM BBT – Brett lets Scottie know that Faysal and Haleigh are in a full showmance. Scottie thinks Haleigh has been playing him. He saw how she reacted when he picked her for the Veto comp like she didn't want to be involved.

12:45 AM BBT – Scottie expects Tyler to get renom'd but Brett says that'd be a lot of BB blood for Faysal to get on him. Scottie again asserts he's coming for Faysal if he stays.

12:50 AM BBT – Sam asks the guys if they have a plan for how to make Haleigh the renom then. She points out Bayleigh, RS, and now Scottie will be going home because of Haleigh. Sam says she'll lie and say Haleigh told her she was going to target Faysal and Scottie. Scottie says there is no way Faysal would put up Haleigh.

1:05 AM BBT – Sam is sure Haleigh would target her but she doesn't know what she's done to earn that. Sam brings up how she still believes Haleigh takes the most and contributes the least.

1:10 AM BBT – Scottie says Tyler and Angela clued him in on Haleigh playing him but then Haleigh saved him with the Hacker and he swung back to them.

1:15 AM BBT – Sam says she'll go talk with Faysal tomorrow and try to sway him to renom Haleigh instead. Brett says it won't work. Scottie thinks Haleigh is the last person he could beat in the votes.

1:20 AM BBT – Scottie says he needs to go apologize to Tyler, Kaycee, and Angela since they tried to warn him how Haleigh was playing him and he ignored it. Sam is determined to try and get Faysal to renom Haleigh.

1:25 AM BBT – Scottie plans to reveal to Faysal that he and Haleigh had a F2. He says he's ready to let go of Haleigh. Scottie says he'll try not to blow up tomorrow but Brett thinks it'd be a good idea if he did and did it in front of everyone.

1:40 AM BBT – Sam is excited and says she's going to go talk with Faysal and convince him. She's happy to be working with Scottie and Brett.

1:45 AM BBT – Scottie says he's on board with this plan. Sam wonders if this is bad for her. Brett points out if Haleigh is already against her then this can't hurt Sam anymore than she already is.

2:55 AM BBT – Brett and Sam are still up and chatting in the backyard. They're talking about past events and Sam discusses how shocked she was about the votes that first week and how she beat him out.

3:10 AM BBT – HGs heading to bed. Brett wakes up JC and whispers about his discussions outside with Sam and Scottie.
I'd say there's no way Faysal would renom Haleigh, but he's terrible at this game so maybe he would. Then again he's in part terrible at this game because he's driven by middle school hormones instead of strategy, so no, there's no way he'll renom Haleigh. Scottie is still done this week.
You can watch all of these Big Brother events using the archives Flashback, the DVR-like feature of this year's Live Feeds which means it's always live, even when you missed it! Sign-up now to get the free trial to watch it all live & uncensored.


Gallery: Live Feeds Highlights
click images to see full-size