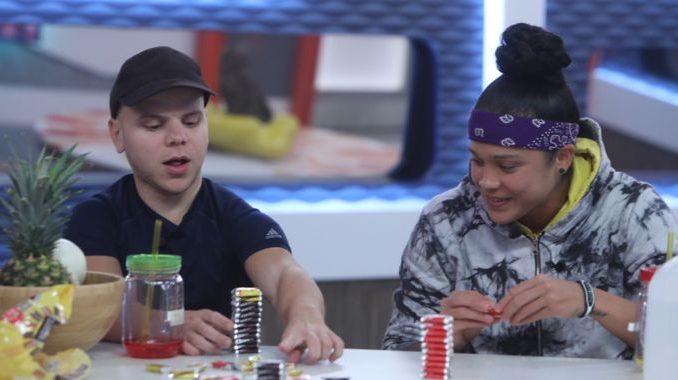 Later today in the Big Brother 20 house we're expecting the second round of the Final Head of Household competition to kick off, leaving JC and Kaycee battling it out for the last spot in the upcoming third and final round on finale night.
So what have we got here? It's comp beast Kaycee up against one-hit wonder JC who managed to keep his game alive at a critical turning point last week when he won the F4 HOH leading to Angela's eviction. He's proven that he can actually win something up against Kaycee, but can he do it more than once?
This Round 2 competition is typically a mix of game history knowledge and physical speed. We've seen all sorts game designs with this one. In recent years there has been the harness system where HGs had to scale a wall to place items in the correct order. Last year they did the medieval castle theme with the catapults, possibly adapted because of Christmas's broken foot though they denied that being a design factor.
With a similar sort of competition ahead of Kaycee and JC I think it's all but certain that Kaycee the comp beast will defeat JC and it probably won't even be close. Sure, anything is possible but after what we've seen all season long I think we all know how this is going to turn out.
Once Kaycee and Tyler have locked down the Round 3 competition we'll await their Scales of Justice face off but I would expect them to both plan to take each other even though both should take JC for the easy win.
What do you think will happen in the next round of the Final HOH of Big Brother 20? Share your thoughts, vote below, and watch out for our spoiler results later!