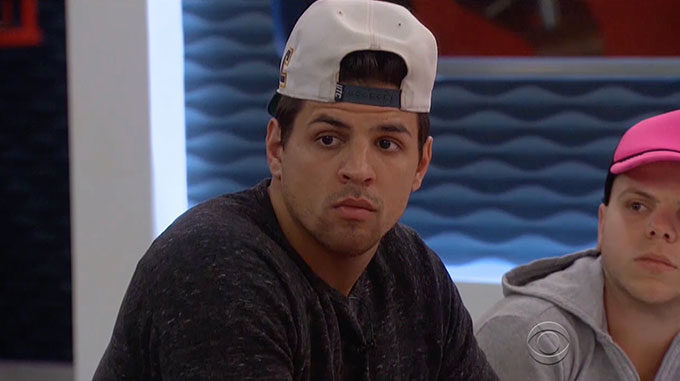 Last week on Big Brother 20, we watched as then-Head of Household Faysal made one of the worst moves of the season by targeting and sending home his ally Scottie. And what we all thought would happen the week after is well under way.
Sunday night's episode picked up during the new HOH competition. Faysal tells us via the Diary Room that his reign was a success and that he just made a great move taking Scottie out. He also thinks he is sitting pretty as long as Haleigh, Angela or Tyler wins this competition.
To win this HOH comp the players have to find tokens hidden within balls in several ball pits. Each token earns them a ball they have to roll down a platform, aiming for the perfect score hole at the very end. Along the way are lower scores the balls can fall into. The player can either lock in their score or try as many other times as they want within an hour.
One by one, the HGs flop and finally Angela rolls a 39 and locks in her score. Only two scores can beat her: A perfect or a 40. And in the end, no one can beat Angela and she is the new Head of Household. That's the first repeat HOH of the season.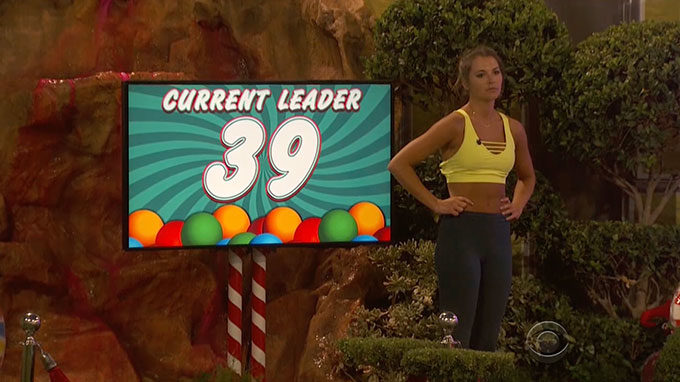 Haleigh is having mixed emotions about Angela's win, but Faysal is totally OK with it. Because Faysal is a bit dense. He really trusts that new alliance he thinks they made with Tyler and Angela.
And Haleigh gets even more worried when she walks in on Angela, Brett, Tyler and Kaycee celebrating. She might have finally actually realized that the four of them are in an alliance. She tells Faysal what she saw and he tells her they can trust Angela and says she'll put Sam and a pawn up. Faysal says to just calm down and trust their new alliance.
Angela actually is worried about getting more blood on her hands, but then Haleigh comes to her and volunteers to go up next to Sam. Angela suggests in the Diary Room that maybe Haleigh is "just as dumb as her boyfriend."  Speaking of which, Faysal — still thinking he's a great game mastermind after just sending out one of his last allies — thinks he can talk Angela out of putting Haleigh up as a pawn. He does not achieve that, and little does he know, that he is probably going up as well.
But to suggest to us that this decision wasn't so easy, we get a segment on Angela questioning Level 6's contributions. She is still frustrated that she's the only alliance member that is getting blood on her hands, so she tells Tyler maybe it would be easier to get Sam out this week so that Faysal and Haleigh could have their backs next week. Tyler says he will support whatever she decides.
Enter JC. He shows up to remind Angela that Faysal could use the veto on Haleigh and then there's a chance the wrong person could go home this week. JC had very little to do with the nominations this week, but they're set on giving him the true mastermind edit this season. Just wanted to let anyone who doesn't watch the Live Feeds know not to buy it. JC isn't playing half the game as the edits indicate.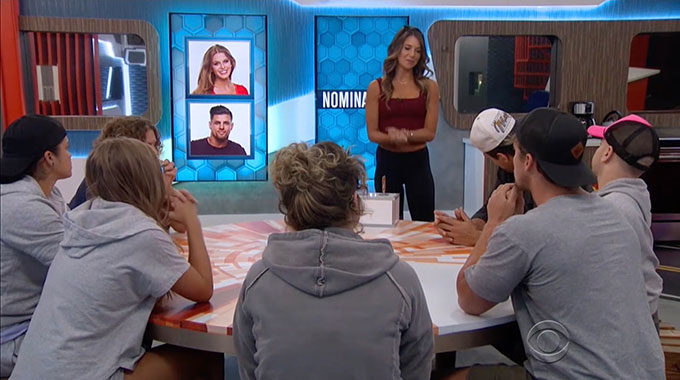 It's time for the nomination ceremony. Of course Angela nominates Haleigh and Faysal. And of course Faysal didn't see it coming. Angela, to quote her mother, tells the new nominees "You're a day late and a dollar short." She says to come to her with an offer that late in the game just raised a flag and actually helped seal their fate. And Faysal finally regrets targeting Scottie last week. A day late and a dollar short, indeed.