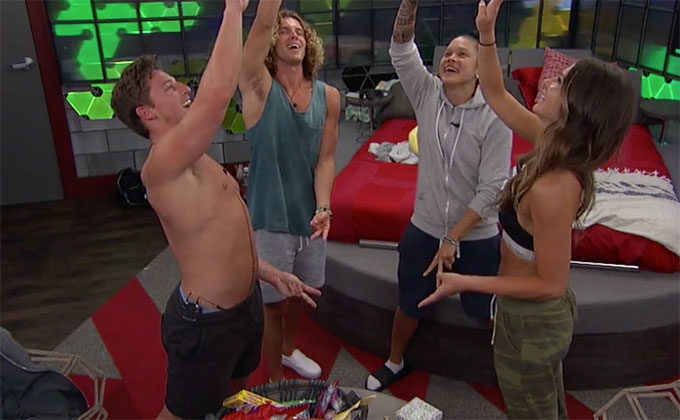 Now that FOUTTE/The Hive is almost completely extinct, we thought it was time to take another look at the Big Brother 20 alliances and deals.
Haleigh, Faysal and Scottie are all the remains of the Hive, and if Scottie goes home this week, that means it's just Haleigh and Faysal, who have a Final 2 deal already. That means they'll be completely alone in the game, despite what they might think. They both worked on establishing something with Angela and Tyler this week, but that isn't anything concrete. It was really just a way for Tyler and Angela to stay off the block.
Speaking of Tyler and Angela, Level 6 is still going strong. They're only four-strong at this point with Tyler, Angela, Kaycee and Brett, but they still have a lot of power behind them when you add in JC and sometimes Sam to their side of the Big Brother house.
Tyler has deals with both JC, Sam and Kaycee separately from that bigger alliance, even though he seems to be closer to Angela.
As for Sam, she's only recently started "playing" the game and still isn't sure how this all works. Despite the final 2 deal she made with Tyler early in the game, she also recently made  deal with Brett. That isn't a very solid deal either, as Brett was basically just agreeing with her because he was bored and had nothing better to do.
JC's allegiance seems to be with Tyler, but he's still attached to Faysal for now, as we saw this week when JC basically controlled Faysal's HOH. I think JC will be trying to shake that as soon as he can, however, but he might want to keep him around longer to take another shot at Brett or one of the girls Tyler is closer to.
As for the dissolved deals in the house, we've got Scottie and Tyler and Scottie and Haleigh. As Scottie is pretty poised to be evicted this week, Tyler and Haleigh have kind of let go of what they had with Scottie. He is a true lone wolf at this point, but that will probably only matter for a couple of more days.
Who is your favorite Big Brother 20 alliance or pair/trio?
Check out the always-awesome Alliances & Deals chart below from Big Brother Junkie on Twitter.
#BB20 8/18/18 Week 8 Alliances & Deals Update!😉
🧐Level6 Stay Strong & Sam Solidifies Her Plan B!!!🤫 pic.twitter.com/Xxz670BHSo

— Big Brother Junkie👁 #BB20 (@89razorskate20) August 18, 2018