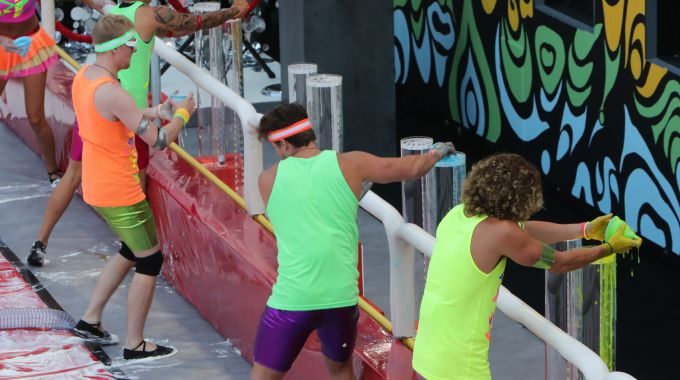 We're back with our weekly interview with Big Brother 20 Executive Producer Allison Grodner as we chat about that ever-so-brief endurance competition, what really happens with those goodbye messages, and whether we're done with the twists for this summer of Big Brother.
Big Brother Network: Well that was a brief endurance comp. How do you typically estimate these comps' duration and did this go faster on Thursday than expected?
Allison Grodner: We never know for sure how long an endurance competition will be. Endurance competitions on Big Brother have been as short as 2 minutes and as long as 14 hours. Our goal for any endurance comp on BB is that it is long enough to continue out of the live show and that the HG's try their best to win. An exciting and competitive endurance competition is our goal and this year's slip and slide, while shorter than others, was hard fought, funny and had a dramatic power shifting conclusion.
BBN: Houseguests are making surprising choices with their goodbye messages. Do HGs ever do more than one message and then production decides which to show, or does the HG have final say over what is shared with the evictee?
Allison Grodner: The goodbye message can be an important part of strategy for the HGs when talking to a jury member and we keep that in mind as well. We have had HGs come back into the diary room in the past and ask to do a new message at the last minute and we definitely make sure the message they intend is the one that the juror sees. Even though we shorten the message for the live show, we are careful that the intent is the same. One thing viewers don't know is that the jurors will see all of their messages once they get to the jury house even if they didn't make it in the show.
BBN: The Hacker Comp is over and so far there hasn't been another twist announced. Will there be more to come or is the season ready to play out on its own without another twist?
Allison Grodner: I can't give anything away about the rest of the season! :)
BBN: Thank you!
I'd be interested to see if they do some test runs of the endurance comps and time things. I can't imagine they expected this one to last a whopping 12 mins of the Feeds so hopefully we get another and it more than makes up for this dud.
I was always curious if production got to decide just what sort of message the HGs leave behind, but if Grodner's explanation is accurate then Brett and Angela are making some really questionable moves here in what they're giving as their parting words to the Jurors. Then again, I guess Paul's BS messages last year didn't work nearly well as Josh's truth bombs, huh?
So probably more twists on the way, right? We'll have to see what comes up next on Big Brother 20!