Shelli Poole followed her Big Brother showmance Clay Honeycutt out the door last week after the latter gave us his game thinking she had the chance to make it farther. Well, she did make it one more week so that didn't work out but Shelli did have a strong run in the game while she stayed.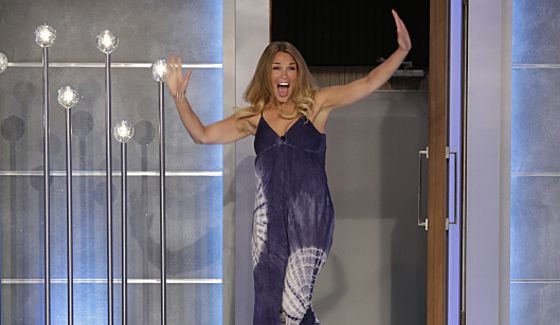 So what went wrong with her game and what would Shelli do if she got the chance to return? We put a few questions to her after her eviction on Thursday and she didn't hold back especially when it came to who she'd go after should she return to compete again.
How much are you regretting that Jason renom right now?
That is the one big regret that burns me. I regret not sending Austin out when we could and having to say goodbye to sweet Jason.
Your campaigning started late. Did Becky's promise of safety lull you in too much of a sense of security this week?
I was in between a rock and a hard place. The people I was strategizing with were the people that were being backdoored so I couldn't say anything to ensure my own safety. The other side of the house is targeting me so I wasn't going to be able to make a deal with them.

I'm not an "in-your-face" player so when someone tells me, you're safe, having felt completely alone, my approach was to lay low and hope they stuck to the plan.
Do you think your showmance with Clay helped or hurt your game?
Let's be honest, I don't regret anything of my time spent with Clay. The Big Brother house is an emotionally sensitive place and you need that back bone which he provided for me.
How bad do you want to win that chance to get back in and who would you target first?
So bad!! It depends on who is in the house so it would be a whole new game and any past conversations won't matter. James, because obviously. And Austin or Vanessa because obviously.
What remains your biggest mystery from the season that you can't wait to have answered?
What was Audrey's secret? Who was the mystery vote? Is there even a big twist? I'm just dying to get back into the house.
As a longtime Big Brother fan and knowing a lot about the show, what was still your biggest surprise of the experience?
How emotional you get and how quickly it happens.
Who do you hope makes it far in the game?
Besides me, I think Steve deserves to go far and I hope he does.
What's next for Shelli and does your future include Clay?
My relationship with Clay developed quickly and grew strongly. We figured that spending 24 hours a day, 7 days a week for 50 days was as if we had been dating 9 months out in the real world. I know the real world is different – with our age gap and being long distance but I have high hopes for continuing to grow and blossoming our connection.

Clay has already set up a date for us in Texas. As long as things go as planned, I'll be visiting him, he'll be visiting me and then we'll go from there.
Sounds like Shelli is ready to go with another shot at the game, but she'll have some tough competition with Jackie and possibly Becky or John later this week.
Watch our preseason interview with Shelli Poole: