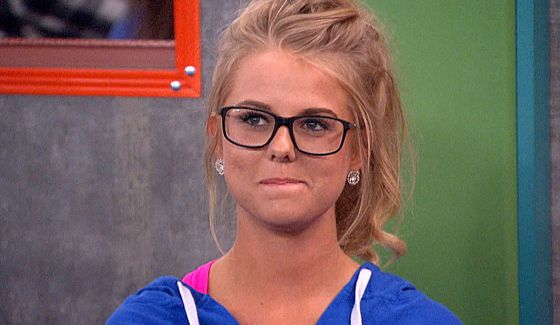 Nicole Franzel became the latest evictee from the Big Brother 16 house on Thursday when her fellow HGs sent her packing in a 6-0 vote. Now on her way to the Jury House Nicole will have one more shot to get back in the game.
Today I had the chance to put a few questions to Nicole about her time in the house as a superfan, what she thought of some of her moves, and who she would target if she won that chance to re-enter the Big Brother game this season.
Matthew Boyer – Big Brother Network (BBN): As a superfan, what were you most excited to experience as a Big Brother Houseguest?
Nicole Franzel: I looked forward to the classic Big Brother competitions and walking out of the diary room to say "who wants to see our HOH room!"
BBN: You briefly seemed to give in to eviction, but then came roaring back to fight it. Were there any other strategies you wanted to try these past few days, but couldn't?
Nicole: I wasn't willing to make up lies but I feel that I had a lot of information I could use if I wanted to but I didn't want to blow up everybody's game. I just didn't see that it would really work.
BBN: Did you truly reconcile with Christine, or was that a move just to keep her close to you?
Nicole: I had nobody, she was willing to talk and work with me and I wanted to take advantage of it but in the back of my mind I knew I could never trust her. I just had to give it a try.
BBN: Do you think your showmantic relationship with Hayden helped or hurt your game overall?
Nicole: It hurt because even though we tried to not make it a big deal, Christine knew my feelings and used that toward her advantage. Letting Christine know is what hurt my game.
BBN: If you get the chance to re-enter the house, who would be your top target?
Nicole: I'd have several targets but my main target would have to be Christine.
BBN: Should you not re-enter, name your early prediction for who is most likely to win.
Nicole: Derrick
BBN: What do you feel was your best move & what might have been your worst move?
Nicole: A smart game move for me was calling out Frankie since now the house is aware of his lying but it wasn't my best move. My worst move was being in an alliance with Cody.
BBN: What's going to be your favorite memory of your time on Big Brother?
Nicole: My favorite memory of my time is either Frankie's character Clara Belle Dubree or Zach's wedgie.
BBN: What's next for Nicole Franzel when you get back home? Is there a chance for Haycole outside those walls?
Nicole: When I go home, I'm going to take my Nursing boards, hopefully get a job, maybe travel.
With Haycole, it may be hard because we're so far away from each other, we're so young and he's free spirited whereas I'm very routine.
BBN: Best of luck and thank you for keeping us entertained!