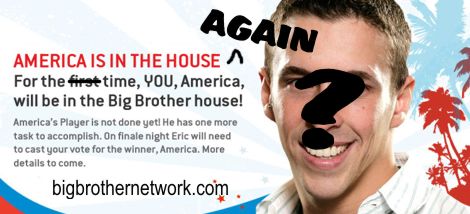 Allison Grodner said "no twists" this season. Seems Grodner thinks she must be running for election this season because that turned out to be a lie. America, meet your twist for Big Brother 10:
BIG BROTHER 10 will bring back the popular America's Player segment that debuted in "Big Brother 8," in which viewers will have the opportunity to vote to decide which current Houseguest will be given the chance to be the new America 's Player on Tuesday, July 29 (9:00-10:00 PM, ET/PT).

The Houseguest with the most votes will be offered the chance to become America 's Player for one week. If they accept, they will do America 's bidding and will have the opportunity to win a total of $20,000. They will be asked to make moves that are both personal and strategic, from getting certain Houseguests nominated for eviction to convincing their fellow Houseguests to vote for who America wants out of the house. Most importantly, they can never tell anyone in the house that they are working on behalf of viewers and they need to be careful… because, just like their fellow Houseguests, they can be voted out at any time. Viewers will be able to vote on cbs.com or via text messaging from their mobile phone.
So during tonight's episode of Big Brother 10 we'll get a chance to vote on who should be "America's Player". Who do you want to be our new "Player"??
Get ready to watch it all live and uncensored with the Big Brother 24/7 feeds!