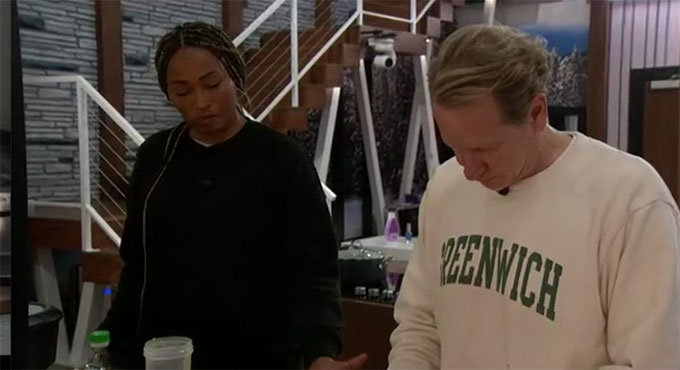 It was another quiet eviction eve in the Celebrity Big Brother house, but Carson and Cynthia got to work trying to get Todrick to vote for him to stay. Meanwhile, Todd seems to realize that after this week Miesha and Todrick might be coming after him.
If you've got the Live Feeds (Free Trial) then you can watch all of these moments with the Flashback feature to go back and watch those important conversations or funny scenes you may have missed.
Celebrity Big Brother 3 Live Feed Highlights – Thursday, February 17, 2022:
3:55 PM BBT – Todd is in the kitchen doing some meal prep.

4:10 PM BBT – Todd tells Carson that he has a feeling that Miesha and Todrick are going to cut him next week. He says his deal with them is up and he thinks they'll get rid of him. He says he's getting that feeling from the way they're talking. Carson says it's only a matter of time because they aren't going to cut each other. Todd says he wishes he didn't have that deal with them because he wouldn't have gotten rid of Carson.

4:29 PM BBT – Todd says it took a lot for him to "do this job" (go on CBB3). He says his manager talked him into it. He says he was content being at home and not working. Cynthia says it sounds like he's getting back out there and working in the entertainment industry.

5:00 PM BBT – House is quiet. HGs are all spread out doing different things at the moment.

5:19 PM BBT – Carson is making an apple pie.

6:50 PM BBT – Carson and Cynthia are talking about how to get with Todrick to pitch for him to vote for Carson to stay.

6:51 PM BBT – Carson says he doesn't think this is too much to ask because they had an agreement with Todrick. Cynthia says he has to ask and Todrick would do the same thing if the shoe was on the other foot.

6:52 PM BBT – Cynthia says Todd needs to look at who will be harder to beat between Miesha and Todrick. They think that after this week Todd's deal with Miesha might be up.

6:54 PM BBT – Carson and Cynthia think that Lamar is finally trying to rise up in the game. She thinks he'll win an HOH now that they're in a home stretch. Carson says now is a good time to start. They say Todd had the best strategy, acting like he had no idea what he was doing, and then suddenly he's in the game.

6:55 PM BBT – Cynthia and Carson both said their initial plan was to lay low, but they both weren't successful at that.

6:58 PM BBT – Todrick is helping Lamar pack since he's still on the block.

7:00 PM BBT – Lamar was asking Todrick about paying extra if his bag is overweight on the plane and Todrick says you know you aren't going home tomorrow. Lamar says they'll see, and added that he wouldn't mind going. Todrick assures him that Carson is going.

7:30 PM BBT – Todrick and Todd are both playing solitaire at the table.

7:55 PM BBT – HGs talking about movies and messing around in the kitchen.

8:05 PM BBT – Carson and Cynthia are preparing dinner.

8:30 PM BBT – HGs having dinner together.

8:50 PM BBT – Todd is worked up and tells Cynthia they need to win. He's stressing about the vote count coming up. He realizes there's no potential tiebreaker with just three eviction votes.

9:30 PM BBT – Lamar wonders if Miesha gets to play for HOH tomorrow. (Yes.) Cynthia lets Lamar know she'd vote to keep him if he weren't up against Carson.

9:40 PM BBT – Lamar decides this is the time for him to win HOH now that they're in the fourth quarter.

9:50 PM BBT – Cynthia and Carson are trying to come up with a plan to keep Carson over Lamar. They want to make a pitch to Todrick.

9:55 PM BBT – Todd tells Lamar they need to get Miesha out then Todrick will fall apart.

10:10 PM BBT – Todd worries to Carson that he (Todd) will be Miesha and Todrick's target next. (Yep.)

10:45 PM BBT – Todrick complains to Miesha that Todd and Lamar do not respect him and treat him like a child.

11:20 PM BBT – Carson tells Cynthia she could be in a strong position if he goes as she'd be a swing vote.

11:25 PM BBT – Carson thinks Todrick may save him and along with Cynthia vote then Lamar will go instead. He expects Todrick to honor this deal unless Miesha prevents it.

11:50 PM BBT – Carson and Cynthia discuss that Shanna and Kirkpatrick were both strong supporters to Miesha…

12:15 AM BBT – HGs discussing dating apps.

12:50 AM BBT – Todrick talks about how he doesn't always pay people who do work for him and gets accused of scams.

1:15 AM BBT – HGs are starting to go to bed.
There's plenty of "too little, too late" talk going on with several HGs. Carson and Cynthia think they can sway Todrick to keep Carson, but that seems unlikely. Then you've got Todd realizing he'll be next, which is likely. And we've got Lamar who thinks he may want to start competing to win now and that'd be different. With just a few days until the season finale it may be too late for these HGs to stand up to Miesha after letting her bulldoze them for the past several weeks.
You can watch all of these Big Brother events using the archives Flashback, the DVR-like feature of this year's Live Feeds which means it's always live, even when you missed it! Sign-up now to get the free trial to watch it all live & uncensored.


Gallery: Live Feeds Highlights
Download our Big Brother App, join us on Facebook & Twitter, and get our Email Updates for more!