The Veto Ceremony has arrived for Big Brother Over The Top this week as the divided house is facing another back and forth eviction that's keeping the game balanced but may finally force the remaining HGs to change up their alliances. Or maybe they'll just dig their heels in deeper!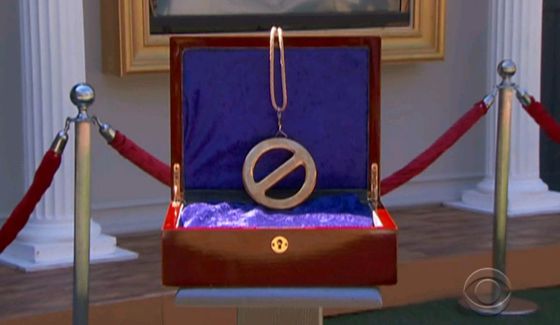 Danielle has all the power this week and she's set to decide which Houseguests on the other side will be sitting in the hot seat come eviction night. Will she follow through on her goal of being the first HoH to knock out America's nom and just have her two picks up or will she save one of the PBS and let America take their shot at Scott?
You could watch the ceremony live as it happened but if you missed it then Flashback to 1PM PT (4PM ET) to see how this plays out on our Live Feeds (get the Free Trial now).
Power of Veto Ceremony Results – Week 5:
Danielle used the Veto on Whitney
Danielle (HoH) renom'd Morgan in Whitney's place
Final noms of the week are: Morgan, Shelby, & Scott
Scott had gone in to meeting expecting to be saved leaving Morgan and Alex with the same impression. Guess not. So once again we'll have three nominees on the Block. Looks like that could be trouble for Scott.
After the meeting Morgan was in tears as Alex said they were blindsided but should be safe with Shelby's ACP power. Shelby told Alex, "bye Scott." Now the PBS says they can't trust Whitney and realizes they went from a 5:3 advantage to 5:3 numbers. Scott is trying to campaign to Alex already to stay over Morgan. If only he knew.
What do you think of today's events at the meeting? Were the right choices made by everyone involved? Who is our most likely target for the week?
Eviction vote comes up Wednesday night and we'll see then how this all turns out between any wavering HG votes and America's Vote which will start shortly. Who do you think will be voted out this week? Cast your eviction prediction vote in our poll below.