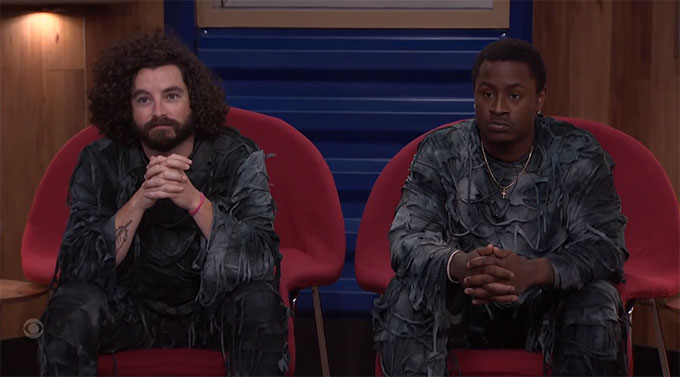 It's quite an unusual week in the Big Brother 25 house as everyone is waiting to see whether Cameron or Jared returns to the game, and after that double eviction mayhem, alliances are in flux. It's really hard to properly update the alliances and deals report, but here's what we do know.
There currently aren't any solid large alliances. The Brown Sugar Babes are even kind of falling apart as we saw in Sunday night's episode with Felicia and Cirie going at it. They have since made up on the Live Feeds, but there's a lot of trust issues going on there. We've also got the whole, Matt, Jag, Cory, America and Blue thing going, but Blue isn't happy with Cory for putting her up and Cory and America are a bit too focused on their showmance.
Cameron is ready to work with whoever will have him, but right now it seems Jag and Matt are ready to bring him in if he is the one to return. Looks like Cory, America and Blue will be left out of that. Cameron has also vowed his allegiance to Cirie. So it sounds a lot like Cameron might be in a better spot than before if he does in fact return this week.
Basically everyone is just waiting to see what happens with the zombies and who wins the next Head of Household competition before we start seeing solid groups form again. But you know how this cast is with trust and loyalty, who knows if there'll ever be a truly solid group in this house.
As for deals, Matt and Jag are pretty solid. Cory and America are solid. Felicia and Mecole still have there Final 2 deal. Cirie and Jared are of course solid, but he might not be in the game after Thursday. So there's just so many ifs.
Bowie Jane has some really weak deals going, but again, nothing solid there.
We will update you as soon as we see anything more solid forming.