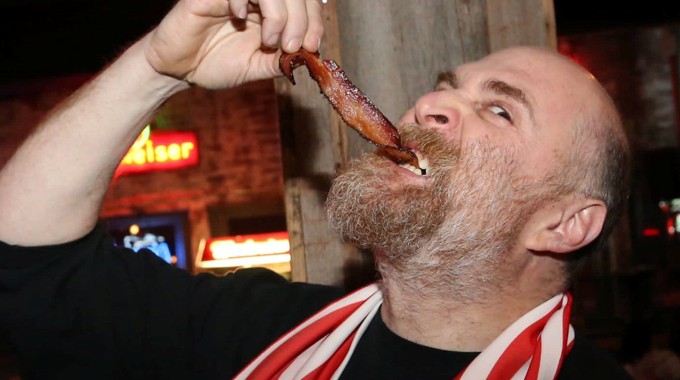 After an exciting first 3 weeks of Big Brother 23, we had our first ho-hum week. This week there is no potential blindside, there was no potential flip, and there was not really any drama, but that should all change tonight when the Teams twist is over and it becomes an individual game. We get our first endurance HoH and chances are it is "The Wall" comp that we have all grown to love.
But first – let's take a look back at the week that was on Big Brother and see who gets Bacon, who gets Tofu, and a surprise about the Tofurkey of the Week.
Tiffany Mitchell – 5 strips of Bacon – let's face it, it's Tiffany's game to lose at this point. She has mastered the art of manipulation inside the BB house. She plants seeds in people's heads, waters them, and then turns them loose to do what's best for Tiffany under the ruse of them thinking it is what is best for their games. When will everyone realize this? Probably about :02 seconds after Julie hands her the $750k check.
Christian Birkenberger – 4 1/2 strips of Bacon – normally when someone wins both HoH & Veto in the same week I give them 5 strips of Bacon, but unfortunately Christian – no matter how great his week was, still cannot overtake Tiffany's top spot. In 12 competitions so far this season, Christian has 5 wins. Sure this past week's HoH was a team effort, but he was credited for the win. This makes him both a target & someone people want to work with (but only after his showmance partner is gone).
Xavier Prather – 3 strips of Bacon – by staying cool & calm, and holding his cards close to his chest – Xavier has set himself up very well moving out of the team portion and into the individual game. With one of 2 of his admirers leaving this week, he can focus on blending in with the others. There are so many other threats that he is currently hiding behind, and yet has plenty of support around him to not even smell the block regardless of who wins HoH.
Claire Rehfuss – 3 strips of Bacon – Claire's Wildcard victory came at the right time – she bought herself a couple of weeks of safety – and since her team was in such a good spot, she did not raise any eyebrows by leaving them to fend for themselves. Claire is also Tiffany's main confidant outside of The Cookout – so she has a lot of great information. Will she be able to figure out what else is going on around the house and will she be able to do anything about it? Time will tell.
Derek Xiao – 2 strips of Bacon – despite some people starting to see Derek X as a threat – he still has plenty of charm that the other HGs seem to all love. He has not won a competition for 2 weeks – but we all know he is still capable of winning mental & physical comps. He would be an excellent candidate for a backdoor or to try and get out in a double eviction – but who will take that shot at this point?
Hannah Chaddha – 1 strip of Bacon – going up on the block is not always a bad thing. In Hannah's case this week – this got her more into game mode. She not only started having more meaningful conversations with more people, but also started to get included in plans to take out others. She is a perfect example of Tiffany's manipulative ways. Tiff winded her up and let her loose into the house – willing to make the big moves that will seem like it is helping her game, but in fact helping Tiff more.
Alyssa Lopez – 1 strip of Bacon – by being in a showmance with Christian, his HoH was also her HoH as she helped him make his decisions, but more importantly she is able to compete in this week's HoH. If it is in fact the wall – Alyssa is built for that. She is not as easily manipulated as her showmance partner is, but the two of them together possess the skill sets to get them far. It's going to take a lot of work.
Sarah Beth Steagall – 1 strip of Tofu – unbeknownst to Sarah Beth – she has emerged as Tiffany's next target due to her being so vocal this week about wanting to get Hannah out. She was a little too comfortable with her team & the Royal Flushers, and felt like she could try and force her agenda on the group. When they did not take her up on it, that should have been the red flag that there is something else going on. If Sarah Beth does not win HoH this week, she could easily be the next "house target"
Kyland Young – 1 strip of Tofu – another week of Kyland's stock going down. This game has the ability to bring out some bad qualities in people. He does not look like he is having as much fun as he was earlier in the season, and that stress is starting to affect him. He still has the protection of The Cookout but how will he react when the target is publically put on Sarah Beth?
Azah Awasum – 2 strip of Tofu – Azah's standing in the Cookout seems to have fallen as Tiffany has weaponized Hannah and strategizes with Xavier & Kyland. Azah is pretty much just a number for them.
Britini D'Angelo – 3 strips of Tofu – there are terms that are commonly used in Big Brother when someone does not do much in the game. We call them Floaters or Coasters, but I am going to say that Britini is a Ghoster. That is how irrelevant she is right now. They do not even want to use her as a pawn because she had to do that 2 times. An easy person to put up and vote out if an HoH does not want to get blood on their hands, because… ya know… ghosts have no blood.
Whitney Williams – 4 strips of Tofu – oh Whitney… playing the sexy mom angle may have worked if this was any other season of Big Brother with a bunch of sexually charged bros. Unfortunately for her this season is being run by a group of people not interested in showmances. There was not much else to her game going into the house – and while there, she really did nothing to form bonds other than give Xavier rubs (but no tugs).
That brings us to the Tofurkey of the Week – and sad ,sad, sadly that goes to my preseason pick to win it all – Derek Frazier. Now, he did not have an especially bad game this week – he is still a rung above Azah in The Cookout alliance. However, I am giving him the Tofurkey because 3 weeks into the game and he still has no idea how to properly vote to evict on Thursday nights. Some behind the scenes info here – every Thursday, the players do a dry run of voting. The producers sit us all down in the living room, give us two similar things to vote on (Star Wars vs Star Trek, Justin Bieber vs Justin Timberlake, Pizza vs Hot Dogs) – and then call us 1 X 1 into the DR – just as they do during the live show – and we walk in and say "I VOTE TO EVICT…." I am curious if he is getting it right during the rehearsals and just gets nervous talking to Mrs Moonves – but c'mon Big D – it's 4 words… I, Vote, To, Evict…. He doesn't flub his shoutouts after his vote – so…. who knows why this is proving to be so difficult to him. (For the record, I still think he is doing well game wise – but it's not a winning strategy at the moment. If The Cookout gets exposed – he will not be the one that people go after).
OK – there we have it – another week in the books and 99% another unanimous vote – even if Derek F doesn't say it right. I hope that someone outside of the Cookout wins HoH tonight & more importantly does not just do what they want them to do. We need to get back those first couple of weeks of excitement & intensity to keep this from becoming a steamroll of a season (again).
My question of the week – other than Tiffany, who do you think is playing the best game at this point? Who is putting themselves in the best position to make a run towards the finale?
Let me know what you think of my rankings and the answer to my question of the week in the comments section below. From outside the Big Brother House, this is Adam Poch reminding you, ignorance is temporary, stupid is forever.
Catch me here every week during the BB season for my rankings. If you want more of my thoughts during the season. follow me on Twitter @HeavyMetalTeddy – and listen to my Podcast – @BigBrothersPod.