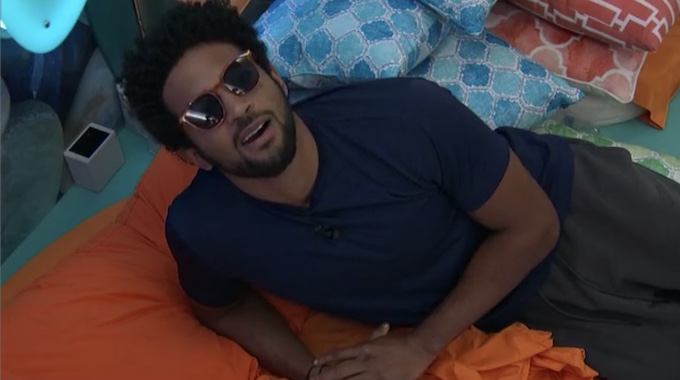 It is Eviction Day inside the Big Brother 23 house and this week's target made a final push to try and get votes. Unfortunately for her, it probably won't change the outcome of tonight's vote on Big Brother 2021. Read on to find out what Sarah Beth's final pitch to Tiffany was before tonight's live eviction on Big Brother.
If you've got the Live Feeds (Free Trial) then you can watch all of these moments with the Flashback feature to go back and watch those important conversations or funny scenes you may have missed.
Big Brother 23 Live Feed Highlights – Thursday, September 2, 2021:
9:15 AM BBT – HGs are waking up.

9:25 AM BBT – Claire tells Alyssa that SB is already trying to talk to people.

9:30 AM BBT – Azah is talking to Derek and she seems annoyed that SB is assuming Azah is going to vote for her to stay this week. Azah says she didn't say anything like that, she was very careful with her wording. Derek says that Azah telling SB that her staying is better for her persoanl game as Azah was voting for her. Azah says that she also knows that Azah votes with the HOH.

9:32 AM BBT – Tiffany tells Xavier that SB thought that Kyland was her target this week and now she thinks that Tiffany is going to vote for her to stay. Tiffany tells him that SB is waiting for her to come back to talk to her, but she doesn't know what to say to her. Xavier tells Tiffany she should just tell SB that things aren't looking good.

9:41 AM BBT – Xavier asks Azah if she is voting to keep SB and Azah asks him if that's what SB said? She tells him that she told SB that her being there is best for her game and the only reason she said that was because Kyland wanted her to throw SB a sympathy vote. Then last night she talked to Kyland and he told her that he didn't need her to do that anymore.

9:50 AM BBT – SB is talking to Tiffany and trying to explain some of the things that she has done in this game.

9:56 AM BBT – Tiffany told SB that she would never hold her loyalty to Kyland against her, but she didn't feel like it was Ky and then her and Claire, like SB said. She says that she felt that it was Kyland, the Kings, and then Claire and Tiffany.

10:01 AM BBT – Tiffany tells SB that she isn't voting SB out because of bad gameplay, she is looking at it the complete opposite way. She's playing a great game and if she was sitting home watching this season, she would see SB going very far in this game.

10:18 AM BBT – SB tells Tiffany that if she keeps her in the house, she promises to work with her until F3. Tiffany asks SB if she trust her and SB says 100% she does.

10:20 AM BBT – Tiffany asks SB what Hannah has told her and SB said that Hannah said she would think about it. Tiffany says well, today is the day and they don't have a lot of time.

10:22 AM BBT – SB tells Tiffany that she doesn't know who the secret HOH is and asks if it is her or Claire, does she think a tie would be broken in her favor? Tiffany tells her that she is a very convincing young lady. Tiffany tells her that she needs SB to have some conversations.

10:25 AM BBT – Tiffany tells SB that in this game she needs shields. She adds that if it's SB, Claire, and Tiffany versus Alyssa, Xavier, and Hannah, they have to win every HOH and POV to not get picked off. She mentions that if they are already targeting SB and she is aligned with her then now they are targeting both of them.

10:27 AM BBT – SB tells Tiffany that if Kyland is still in this house, he won't go after Xavier because he sees Xavier as a person that he can campaign against in the end. SB tells her that she would be a shield because they would be targeting her, but Tiffany says that they would put her up next to SB. SB says that Tiffany keeping SB could be seen as her being more afraid of having Kyland in the house.

10:38 AM BBT – Tiffany and Kyland talk about who is going to be the sympathy vote. Talks turn to how Kyland is lucky he is in the six because she would be keeping SB over him after their talk.

10:39 AM BBT – Tiffany tells Kyland that Xavier doesn't owe SB anything and SB already knows she doesn't have Xavier or Alyssa's vote. Kyland realizes that Alyssa is in bed in the same room and points it out to Tiffany. Tiffany asks him when he realized and he said just now. Tiffany jokingly tells Kyland that she thinks he should go pack his bags because SB is convincing. He says "yea, that's what I hear" and leaves the room.

10:42 AM BBT – Kyland goes into the Coral Room and asks himself how he could be so careless to not see her there?

10:48 AM BBT – Feeds go to pet loops for tech rehearsals.

12:20 PM BBT – Feeds come back to Kyland and SB talking in the HOH and the rest of the HGs getting ready for the show. Kyland tells SB that if she has Tiffany and Claire then there is potential she can flip the vote. SB says that she doesn't think it will happen, but she did her best.

12:30 PM BBT – Kyland tells Xavier that SB is expecting Xavier to vote with Alyssa. She says that if anything she expects Tiffany to vote for her because she told SB she was open to keeping her, but it could also be Azah. He asks Xavier to check on Alyssa and explains to him what happened earlier when he was talking to Tiffany.

12:43 PM BBT – Tiffany is camtalking about her talk with SB when Azah comes in and talks to her about the sympathy vote. Tiffany tells her that she just wanted to know if she was going to give her the vote because if she was, then Tiffany wasn't. Azah and Tiffany agree that it doesn't matter to them which one does it.

12:45 PM BBT – Kyland tells Azah and Tiffany that he just talked to Xavier and he said one of them can give her the vote since SB is expecting him to vote with Alyssa. Tiffany says maybe they both give her a vote, but then they agree that it would only take one more person to tie it. Azah says that she is fine with Tiffany doing it.

12:50 PM BBT – Tiffany tells Hannah, Alyssa, and Claire that she is thinking about voting for SB to stay only because she knows that she isn't going to get anyone's votes. She tells them that she did tell SB that Kyland was her target on Friday before the Nomination Ceremony.

1:30 PM BBT – Derek tells SB that the first time she was on the block it was easy for him to choose her. He says that now he has two friends on the block and he doesn't know what to do.

1:36 PM BBT – Xavier tells Alyssa that he doesn't want to see SB go out unanimously, but he doesn't want to be that vote either.

1:45 PM BBT – The HGs are talking about what kind of comp they could have tonight.

1:54 PM BBT – Derek says that he thinks this week's HOH is going to be the slip and slide comp and he's going to fall a thousand times.

2:03 PM BBT – Feeds cut for live show prep.
Despite her last ditch efforts to stay in the house, Sarah Beth will still be evicted tonight and become the next member of our Jury. Also, is anyone else hoping that Alyssa was awake when Tiffany and Kyland were talking about the Cookout? I guess we will see how things play out going into Week 9 of Big Brother 23! Who do you want to see win HOH this week?
You can watch all of these Big Brother events using the archives Flashback, the DVR-like feature of this year's Live Feeds which means it's always live, even when you missed it! Sign-up now to get the free trial to watch it all live & uncensored.

Gallery: Live Feeds Highlights
Download our Big Brother App, join us on Facebook & Twitter, and get our Email Updates for more!