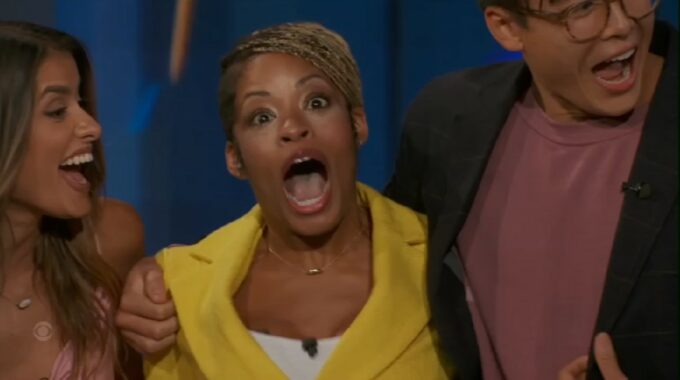 First of all, congratulations to Tiffany Mitchell for winning America's Favorite Houseguest for
Big Brother
23. That was a well-earned, and deserved title. And to say she was shocked by that outcome is putting it lightly.
You could tell how surprised she was when her name was announced as the winner by Julie, and the interviews that followed throughout the night following the finale confirmed it.
Let's take a look at some of the post-show interviews with Tiffany Mitchell from this year's Big Brother Finale Night.
Parade Magazine was one of the first to let Tiffany know how strong Twitter supported her (including myself – I changed my twitter name to TEXT TIFFANY TO 97979)
Parade: First off, I have to congratulate you on winning America's Favorite Houseguest! It clearly surprised you when it was announced. What was your reaction at the moment?
Tiffany: It was unbelievable. I love Derek, and I know America loves Derek. You couldn't have told me Derek didn't have this in the bag. But when Julie said it was between Derek and myself, I was definitely thinking, "Come on, America, I need the money!" (Laughs.) I did not think that I would beat out Derek because who doesn't love him? But the fact that America loves me, I am so appreciative of that because I talked to America every single day. America was the only person I was loyal to.
Parade: I'm actually going to show you something. (Pulls out phone.) I'm on Twitter right now, and I want you to see how many people changed their username to be "Text TIFFANY to 97979."
Tiffany: Get out of here!
>>>READ THE REST OF TIFFANY'S INTERVIEW WITH PARADE MAGAZINE<<<
US: Tiffany let US Weekly know that the surprising victory means everything to her.
Tiffany: Oh, it is such an honor to be a part of this season and The Cookout. I don't even know what to say. Waking up in the house everyday [thinking] like, "You know, you're canceled today, right?"
Us: How did you feel when Julie said it came down to you and Derek X? Were you freaking out?
Tiffany: I was freaking out. Listen, all of us have said that Derek was America's Favorite Player. And to hear that I was ranked next to Derek, I was like, "Whoa, I came close." But when Julie said my name, I'm like, "Oh my God, what is America thinking?" I love it. I love it. I love it. Just, I love this game. And to be America's Player means … it's almost more than winning the game because winning the game, it's the jury that votes for you. But America has to vote for you to be America's Favorite Player. That is such a privilege to me. I am just grateful for being recognized in that way.
We've also got some video links to some fun interviews with Tiffany for you. She learned a lot from Rob Has a Podcast and Derrick and Cody's The Winner's Circle show. Check those out below.
JUMP TO THE 9:46 MARK FOR TIFFANY
JUMP TO 2:48:54 FOR TIFFANY'S INTERVIEW WITH CODY AND DERRICK