Overnight on the Big Brother 18 Feeds we discovered spoilers leading us to who we believe will make up the season's Final Three Houseguests. It didn't take long for talks of F2 deals to start appearing and there were some interesting talks to go with it.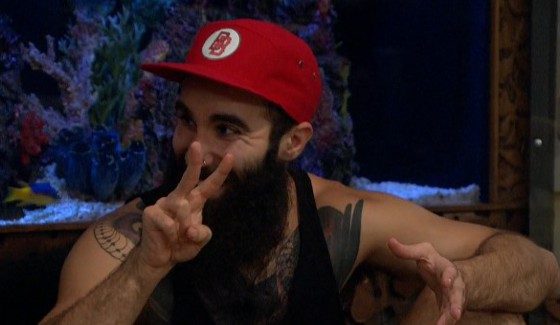 Paul Abrahamian is in the most secure spot to start making final deals since everyone in there knows he'll be around to at least the F3, but the other two expected F3 HGs aren't wasting any time getting ready either. The trouble for them is not all of these deals are going to be honored. Welcome to Big Brother!
I'm fully expecting Corey to be on out the door and so does everyone else left in the game. No one is even bothering to start talking F2 deals with him and we won't waste the time on that either.
When Feeds returned last night the HGs wasted little time in discussing deals to make it on to the end. First up we saw James talking with Paul in the HoH room. Flashback to 9:50 PM BBT. Their talk sounds like these guys are going to work together as Paul tells James they'll get out Corey now and then work together to beat Nicole in the F3 HoH comps.
A few minutes later James goes downstairs for a little camtalking. At 10:05 PM BBT James says it looks like he'll be making the F3 cut (as long as Paul doesn't use the Veto) then they'll have to just beat one more person and then one of them gets $500K and the other get $50K. James is definitely talking like he's making plans for him and Paul at the end. Gotta say I'm surprised, but maybe now James is thinking he can't beat Nicole.
Meanwhile at the very same time Nicole is upstairs talking with Paul. We learned from this talk that Paul is supposedly faking his talks with James and actually has a F2 with Nicole, something that sounds like they agreed on during the blackout. Now Paul can only be telling the truth to one of them, so who is it?
We've heard for weeks now that Paul greatly dislikes James's game style and has no respect for him. Even after James was isolated Victor said they couldn't blame James for trying to work with Nicorey to split up the Sitting Ducks, but Paul wasn't hearing it. He does not like James and does not want to see James in the F2 and as he tells Nicole, he won't let that happen.
Nicole and Paul shook on their F2 and she agreed to go for it with him. So is that deal legit?
Jump forward to 10:50 PM BBT 9/13 as Nicole sits in her usual corner bed spot talking with Corey. They both know he's going so he's helping her prepare for what's ahead. Nicole asks him if it's smart to take Paul to the F2. Corey is shocked that she's even considering the idea. Corey tells her she has to take James, not Paul to F2. "That's so obvious, Nicole."
Ten minutes later they're talking about the F2 choice again. Nicole says Paul has been playing such a good game that she can't take him to the F2. She suggests Paul is expecting her to do that but she doesn't know why. So right there she's holding back on Corey instead of telling him she made a F2 or even a fake-F2 with Paul, but that could just be because she doesn't want Corey to know she's making deals that send him out the door.
Nicole tells Corey she'll tell Paul, "I started Day 1 playing strategic and I'm going to end playing strategic." Sounds like at the moment she's back to planning to take James to F2.
So we've got James talking like he'd go to F2 with Paul. Paul saying he'd go to F2 with Nicole. Then Nicole is saying she'll go to F2 with James. How's that for a deal-triangle?
Do you think any of these Final 2 deals are real or is everyone just angling to get to the end in case they aren't the ones calling the shots at the end of the three round, final HoH? What deal would you try to make for your ideal F2-mate?