The Big Brother 18 cast reveal is coming up this Tuesday, June 14, 2016 with the return of CBS's Live Feed streaming interviews with the Houseguests after a delay moved things back a day.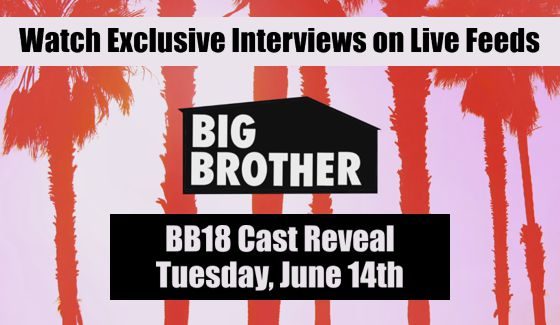 We've been anxiously awaiting this cast announcement after months of preseason speculation that has run the gamut of possibilities including All-Stars to the return of former HGs as Coaches, but all those rumors could be squashed when the roster is revealed. Are you ready?
Update: Originally the cast videos were going to be Monday, but CBS announced late Sunday there would be a delay until Tuesday. We will not have any details until their Tuesday event.
twitter-tweet" data-lang="en">

#MeetTheHGsLive will not be streamed live tomorrow. Cast interviews will be available Tue 4pm ET/1pm PT to #CBSAllAccess subscribers.

— Big Brother (@CBSBigBrother) June 13, 2016
Update 2: Monday morning CBS stated the delay was related to the Orlando shooting.
Starting Tuesday you'll be able to see the cast details including bios, pics, and all the other critical information you need to immediately decide which of these BB18 Houseguests is going to excite you and which are going to drive you bonkers!
Download our Big Brother App for instant notifications. Join us on Facebook, Twitter, & by Email.
On Tuesday at 4PM ET the Live Feeds will launch its stream of Jeff Schroeder's sitdowns with each of the new Big Brother 18 cast members where we'll get our first live action look at the personalities, attitudes, and hopefully a taste of the strategy they'll be employing to reach the end.
To get in on the cast reveal streaming videos you'll need to have your CBS All Access Live Feeds signed up and ready to go which you can do right now and even get the week long Free Trial to cover most of your preseason time before the official Feeds start on June 23rd following the second BB18 episode.


Try 1 Week Free! Only $5.99 per month thereafter. Sign-up now.
Later in the week I expect we'll see the rest of the press event interviews which will also be held on Monday but restricted from release for another day or two. Unfortunately that won't include our interviews for the first time in five years, but the restrictions this season that kept us out suggest to me that we prepare for anything but a regular cast announcement on Monday Tuesday.
My final official prediction is that there will be fewer than 12 new, regular HGs since we had that in BB14 and I made the cut for interviews, and according to the latest rumors that could line up with the casting rumors of Coaches. What are you expecting?
If you've enjoyed our coverage year after year then please consider using our links or banners when you go to sign up for your Feeds. Passing through our links and banners costs you nothing but the referral credit from CBS is what keeps us going each season. Thank you for your continued support!