Tonight on the Big Brother 17 season finale the last Head of Household competition wraps up and one more eviction vote is cast ahead of the Jury's decision revealing this year's Big Brother winner.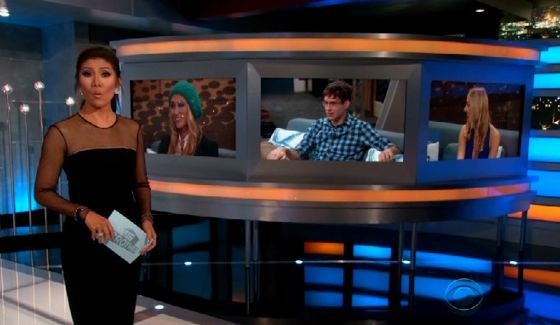 Liz, Steve, and Vanessa faced off in a mix of two of the three rounds of the final BB17 HoH competitions over the past few days. Now those first parts will play out as tonight's show kicks off before leading us to the third and final comp along with the Jury round table hosted by Dr. Will.
Joining the Big Brother Jury on stage, as they await their last member, will be the first five evicted Houseguests as we anxiously await what looks to be a do-or-die round three competition following the endurance competition and physical/mental comp. Now on to the show.
Big Brother 17 Final HoH – Round 1:
Liz, Steve, and Vanessa are about to be dipped in goo and then slammed against the wall until they can't take it anymore. Yes, it's time for the endurance competition and this was a doozy as the Houseguests held on for the longest time since BB11!
Steve was the first to fall after nearly four hours. They had shifted down to the lower level and sitting on the ball instead of the disc.
Vanessa says she needs to turn up the mindgames on Liz because she doesn't have much time left to hang on. This is just minutes after Steve has fallen. Liz rolls over and plays dead for Vanessa after begging for Vanessa to take her to the F3. Instead of making her own fate she relies on Vanessa. Liz takes the fall for Vanessa.
Big Brother 17 Final HoH – Round 2:
Now the winner from round one will sit out this part of the competition. Houseguests will face the biggest crossword they've ever seen in their lives and it's about to be another very close competition.
Steve beats Liz in a very close comp. Steve's time was 28:27 versus Liz's 31:11.
Big Brother 17 Jury Round Table:
John arrives to much surprise and disappointed. Austin is shocked to hear Liz is trusting Vanessa again. He's loudmouthing it and Dr. Will calls him out that it's hypocritical. Everyone raises their hand when Will asks if Vanessa had a hand in their eviction.
Meg calls out Vanessa that no one was fooled by her, but she kept winning when she needed to do it. John calls out Steve as a rat. Julia says she won't vote for Steve because he wouldn't own his game.