The solid alliance of Austwins featuring Austin, Liz, and Julia remain unchallenged in the Big Brother house, but how long will that last because the rest of the house needs to finally start worrying about them.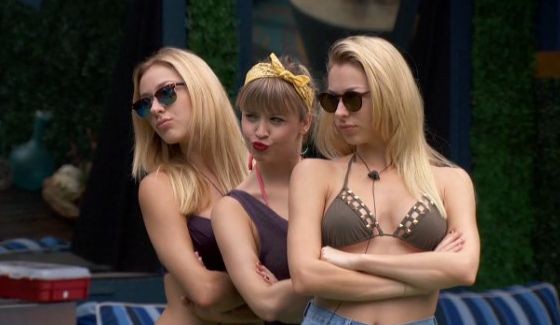 We've seen showmances on Big Brother before and we've seen relatives, but now we've got a trio bringing both together and that's going to be a big problem for anyone left in the house.
Vanessa has been working closely with Austin and the twins even before they expanded and merged while Steve has been tagging along with a shaky deal between him and Austin. In the past few weeks we've even watched James and Meg form an an alliance with the Austwins as did John and Steve. So, um, why's no one thinking about the trouble ahead with this?
Let's take Vanessa as our example since she's more likely at this moment to be around longer with the Austwins given Steve's current predicament, but really this could apply to most of the other Houseguests. If Vanessa makes it to the F4 with the Austwins then her options are limited.
I don't think Austin will betray the twins. Even if he's not serious about Liz outside the house (and that's a whole other can of influencing worms), if he ended up cutting Julia loose to keep Vanessa in a F3 and then Liz got knocked out next that could make for 2 Jury votes against him.
Say though that Vanessa manages to knock Austin out at F4 to make it a F3 with her and the twins then she'd have to win everything in the final rounds to keep one of the twins from cutting her. While there might be some wiggle room for Austin to make a surprise eviction, I think it's safe to say they'll never turn on one another.
If someone doesn't do something soon about them those three players are going to be a big problem in the final weeks of Big Brother 17. Could that someone be the Goblins? Flashback to 9:00 PM BBT 8/24 as James and Meg discuss how to handle the Austwins.
James says he may be ready to make a big move and put both Austin and Liz up on the Block. Meg thinks they'd be screwed if they did that. What, as opposed to if you just let them run you over first? James points out if they wait for just the four of them to be left, Austwins and Vanessa, then it'll be too late to stop them. Well, considering we're nearly to there already then you all best get on this.
Vanessa should be worrying about this too and maybe part of her recent effort to keep John is her own version of the Operation Mongoose. But I've yet to hear her verbalize any actual plans on handling the situation.
How would you handle the Austwins situation? If you won the Double Eviction HoH and could make two quick picks, which two of the Austwins would you put up on the Block? Or maybe you think aligning with them like Vanessa has is a great idea. What's your exit strategy? Discuss!