Last night on the Big Brother Live Feeds an unlikely pair of Houseguests came together to make a deal that'd shake up the game if they pulled it off, but will it "Save the Day?"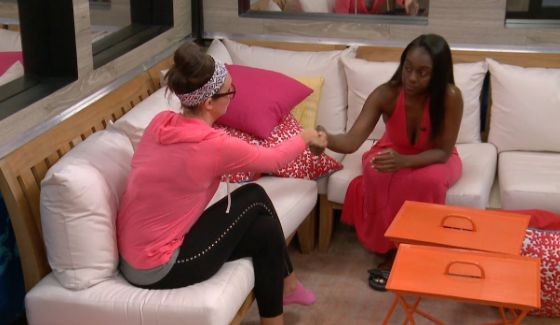 Da'Vonne Rogers hadn't given up, but her chances of surviving the vote were looking worse and worse as Houseguests were either blowing her off or lying to her face. The chances of her getting the requisite votes to stay looked impossible until Audrey Middleton stepped in and offered her help.
Earlier in the day we watched as Audrey was being given the cold shoulder by Shelli Poole and her showmance ally Clay Honeycutt. Looks like it didn't take long for Audrey to correctly realize she was on the outs with the her old allies who were plotting behind her back to see her evicted next.
Flashback on your Live Feeds (get a Free Trial now) to 8:42PM BBT 7/8 Cams 3/4 to find Audrey and Day discussing the vote landscape. Audrey wants to know how close Day is to making it happen, and while Audrey doesn't think Day has the Last Laugh twist she does believe someone on that side will be helping Day with it. Day doesn't reveal to Audrey that she does in fact have it.
They agree that while they don't fully trust each other they can work this out together and be civil. Day makes Jason's safety part of the deal before shaking on it as they leave the Lounge.
That gives Da'Vonne a start of 2 sure votes but she would need three more to get there. Day went to work scouring the House for support and soon believing she had up to six votes. She doesn't. Houseguests are telling her they're on her side for this but I don't believe it.
"Liz" had already promised Da'Vonne her vote as a thanks for using the Fast Forward save on her so that'd be three. "Liz" was also going to work on Austin's vote but he already promised it to Meg and Julia's later revelation will make that even more unlikely.
Julia revealed herself as part of the Twin Twist last night to Vanessa and now they're going to team up with Shelli, Clay, and Austin. Sooo, yeah, strike out Julia/Liz voting to keep Da'Vonne and going against her shiny new alliance. That won't happen.
I don't see the votes adding up for Da'Vonne so the question now is whether or not she sees this coming or the eviction vote is a shocker. Who will be evicted? We'll see tonight on Big Brother!
Update: Perhaps she was sensing this was falling apart or it was always her plan, Audrey went upstairs and started stirring things again blaming others for Day flip attempts. Looks like that could be the nail in Day's hopes. Flashback to 1:17PM BBT.