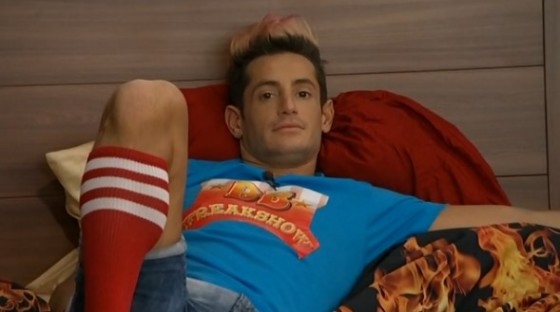 The Veto competition arrived a day early in the regular schedule and brought a high-stakes battle to decide who would move on to the F4 as the guys were moving against Frankie in the background.
By the end of the night we had results, F4 settled, and talks of F2 that could make things tricky for the Hitmen alliance. Find out what else happened on the Big Brother Feeds in the house today.
Big Brother 16 Live Feed Highlights – Friday, September 12, 2014:
11:00 AM BBT – After a series of Fish and sleeping the HGs are finally getting up.

12:50 PM BBT – Frankie emerges from an emotional DR session. He sounds shocked.

1:30 PM BBT – Derrick is back from DR and meets with Frankie to discuss new Team America mission. The challenge can only be won by one of them. If one of them wins the game they get an extra $50K bonus. (Has nothing to do with F2.)

3:00 PM BBT – HGs lounging around studying.

4:45 PM BBT – Guys relaxing and trying not to stress. General discussion.

6:42 PM BBT – Veto is finally underway.

8:58 PM BBT – Feeds return. Cody won the Veto!

9:00 PM BBT – Derrick tells Victoria that Frankie will be evicted and she needs to just keep acting sad.

9:05 PM BBT – HGs going over times and details. Frankie lost to Cody, Derrick, and Victoria.

9:30 PM BBT – Cody and Derrick discuss when to tell Frankie. Caleb wants to tell him now, but they think that's a bad idea. Cody suggests waiting at least until the Veto Ceremony is over.

9:35 PM BBT – Guys agree they will both vote out Frankie so Caleb doesn't have to do the tiebreaker.

10:00 PM BBT – Caleb tells Cody he thinks the strongest two players (the two of them) should be in the F2 and not Derrick.

10:20 PM BBT – Victoria got a replacement necklace from Big Brother. It was damaged during the scavenger hunt competition that netted her $5,000. She had been very upset over it. Replacement cost was $35.

10:25 PM BBT – Caleb tells Victoria all the votes he thinks he has in F2 if up against Cody. He says he thinks he'd get Derrick's vote over him voting for Cody in a F2. (He is completely unaware.)

11:45 PM BBT – Victoria warns Derrick that Caleb is planning his F2 with Cody, not him. She tells him to get on that.

12:00 AM BBT – Guys going through how they'd invest/spend their winnings. Lots of student/car loans needing to be paid off in the room.

12:20 AM BBT – Backyard is open again. HGs head out to play some pool.

1:40 AM BBT – Frankie says to himself that he wishes he hadn't pushed the Rewind button.

2:00 AM BBT – Derrick and Cody convene in the HoH room. Derrick is pushing that they have to take Victoria to F3 instead of Caleb. Cody is resisting say he wants to do the respectable thing and would feel bad sending him out. Cody relents saying he'd do what's best for the Hitmen, but will feel poorly about evicting Caleb.

2:15 AM BBT – Comparing notes on F2 deals Cody tells Derrick that if Caleb is offering both the same thing then he's okay with sending Caleb out.

2:30 AM BBT – Cody thinks Hitmen will be a legendary alliance like the Renegades are. (Cody doesn't realize he is Memphis and hasn't seen BB10.)

2:45 AM BBT – Derrick reminds Cody that he pushed to save Caleb in Week 4, but now he's advising him to send him out because it's still what's best for their game.

4:00 AM BBT – Caleb with Derrick counting off his Jury votes in a F2 with Cody. I have no idea why Caleb thinks that's a wise discussion. Derrick says if Caleb takes Cody then they may vote for Cody instead. Caleb is already spending that $500K in his mind.

4:10 AM BBT – Derrick and Victoria speak privately about how their "fighting" is going so well and it might be time for them to act friendly again. She'll first remind the other HGs that she'd never vote for Derrick at the end.
What a crazy, crazy night. Frankie is done and the game has moved on without him, he just doesn't know it for certain yet. He'll be evicted during the "special" eviction show so there will not be a live audience to greet (or boo) him when he steps out that door. Next up is the Veto Ceremony to make the noms of the week official.
You can watch all of these Big Brother 16 events using the archives flashback, the DVR-like feature of this year's Live Feeds which means it's always live, even when you missed it! Sign-up now to get the free trial to watch it all live & uncensored.
click images to see full-size