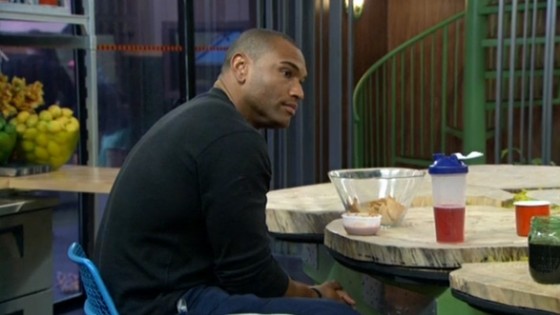 It was veto ceremony day in the Big Brother 16 house. And the veto was used. So that means a replacement nominee was named and someone came off the block. We've got all the reactions from that and a lot of talk about what to expect next week. Find out what else happened on the Big Brother Feeds so far today in the house.
Big Brother 16 Live Feed Highlights – Monday, July 14, 2014:
8:27 AM BBT – Devin is up making breakfast.

9:12 AM BBT – Feeds cut. Wake-up time.

9:21 AM BBT – Feeds return. Some  HGs are up moving around.

10:35 AM BBT – Derrick and Cody talking about Caleb going home next week.

10:54 AM BBT – Victoria tells Brittany about the Team America Zach/Amanda rumor.

11:05 AM BBT – Caleb mentions the Zach/Amanda rumor that Team America started.

11:06 AM BBT – Feeds cut. Veto meeting time.

11:53 AM BBT – Feeds return. Cody and Jocasta are hugging. She's wearing the POV necklace. Donny used the POV on Jocasta. Derrick nominated Devin in her place.

12:00 PM BBT – Victoria and Christine are talking about Devin. Victoria can't wait to vote him out this week.

12:11 PM BBT – Brittany tells Derrick that she's worried about next week. He says he's vulnerable too.

12:14 PM BBT – Team America is discussing their mission. They've almost accomplished everything the need to earn the money reward.

12:24 PM BBT – Devin is claiming that he's not going to spend the rest of the week campaigning. He says he just wants to enjoy his final days in the house.

12:35 PM BBT – Zach and Frankie are talking about their next targets: Jocasta, Victoria, Brittany and Donny.

12:50 PM BBT – Zach and Derrick talk about forming another alliance with Cody and Hayden. Derrick names it the Quad Kings.

1:10 PM BBT – Zach tells Frankie about his alliance with Cody and Derrick considering making the other alliance with Hayden. Zach says he'll tell Frankie everything and that they're still solid in their Final 2 deal.

1:45 PM BBT – Donny was trying to tell Brittany about the Zach/Amanda rumor, but Victoria had already told her earlier.

1:59 PM BBT – Derrick and Donny talking about how they're doing on the mission. They've gotten three people to tell the rumor and the final part of the mission will be to tell Zach so he'll address the house.

2:12 PM BBT – Derrick gets Zach and asks him to go back to the HOH room. He and Donny want to tell him about the rumor.

2:15 PM BBT – Derrick and Donny fill Zach in on the rumor. Zach puts it back on them and acts like it's true. But then he says no, he's not related to Amanda. Zach isn't upset. He even says he kind of wants to tell people he is related to her.
So right now, you can bet Devin is heading home. Caleb sits on the block next to him, but while he's a threat, he should be safe come Thursday. I don't think Devin has anything to offer anyone at this point, so campaigning will likely do him no good.
You can watch all of these Big Brother 16 events using the archives flashback, the DVR-like feature of this year's Live Feeds which means it's always live, even when you missed it! Sign-up now to get the free trial to watch it all live & uncensored.
click images to see full-size