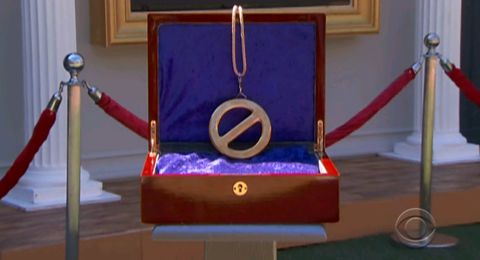 The latest Big Brother 15 Power of Veto competition is over and we have the spoiler results for you. The fireworks were exploding last night as the target shifted from one HG to an even bigger one. Now the Feeds are back and we have the results.
Be sure to join us on Facebook and Twitter for mini-updates through the day.
Read on to find out who won and what that could mean for the game this week.
Big Brother 15 Spoilers: Week 9 Veto Competition Results:
Amanda won the Power of Veto
Well so much for Elissa's big plan huh? Amanda will definitely use the Veto and McCrae will be saved. Reminder: the Veto holder can NOT be renom'd. This is and has been the way PoV works. So who is going up? Andy or Spencer? Andy thinks it's him. I'd agree.
This was a physical competition featuring the Zingbot possibly as a birthday part for Baby Zingbot. HGs say GM nearly won but dropped something early on that set her back.
As for all the people screaming "rigged!" you should keep in mind that over and over we see someone in imminent danger win their safety. Elissa just won HoH or she would have gone. Remember Frank last year? Rachel after Pandora's Box? Janelle? Daniele? This is the way BB works. HGs get backed in to a corner and turn in to comp beasts. So put down your tinfoil hats and enjoy the drama.
click images to see full-size
The HGs playing in today's comp were Aaryn and McCrae as HoH's noms, Elissa as HoH. Amanda, GinaMarie, and Judd were picked also picked to play.

What do you think of the PoV Comp results? What will happen at the ceremony? The Veto Ceremony will be held on Monday afternoon. We'll post spoilers when they happen.
Jump on the live feeds and enjoy the drama. Watch it all now live & uncensored.