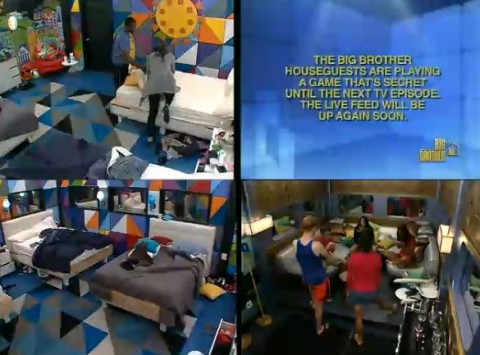 Saturday was a fun one for "Big Brother 15." We had paranoia, MVP nomination, panic combined with paranoia, Veto competition, and more paranoia. It was a fantastic day to watch as the HGs reacted and fed off one another to create even more anxiety and stress.
Read about those moments and others on our Live Feed highlights below. And remember to sign-up now for the Big Brother Feeds so you can watch any of these moments by using the Flashback archive feature.
Big Brother 15 Live Feed Highlights – Saturday, July 27, 2013
9:30 AM BBT – HGs are waking up and getting ready for a busy day.

9:40 AM BBT – Judd talks with Helen about Howard and then Jeremy. After she leaves he mumbles that he wouldn't have gotten rid of Jeremy.

11:05 AM BBT – Andy and Judd talking about Howard. Judd repeating previous comments that Howard is tugging at heartstrings to influence HGs. He wants Howard gone.

11:40 AM BBT – HGs looking at the Memory Wall and picking dogs to match each HG. Later Andy starts a game of "which HG" with different questions. It's pretty funny and goes on for awhile. Most HGs agree the HG they'd want to punch based on their picture is Nick.

12:26 PM BBT – Feeds are back and there is chaos. Amanda was nominated and everyone is going nuts. McCrae is pissed and Amanda is panicked.

12:45 PM BBT – Amanda and McCrae taking turns pacing with worry. McCrae thinks it has to be Howard. It's not. McC tries threatening Spencer that he's going home. Spencer doesn't get that line of reasoning. Neither do I.

1:00 PM BBT – Judd is upset about Helen then Howard then Helen. HGs try to calm him. It seems he didn't like something Helen said after that short meeting and he's still mad at Howard about the "heart strings."

1:10 PM BBT – Helen pulls Elissa in to the SR and tells her it's too early to get out Amanda. They're going to keep the target on Howard.

1:35 PM BBT – Amanda talking with Jessie, another Veto player, to not go for prizes in the competition. Jessie was saying she might take prizes and that has Amanda stressed out.

2:15 PM BBT – McCrae still convinced Howard is the MVP.

2:55 PM BBT – Howard and Amanda have a private talk in the Have-Not room. She seems to believe that he's not MVP. After a long talk she asks if he has anything else he wants to say. "Good luck," he tells her and they hug.

3:30 PM BBT – McCrae reminds Amanda not to threaten other HGs like she was doing with Jessie over the Veto. McC previously explained it as he plays good cop, bad cop with Amanda to other HGs.

4:30 PM BBT – HGs getting very anxious for the Veto competition which is now later than usual.

5:38 PM BBT – Veto competition finally underway.

7:24 PM BBT – Feeds are back. Spencer won the Power of Veto.

7:30 PM BBT – Aaryn says she's going to put up Candice and thinks she'll be branded racist for her nominees. She says viewers think she's racist because Candice twists her words to make her look that way. Nope, that's not it, Aaryn.

7:55 PM BBT – Candice talking to Jessie about votes. Jessie says she's going to vote with the house so she's not the HG Candice should be working to convince.

8:40 PM BBT – Amanda, McCrae, & Andy going over scenarios if Candice stays and wins HoH. They think GM would be her target.

8:47 PM BBT – Feeds cut out due to technical error.

9:31 PM BBT – Feeds return.

9:45 PM BBT – Helen wonders when they should target Amanda. She's talking with Elissa. Both are worried about Aaryn and Amanda buddying up.

10:00 PM BBT – Candice talking with Howard. She believes Helen isn't supporting her. Discussing Howard as the target.

11:30 PM BBT – Helen, Elissa, and Candice discussing MVP and who it might be. Candice doesn't think it's Howard or he would have told her.

11:45 PM BBT – Helen gets upset when Candice says she (Helen) is controlling the house. Helen leaves the room.

12:05 AM BBT – Helen tells Jessie she knows she revealed Helen's deal with Aaryn, but she's not mad at her about it.

12:45 AM BBT – Elissa talking with Candice and Howard in the Lounge Room. Candice is trying to protect Howard and she's upset with the moves Helen is making in the game.

2:25 AM BBT – Spencer working on McCrae to keep Howard over Candice. McC doesn't seem particularly opposed to the idea, but he's not going to actively support it either.

3:30 AM BBT – Spencer coaching Howard on how to behave this week thinking Candice could self-destruct and make him look like a good option to keep by comparison.

3:35 AM BBT – Judd admits to Amanda he made up the story that Kaitlin was coming after Helen to get the target off Aaryn last week.

4:00 AM BBT – Howard is campaigning to Amanda, Judd, and McCrae. He's attempting to distance himself from Candice.

4:35 AM BBT – Amanda and McCrae are hooking up and going at it.
What an insane day on the Big Brother Feeds! So much action and craziness in the house. It was exciting to see Amanda go up on the block. I was hoping she would while knowing she'd most likely be safe just to put her back in the game. It's time for McCranda to get out of bed and start playing Big Brother again. Today's events should make that happen for at least a few more days.
You can watch all of these Big Brother 15 events using the archives flashback, the DVR-like feature of this year's Live Feeds which means it's always live, even when you missed it! Sign-up now to get the free trial to watch it all live & uncensored.
click images to see full-size