The wait is over. Here are your Big Brother 11 houseguest details! I'll post more pictures and videos as they become available this morning, but for now here are the details and pics for this seasons HGs. Watch them 24/7 live & uncensored!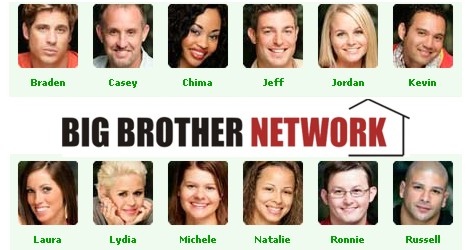 Big Brother 11 HouseGuests:
"Braden" – "Eye candy" says Grodner. 25yr old surfer dude
"Casey" – the "dad," 41yr old 5th-grade teacher & DJ
"Chima" – 32yr old freelance journalist
"Jeff" – 30yr old advertising salesman from Chicago, single
"Jordan" – 22yr-old waitress. Young blonde female
"Kevin" – token homosexual male. 29yr old graphic designer
"Laura" – Young brunette female that reminded me of BB8's Jen
"Lydia" – here's a BB first: bisexual female. 24yr old make-up artist
"Michele" – the "smart girl," 27yr old neuroscientist (that's kinda cool)
"Natalie" – apparently the "tough girl," 24 yr old Tae Kwon Do champion
"Ronnie" – the "geek," 30yr old, married, an obsessed gamer (apparently that's a profession) with a photographic memory including in-depth details on BB history
"Russell" – the "tough guy," 24yr old MMA (mixed martial arts) fighter
"Jessie" – ohhh. It was revealed on the season premiere that Jessie from BB10 would be this season's 13th HG after the Athletes won the first endurance competition.
Big Brother 11 houseguest photo gallery (click to enlarge):

The first quick glimpse we got early in the show had Lydia at a distance in, apparently, bad lighting. I thought she had short gray hair and therefore was the token older lady, but nope, she's the young bisexual. Not a mix-up I'll make again after that introduction!

The big news to take away is the "Mystery HG" that CBS shows as a 13th picture frame filled with just a person's outline and a question mark inside. Very mysterious indeed! Looks like quick-eyed readers Hunter and Debbie were right on with their comments on 13 settings at the table and its implications.
So far I'm impressed and very excited for Big Brother 11 to start. The mix of HouseGuests seems well balanced and holds a lot of potential. But that's my opinion. What's yours? Let's hear your first impression comments.
Notice: Just one week left to get the live feeds at the preseason discount.
Grab the free Big Brother Toolbar now and stay on top of the HG discussion then stay connected to Big Brother 11 with free updates by Email, RSS, and Twitter.